Duke W. Austin, PhD Faculty Profile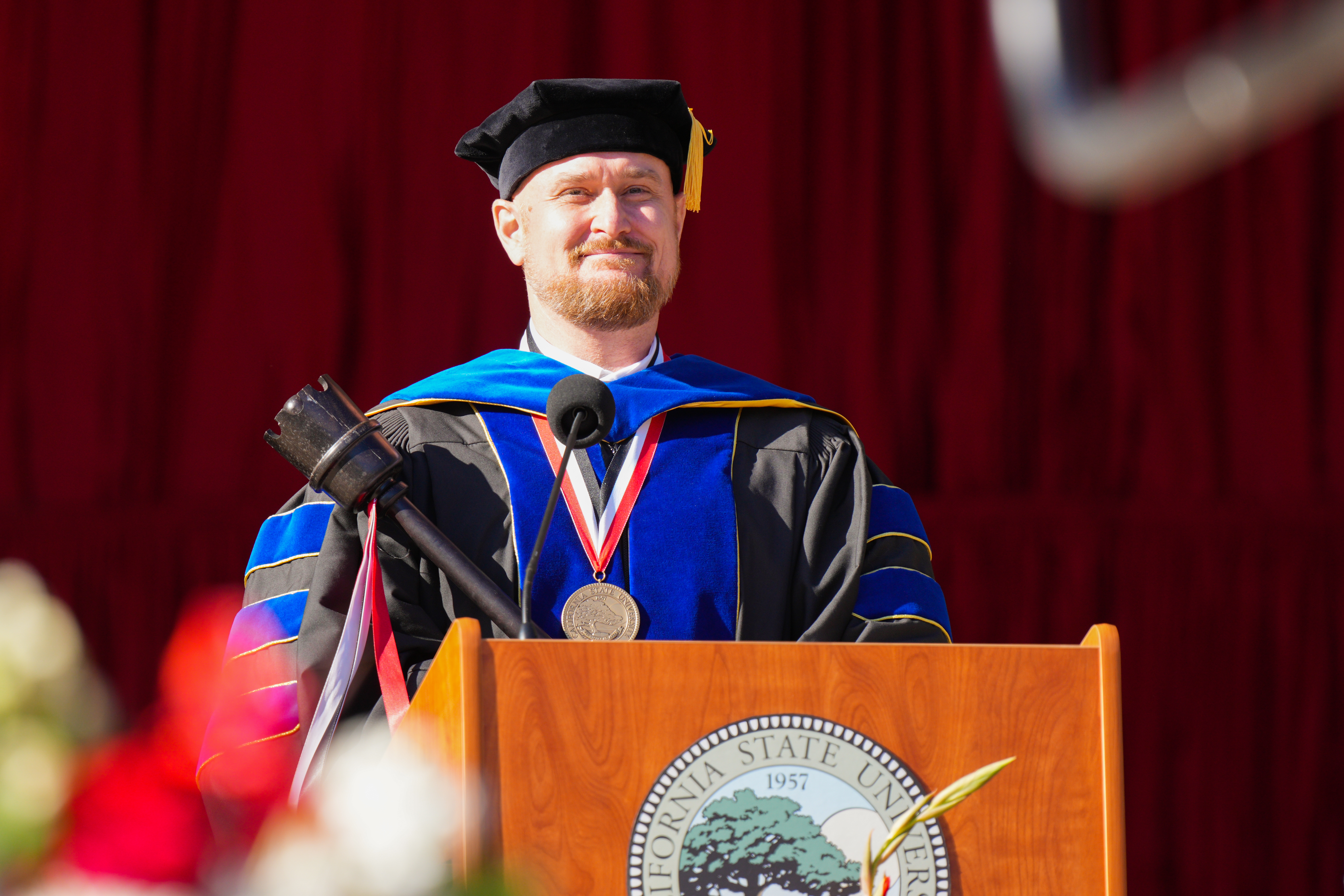 Duke  W.  Austin, PhD
Associate Professor
E-mail: duke.austin@csueastbay.edu
Office: MI 3093
Office Hours: Wed. 9:00am-11:00 am and by appointment
Vitae: View my CV
Home Page: https://csueb.campus.eab.com
Note: CSUEB does not pre-approve, monitor, or edit personal pages. Faculty members are solely responsible for their content, and are expected to conform to the policy guidelines of CSUEB.
Dr. Duke Austin believes that quality teaching and learning fosters intellectual empowerment and social justice. Through learner-centered pedagogy, experiential education, and educating for a diverse world, he empowers his students to apply critical thinking skills to the world around them and to see the relevance of education in their own lives. In doing so, he prepares his students to become civic leaders who actively contribute to society in intelligent and effective ways.
Dr. Austin is a strong advocate for peace and justice. To that end, his teaching and research focus on race, gender, immigration, environmental justice, community engagement, and social justice pedagogy. When conducting research, he utilizes both qualitative and quantitative methods. His published work includes a co-edited volume on ethnographic research, titled Bringing Fieldwork Back In (ANNALS 2012), and he is currently completing a co-edited book on the unintended impact of white supremacy on white Americans.
In addition to serving as an Associate Professor at Cal State, East Bay, Dr. Austin has an appointment as a Senior Fellow with the Urban Ethnography Project at Yale University. Before entering academia, he worked as a Lead Wilderness Instructor for Outward Bound in Florida, Massachusetts, and New Hampshire, a Supervisor of the Children's Ski School in Steamboat Springs, Colorado, and the Camp Director at Quarterman Ranch in Amarillo, Texas. He is also a Returned Peace Corps Volunteer, having served as a Teacher Trainer in Paraguay.
Gender Pronouns: he/him/his
As a member of the Cal State East Bay community with an office on the Hayward campus, I acknowledge that I am a guest on the unceded land of the First People of this region, the present-day Muwekma Ohlone Tribe of the San Francisco Bay Area (formerly Verona Band of Alameda County). I support the sovereignty of this Chochenyo-Ohlone-speaking tribal group and other Indigenous peoples. This acknowledgment was created by the Muwekma Ohlone Tribe with the support of the CSUEB Indigenous Acknowledgment Collective and is a living document.
Postdoctoral Training Certificate, Yale University, 2013
PhD in Sociology, University of Colorado at Boulder, 2010
MA in Sociology, University of Colorado at Boulder, 2008
BA with Honors, Magna Cum Laude, University of Texas at Austin, 1998
Fall Semester 2023

| Course # | Sec | Course Title | Days | From | To | Location | Campus |
| --- | --- | --- | --- | --- | --- | --- | --- |
| SOC 325 | 02 | Race and Ethnicity | ARR | | | WEB-ASYNCH | Online Campus |
| SOC 330 | 02 | Environmental Sociology | TTH | 10:00AM | 11:40AM | MI-3015 | Hayward Campus |
| SOC 390 | 06 | Research Methods | TU | 3:15PM | 4:55PM | MI-3015 | Hayward Campus |
Austin, Duke W., and Benjamin P. Bowser. Forthcoming, 2021. Impacts of Racism on White Americans in the Age of Trump. Palgrave MacMillan.
Maloney, Patricia, Duke W. Austin, and SaunJuhi Verma. "Deportation Threats for Some Students Come from within Schools." The Conversation: Academic Rigor, Journalistic Flair. theconversation.com
Maloney Patricia, Duke W. Austin, and SaunJuhi Verma. 2021. "Fear of a School-to-Deportation Pipeline: How Teachers, Administrators, and Immigrant Students Respond to the Threat of Standardized Tests and Deportation." in Urban Education.
Austin, Duke. "Want to Change the World? Study Sociology!" 2020. In You Are Not Alone: Recipes to Obtain Success by Students for Students, edited by Lettie Ramirez. El Monte, CA: Velázquez Press.
Austin, Duke W., Matthew Atencio, Fanny Yeung, Julie Stein, Deepika Mathur, Sukari Ivester, and Dianne Rush Woods. 2019. "Diversity and Inclusion Curriculum: Addressing Culturally Relevant Pedagogy and the Achievement Gap at a Racially Diverse University," in Currents in Teaching and Learning, 11(1):112-13.
Verma, SaunJuhi, Patricia Maloney, and Duke Austin. 2017. "The School to Deportation Pipeline: The Perspectives of Immigrant Students and Their Teachers on Profiling and Surveillance within the School System," in The Annals of the American Academy of Political and Social Science, 673(1):209-229.
Austin, Duke W. 2016. "Hyper-Masculinity and Disaster: The Reconstruction of Hegemonic Masculinity in the Wake of Calamity," in Men, Masculinities, and Disasters: Revisiting the Gendered Terrain of Disaster, edited by Elaine Enarson and Bob Pease. Routledge.
Rush Woods, Dianne, Sarah Taylor, Duke Austin, Julie Beck, … , and Jessica Weiss. 2015. "Building an Inclusive, Accessible, and Responsive Campus at California State University, East Bay, 2010-2015. Perspectives on Communication Disorders and Sciences in Culturally Linguistically Diverse Populations, 22(2):40-89.
Anderson, Elijah, Dana Asbury, Duke W. Austin, Esther Kim, and Vani Kulkarni, editors. 2012. "Bringing Fieldwork Back In: Contemporary Ethnographic Research," a special edition of The Annals of the American Academy of Political and Social Science, 642(1).
Austin, Duke, 2012. "Preparedness Clusters: A Research Note on the Disaster Readiness of Community-Based Organizations," in Sociological Perspectives, 55(2):383-393.
Anderson, Elijah, Duke W. Austin, Craig Holloway, and Vani Kulkarni. 2012. "The Legacy of Racial Caste: An Exploratory Ethnography," in The Annals of the American Academy of Political and Social Science, 642(1):25-42.
Austin, Duke. 2008. "Robert E. Park," in Encyclopedia of Race, Ethnicity, and Society, edited by Richard Schaefer. Thousand Oaks, CA: Sage.
Miles, Michelle, and Duke Austin. 2007. "The Color(s) of Crisis: How Race, Rumor, and Collective Memory Shape the Legacy of Katrina." Pp. 33-49 in Racing the Storm: Racial Implications and Lessons Learned from Hurricane Katrina, edited by Hillary Potter. Lanham, MD: Lexington Books.
Austin, Duke, and Michelle Miles. 2006. "Crisis in Black and White: Katrina, Rita, and the Construction of Reality." Pp. 151-173 in Learning from Catastrophe: Quick Response Research in the Wake of Hurricane Katrina. Natural Hazards Center at the Institute of Behavioral Science, University of Colorado at Boulder.