Emilia Ianeva Faculty Profile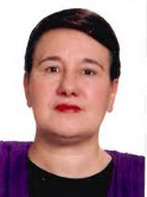 I am a university professor and a consultant to non-governmental and governmental organizations in the field of social sciences and International and Comparative law. After an academic career, and humanitarian and legal work in Europe, I came to teach and do research in the United States, recognized as a "person of extraordinary ability" by the US government. I have done research at UC Berkeley and since 1996 I have taught many courses at CSU East Bay.
Besides my PhD in Social Sciences I hold advanced law degrees: JD, LLM and JSD, which has allowed me to teach different undergraduate and graduate courses across the disciplines in Law, Sociology, Political Science, Philosophy, Public Administration and Women Studies. I am also a certified Mediator and teach a course in Mediation and Conflict Resolution.
My areas of interest and expertise include: International and Comparative Law and International Relations, Humanitarian Law, Human Rights and Social Justice, Globalization, Violence and Conflict and Conflict Resolution, Gender and Women's Rights.
Courses offered at California State University East Bay are: Human Rights and Social Justice, International Relations, World Problems and Global Response, World Development, Globalization, Global Systems, Violence and Conflict, Mediation and Conflict Resolution, Deviance and Social Control, Sociology of Gender, Gender and Society, Self and Society, Sociology of the Family, Sociology of Education and Women in War.
I have worked as an attorney in Europe and since 2000 I have appeared before the American courts as an expert. My work as a consultant in the field of human rights, conflict resolution and responsible use of genetic technologies has included governmental and non-governmental organizations like the UN High Commissioner for Refugees, The International Red Cross, US Congressional Office, The Center for Genetics and Society, The Alliance for Humane Biotechnology etc. I was the founding Director of The Human Rights Center at our university from 1998 to 2003.
I have lived in several European countries and in the United States and travelled across the world. During the last 25 years my family has resided in Berkeley, California.
Fall Semester 2023

| Course # | Sec | Course Title | Days | From | To | Location | Campus |
| --- | --- | --- | --- | --- | --- | --- | --- |
| SOC 340 | 01 | Sociology of Gender | ARR | | | WEB-ASYNCH | Online Campus |
| SOC 340 | 02 | Sociology of Gender | ARR | | | WEB-ASYNCH | Online Campus |
| SOC 355 | 01 | Global Society | ARR | | | WEB-ASYNCH | Online Campus |
| SOC 365 | 01 | Deviance and Social Control | ARR | | | WEB-ASYNCH | Online Campus |