Dr. Anthony Ocampo
Dr. Anthony Ocampo, a Ford Foundation Fellow and Associate Professor of Sociology at Cal Poly Pomona, will give a talk titled, "Rethinking Race, Gender, and Education: Intersectional Approaches to School-Community Relationships" on Saturday, 1:00 pm, February 8, 2020. Dr. Ocampo is the author of The Latinos of Asia: How Filipino Americans Break the Rules of Race (Stanford University Press), and co-editor of Contemporary Asian America (NYU Press). His research on the educational trajectories of second-generation Latinos and Asian Americans has been published in journals in education, sociology, and ethnic studies, including Race, Ethnicity, and Education; Ethnic and Racial Studies; Latino Studies; and the Journal of Asian American Studies. Dr. Ocampo's research and commentaries on immigration, race, and education have been featured on NPR, Public Radio International, The New York Times, and The San Francisco Chronicle. He is currently working with NYU Press on his second book about the comparative educational experiences of Latino and Filipino American queer male youth in Los Angeles.
Dr. Farima Pour-Khorshid
Bay Area educator-organizer-scholar, Dr. Farima Pour-Khorshid, will deliver a talk on Thursday, March 5, 2020, 5:30 pm, titled "Cultivating Sacred Spaces: Organizing to Heal and Healing to Organize." Dr. Pour-Khorshid has taught at the elementary grade level as well as at the university level for over a decade, she has also supervised pre-service teachers, and facilitated teacher development workshops throughout California and the Atlantic coast of Nicaragua where her family emigrated from and where she lived between 2010-2012. She graduated with her Masters degree and Ph.D. at the University of California, Santa Cruz and is currently an assistant professor and teacher supervisor at the University of San Francisco. She holds leadership roles in the Teachers 4 Social Justice organization (www.T4SJ.org), the People's Education Movement-Bay Area, the national Education for Liberation Network (www.edliberation.org) and the Radical Healing Team at Flourish Agenda (www.flourishagenda.com).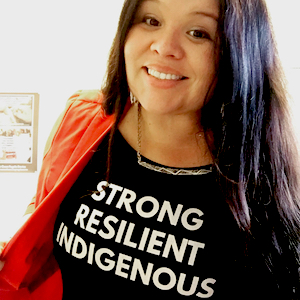 Dr. Cutcha Risling Baldy
Dr. Cutcha Risling Baldy kicks off our 2019-2020 Radical Educator Speaker Series on Saturday, November 2, from 1:00-3:00 pm, in the Art & Education Building on the Hayward campus. Her talk is titled, "Every time I give this talk somebody ends up writing me a letter trying to explain why they can't give stolen land back: Decolonial musings, radical imagination and building Indigence futures." Dr. Risling Baldy is an Assistant Professor and Department Chair of Native American Studies at Humboldt State University. Her research is focused on Indigenous feminisms, California Indians and decolonization. She received her Ph.D. in Native American Studies with a Designated Emphasis in Feminist Theory and Research from the University of California, Davis and her M.F.A. in Creative Writing & Literary Research from San Diego State University. She also has her B.A. in Psychology from Stanford University. She has published in the Ecological Processes Journal, the Wicazo Sa Review, and the Decolonization: Indignity, Education and Society journal. She has also published creative writing in the As/Us journal and News from Native California. Dr. Risling Baldy is the author of a popular blog that explores issues of social justice, history and California Indian politics and culture.