News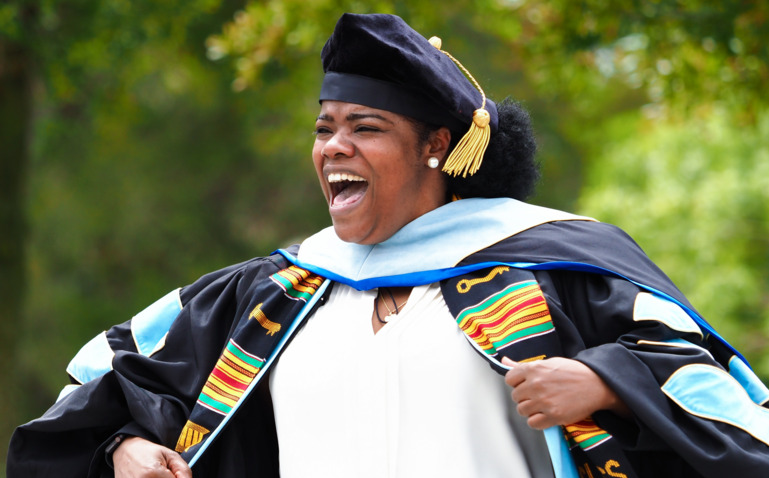 Dr. Sabrina Moore Receives Jefferson Award
Congratulations to Dr. Sabrina Moore, class of 2021, for being awarded a Jefferson Award and recognized by KPIX/CBS News for her outstanding work with the 3Ls Academy. Read More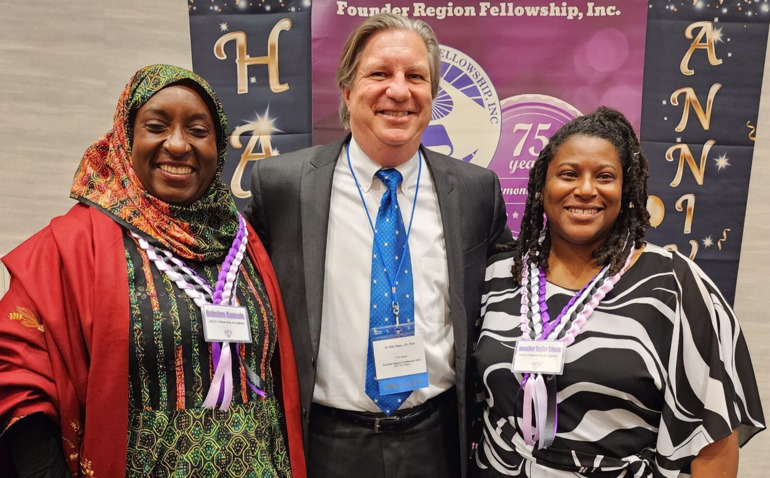 Two CSUEB EdD Students Awarded Soroptimist Fellowship
Congratulations to third-year EdD candidates Jennifer Edens and Babalwa Kwanele who were selected to receive a 2023 Soroptimist Fellowship Award in the amount of $10,750 to support the final phase of their doctoral studies! They are pictured here with Dr. Eric Haas, director of CSUEB's Doctoral Program in Educational Leadership for Social Justice. Dr. Haas was the keynote speaker at this year's Founder Region Fellowship awards ceremony.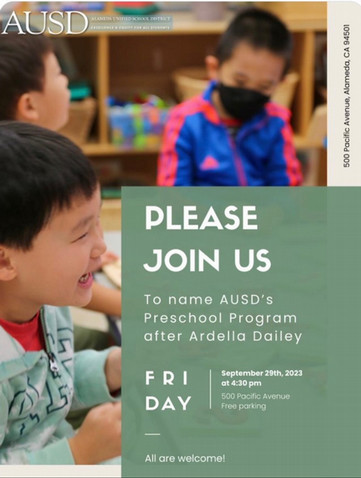 Alameda Unified School District Honors Dr. Ardella Dailey
All are welcome to join us on September 29 as we name the district's preschool program after longtime AUSD educator and social justice advocate Dr. Ardella Dailey. The event will feature speakers and the unveiling of a new plaque honoring Dr. Dailey. 4:30 pm, WCDC, 500 Pacific Ave.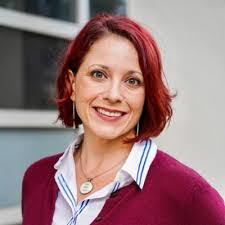 Strom Collaborates with Smithsonian Science Ed Center
Reimagining our Global Crises Response: How Cal State East Bay's Collaboration With The Smithsonian Science Education Center is Working to Find Solutions for Global Crises Read More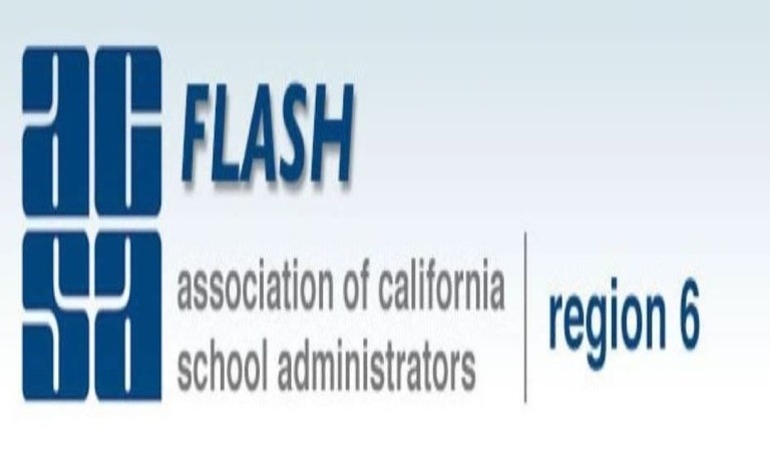 Congratulations to our department alumni who were recently recognized by ACSA as Administrators of the Year 2022
Kelly Bowers, Superintendent, Livermore VUSD; Sebastian Bull, Secondary Principal, Pleasanton USD; Eileen Chen, Central Office Administrator, Pittsburg, USD; Meredith Marie Dolley, Elementary Principal, Lafayette ESD ; Jacklynn Sprague, Adult Education Administrator, Fremont USD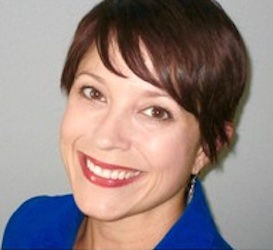 Dr. Katie Strom Co-Edits Special Double Issue on Teacher Professional Development
Dr. Katie Strom has co-edited a double special issue on complex perspectives on teacher development. The dominant way the field thinks about the link between teacher learning and the practice remains linear, dualistic, transactional, and rooted in human agency (Strom & Martin, 2017; Strom &; Viesca, 2020). The twenty-two articles in this special issue trouble that dominant thinking by drawing on a continuum of complex perspectives, including Cultural Historical Activity Theory (CHAT), complexity theory, Actor-Network Theory (ANT), indigenous perspectives, rhizomatics, 'new' materialisms, posthumanism, and affect theory, to provide relational, situated, decentred analyses of teacher development.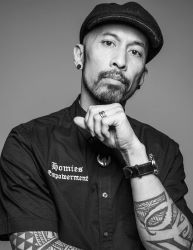 Dr. G. Reyes Delivers Keynote Talks
Dr. G. Reyes is the keynote speaker for the 2022 Annual Conference of the Minnesota Association of Alternative Programs scheduled for February 2.  On February 23, he'll give the keynote address at the California Association of California Community College  Administrators Annual Conference to be held in Monterey.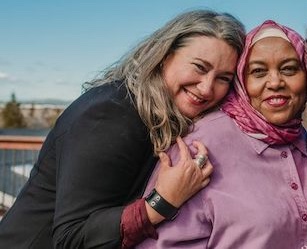 Co-Found Non-Profit
EdD alumnae Julie Rems Smario and Maha Jacobs has co-founded a non-profit organization, Co-Fusion Group, whose mission is to cultivate expertise shoulder-to-shoulder with communities to end inequities and seek social justice. To learn more about their services, visit their website www.CoFusionGroup.org or Facebook page www.facebook.com/CoFusionGroup.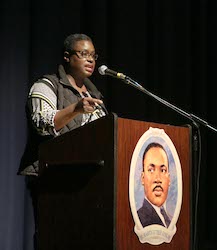 Dr. Gray Commended as CSUEB's 2021 Outstanding Scholar on Issues of Diversity, Social Justice and Multiculturalism
Dr. Gray is the faculty coordinator of the Preliminary Administrative Services Credential Program (PASC) and teaches in both the PASC Program and the Doctoral Program for Educational Leadership for Social Justice. Her research examines the role of school administrators and school-based law enforcement in the disproportionate discipline of Latino boys. She co-facilitates an affinity group for Educational Leadership students and alumni who identify as African American women. Started in 2020, AAWL meets monthly throughout the academic year to support and uplift African American women preschool through university educational leaders.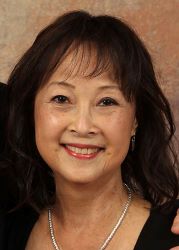 Gift from Dr. Emily Lowe Brizendine Supports EdD Student Research
Dr. Emily Lowe Brizendine made a $25,000 gift to Cal State East Bay's Center for Research, Equity and Community Engagement (CRECE). Her gift, named the Ruth L.T. Lowe CRECE Research Award, will help ease some of the challenges doctoral students may face in conducting their research. "This generous gift will be instrumental in leveling the playing field for our doctoral students, providing opportunities and resources for research and publication that are often only available for the most privileged," said Kathryn Hayes, the director of CRECE and associate professor of educational leadership. Read More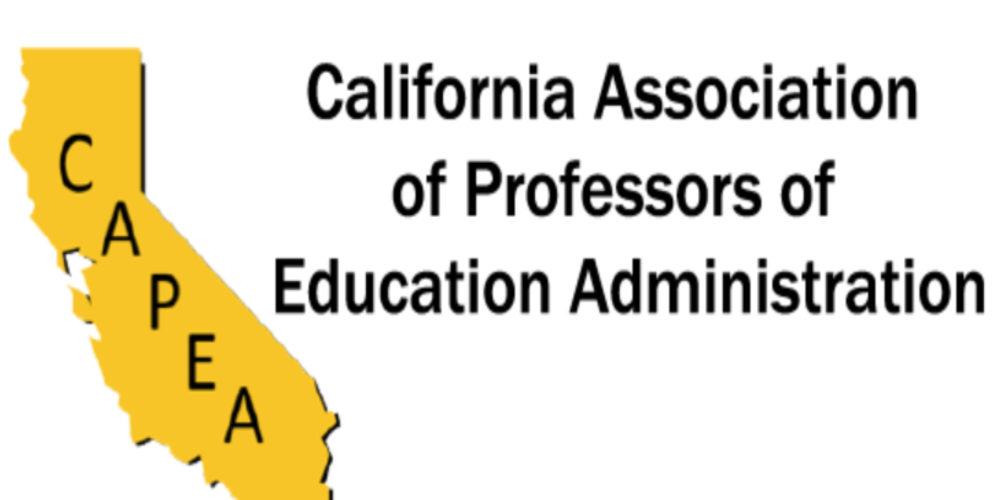 EdD Students Present Research at 2022 CAPEA Conference
Congratulations to EdD students Stacy Southern, Rachel Vatannia, Winnie Kwofie, and E'Rika Chambers who presented their research on the theme "Abolitionist Leadership: Recreating, Restructuring, and Reorienting How We Serve Communities."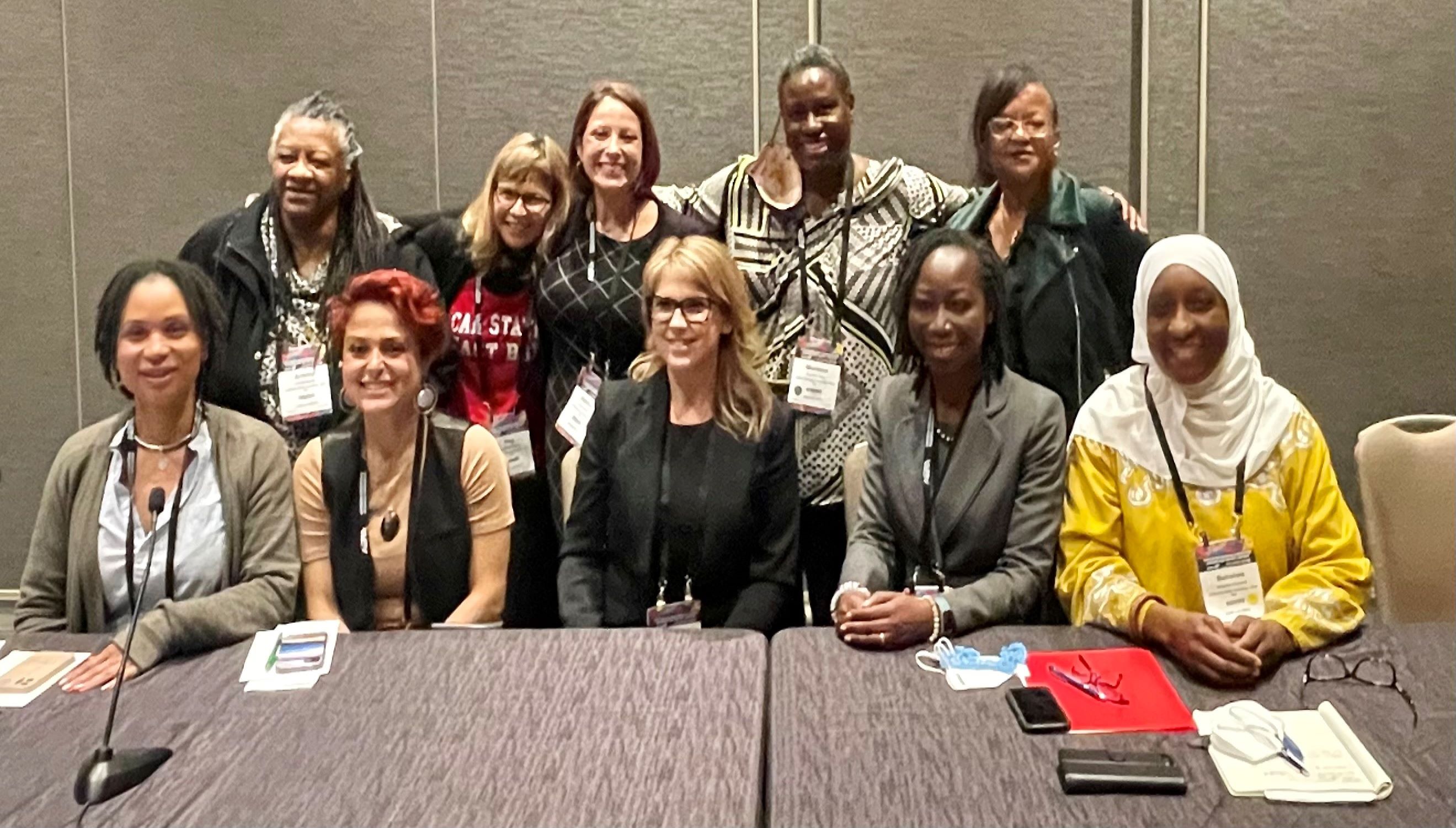 EdD Students Present Research at 2022 Annual AERA Meeting in San Diego.
Members of the Abolitionist Leadership Working Group E'Rika Chambers, Rachel Vatannia, Melissa Potts, Stacy Southern, Winnie Kwofie, and Babalwa Kwanele presented their research at this year's Annual AERA Meeting.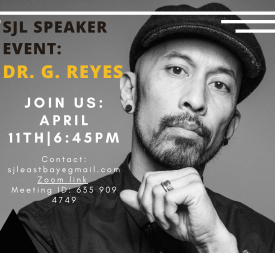 Dr. G. Reyes to Speak to CSUEB Social Justice League
Join Dr. G. Reyes via Zoom on April 11 at 6:45 pm for a discussion of his work which centers upon inviting the radical imagination and building capacity for folks to transform their own realities while both excavating and honoring their ways of being and becoming that are not rooted in whiteness, colonialism, and capitalism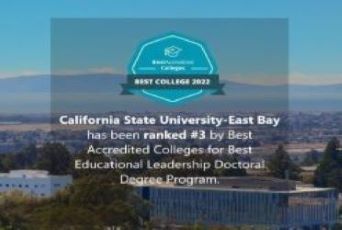 California State University, East Bay has been ranked #3 by Best Accredited Colleges for Best Educational Leadership Doctoral Degree Program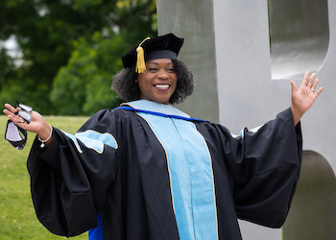 Alumna Mia Settles-Tidwell Assumes New Leadership Position
Mia Settles-Tidwell, EdD '2021, has accepted a new position as Vice President of Inclusive Excellence at Sacramento State. Her dissertation research focused on At the Table Activism and how female administrators of color navigated historically white institutions and made institutional change.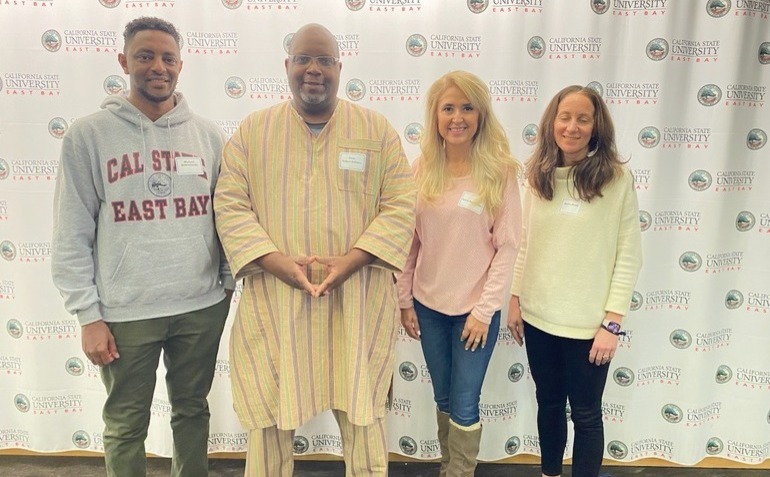 Micheal Gebreslassie, Monica Ready, and Maria Bordanaro received AASA Superintendent's Scholarship!
Micheal Gebreslassie, Monica Ready, and Maria Bordanaro, current students in the EdD program at Cal State East Bay, have received the highly coveted AASA Superintendent's Scholarship! This award recognizes outstanding individuals who demonstrate a commitment to advancing the field of education and creating positive change in their communities. Congratulations, Michael, Monica, and Maria! (Pictured here from left to right, are Michael Gebreslassie, CEAS Dean Robert Williams, Maria Bordanaro, and Monica Ready.)