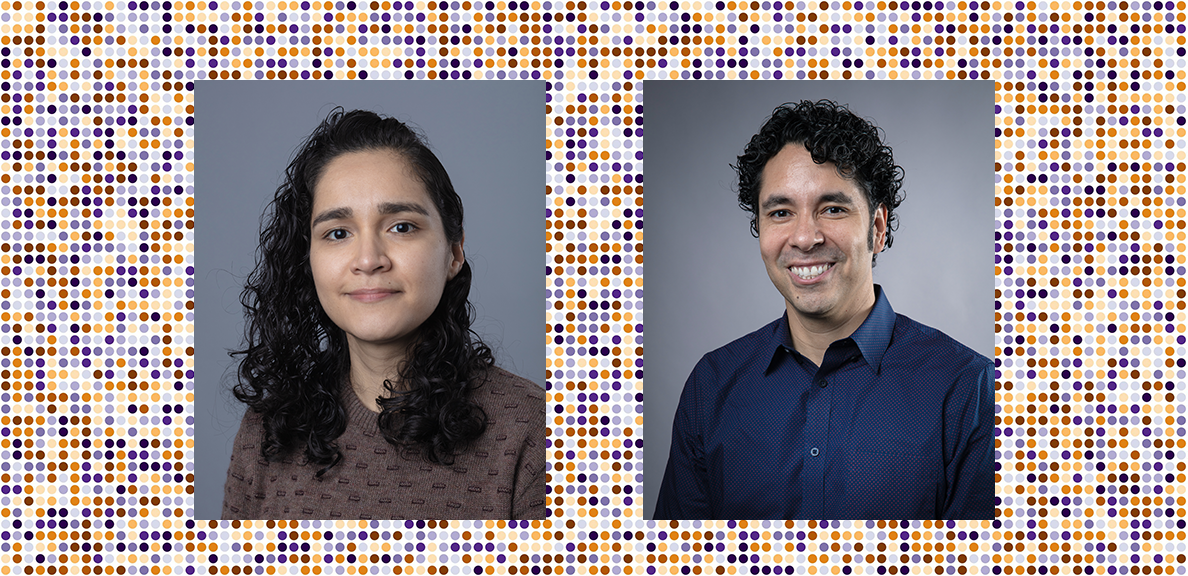 Mathematical Association of America awards distinguished honors to Cal State East Bay faculty
BY Cal State East Bay
March 14, 2022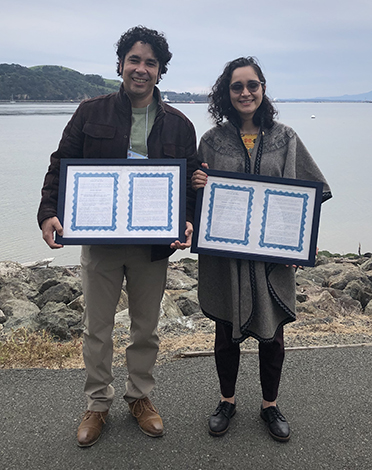 Math faculty Jesús Oliver and Andrea Arauza Rivera were recognized at a Mathematical Association of America meeting at Cal State Monterey Bay.
Jesús Oliver and Andrea Arauza Rivera might explain their impact on students as a simple mathematical equation: one plus one over and over again equals infinity. That is, their impact as individual faculty who take individual interest in their students has an endless impact on learning, confidence and community.
The Department of Mathematics' faculty were recently recognized by the Mathematical Association of America's Golden Section (representing Northern California, Hawaii and Nevada) for their commitment to students. Oliver's and Arauza's recognitions are the first time that both teaching awards have gone to faculty from the same university.
Assistant Professor Oliver received the Golden Section Haimo Award for Distinguished Teacher of College or University Mathematics. He was acknowledged for encouraging deep thinking and engagement; creating an inclusive, collaborative, and active learning environment; and inspiring and supporting the use of these strategies through a Community of Practice.  
Assistant Professor Arauza, who joined Cal State East Bay in 2018, was honored with the Golden Section Alder Award for Distinguished Beginning Teacher of College or University Mathematics. She has made key achievements in curriculum and instruction, equity through innovative assessment, and student research and projects. 
Julie Glass, department chair, praised the honorees. "Dr. Oliver and Dr. Arauza are exceptional teachers and mentors. They share their stories with our students, they share their instructional skill and ideas with other faculty, and they share their commitment to student success with our community. Their work is making a difference in the lives of our students and will have a lasting impact on their future paths, whatever those may be."
Other colleagues who were part of the nomination process said it is rare "to be that teacher who is loved by all and yet, Dr. Oliver has achieved that." The submitter explained that Oliver engages in lively conversations with students about math and their lives, both in and out of the classroom.
"Teaching mathematics gives me the opportunity to provide help, support, and mentorship for students in a discipline that is essential to a dynamical, increasingly technological world," said Oliver. "I am incredibly lucky to be in my current position and to have had the family, mentors, and friends who have been in my life. I am a first generation Latinx immigrant, an English as a second language learner, a first generation college student, and a mathematician. Everything could have gone so differently for me -- and not a day goes by that I don't reflect on this fact. I am now in a place where I can look back and see all the love and help I've received during my journey. I can't help but think that teaching math gives me the opportunity to help others achieve what they have dreamed about."
Similarly, colleagues said that Arauza is an extraordinary teacher, collaborator, mentor and leader. "She infuses her values of joy, community, justice and love skillfully and visibly into her teaching and all of her interactions with students and others in the university community," they said.
The Mathematical Association of America's Awards for Distinguished College or University Teaching of Mathematics and the Distinguished Beginning Teacher of Mathematics honor college or university teachers who have been widely recognized as extraordinarily successful and whose teaching effectiveness has been shown to have had influence beyond their own institutions. At most, three college or university teachers are honored with each award.