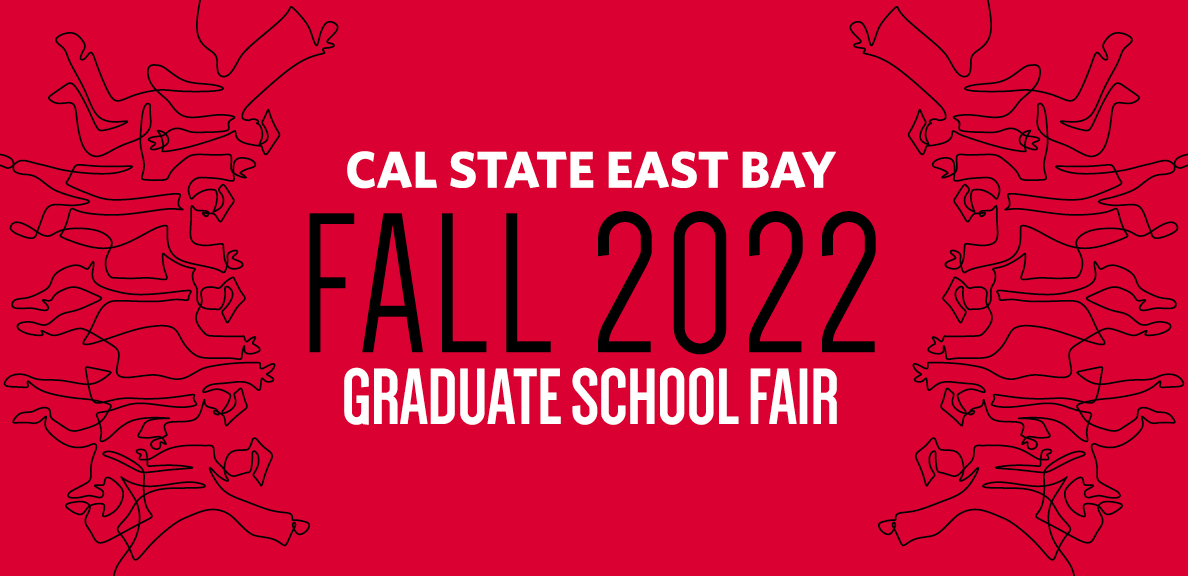 Graduate School Trends Show Demand, Higher Income
BY Cal State East Bay
October 20, 2022
Graduate school–the continued degree-earning education beyond a bachelor's degree–is on the rise. Those with advanced degrees have a lower likelihood of unemployment, greater job growth and higher annual income. 
Kevin Brown, director of Graduate Studies, explained that advanced degrees offer greater career growth and personal satisfaction. "In particular, in the last couple years, many people have realized that they want a different and more fulfilling work experience. A graduate degree can provide the qualifications for exploring new opportunities."
"However, don't just get a degree without identifying a strong reason for spending two years of your life pursuing education," he cautioned.
 Brown shared guidance for those considering graduate school and encouraged them to attend the in-person Graduate School Fair on Thursday, Oct. 27 from 11 a.m. to 2 p.m. in the University Union MPR. It is open to anyone interested in graduate education, from juniors and seniors ready to apply to a graduate program, to first-years and sophomores who want to learn about the possible benefits and how to prepare. 
"The Graduate School Fair is an opportunity to ask recruiters questions," he said. Grad school is very different from undergraduate programs, and students are often intrigued by the opportunity to engage in research programs.
Why pursue graduate education? 
Job opportunities:

"Some positions require a graduate degree," explained Brown. These include education administrators, such as principals, social workers, librarians, physicians assistants, nurse practitioners and speech pathologists. 

Career advancement or change:

Higher-level positions or ones with decision-making authority may require a graduate degree. Moving to a new discipline or a new specialization within an existing discipline can also require additional education.

Career opportunities: "

More people are getting graduate degrees," said Brown, pointing to national statistics that show the number of master's degrees has increased 15 percent in the last 10 years. "That's going to continue to be the case, meaning there is greater competition for positions," he explained. 

Increased earning potential:

The median annual earning for those who hold a master's degree was more than

$13,000 a year

higher than for those with bachelor's degrees and those with advanced professional degrees earn nearly $30,000 per year more than those with bachelor's degrees (U.S. Department of Labor Statistics). 
Aside from career development reasons, Brown also says that graduate school is an opportunity to learn about the things that interest you most. "Because you simply want to, is a good enough reason," he said. 
What are the key things to need to ask/know about choosing a graduate school? 
Identify job opportunities:

The Bureau of Labor Statistics has insight into anticipated job growth. "You want to make sure you are not wasting your time pursuing the wrong path to your career aspirations," Brown said.
Inquire about research:

In most graduate programs, research is essential to the mastery of the discipline. Students should ask about access to advanced research equipment and tools, professors, library services and student support programs.
Determine cost

: Graduate programs typically cost more than undergraduate programs at the same schools, and students should ask about the availability of financial aid, scholarships, grants or graduate assistant positions. Additionally, they should inquire with their employer about incentives or tuition reimbursement

.
Match academic, professional and social needs:

Students should look at an institution's reputation and accreditation factors, particularly in discipline-specific (social work, business) programs. Graduate school requires commitment of time and lifestyle change, so students should also consider geographic location, housing or access needs, and expectations about the school-related community. 
"Most importantly, make sure the program addresses your interests and fits your ideals" Brown said. 
Brown advocates for Cal State East Bay's graduate programs, noting that they are attractive because of affordability and the wide variety of disciplines offered. 
 "Cal State East Bay is right for many because we have hybrid and online instruction, and many graduate programs have late afternoon, evening or weekend schedules," he said. "Small classes make this a personal experience that is achievable for many professionals."
What are the advantages of a Cal State East Bay graduate program?
Courses in many programs meet just one night per week

Smaller class and cohort sizes

Most programs can be completed in two years or less

Affordability

Greater Bay Area location for lifestyle and career options

Full-time faculty have Ph.D.s or other terminal degrees; adjunct faculty are experts in their practice/industry

Accreditations at the university and program levels 
Cal State East Bay's fall Graduate School Fair will be held Thursday, Oct. 27 from 11 a.m. to 2 p.m. in the UU MPR. Representatives from over 50 graduate programs from Cal State East Bay, and a selection of CSUs, UCs and private universities will be available to answer questions about their graduate programs, admission requirements, and more.
Visit the Office of Graduate Studies website for more information and to register via Handshake.