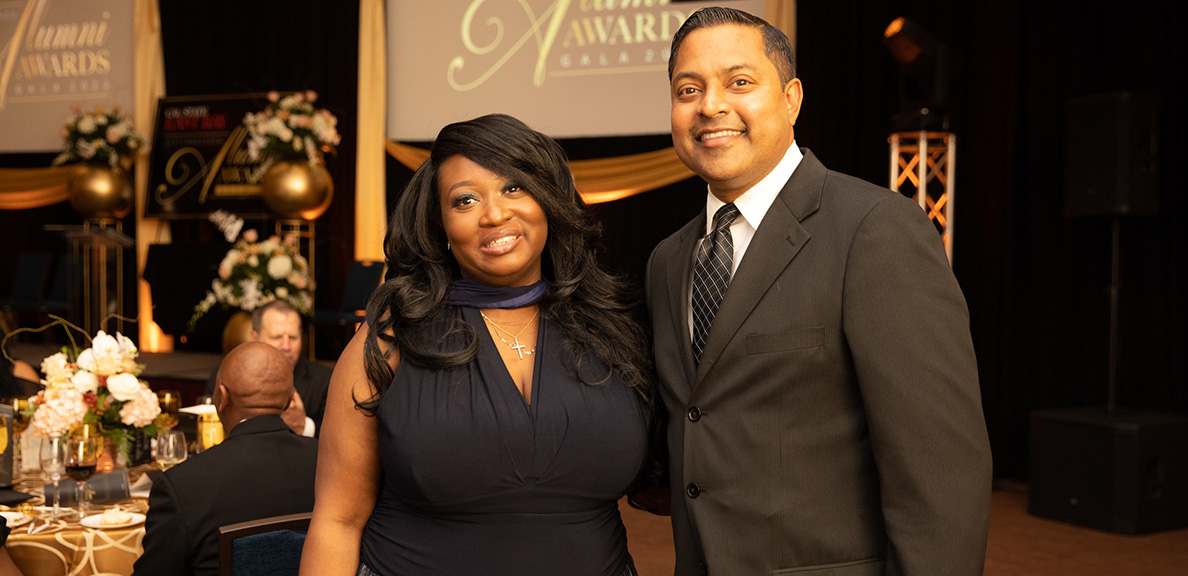 Honoring Those Who Have Served
BY Kimberly Hawkins
PHOTOGRAPHY BY Garvin Tso | Veronica Collins (Left) with Professor Arnab Mukherjea (Right)
November 10, 2022
On Veterans Day, it is easy to be distracted by the flashy sales and discounts from stores gearing up for the holiday season. But as Cal State East Bay Alumna and Air Force veteran Veronica Collins reminds us, this is an important time to stop and pay attention to those service members who raised their hands to serve and protect this country. 
"Not only do we make sacrifices, so do our families and friends," said Collins. "It is important to remember that service members volunteer to serve. Veterans Day is meant to honor everyone who has served."
Collins says she will spend the holiday volunteering and reaching out to fellow military members to thank them for their service. She hopes others will pause in their day to reflect on who our veterans are and what they have given. 
"If you know someone who has served please take a moment to thank them for their service," said Collins.
Collins served 12 years and retired as Air Force Staff Sergeant. As a first-generation student, she graduated in 2019 with a Bachelor of Science in Health Sciences and remains committed to serving her community, working in the Center for Connected Health Policy. 
"My family, the community I grew up in, and my professors at East Bay in the School of Public Health inspired me," said Collins. "The faculty helped me understand that public health is where I need to be. Understanding that policies impact change helps me remember my 'Why'."
Cal State East Bay honored Collins last year as a 40 under 40 award recipient. 
In honor of Veterans Day, Cal State East Bay will be closed Nov. 11.