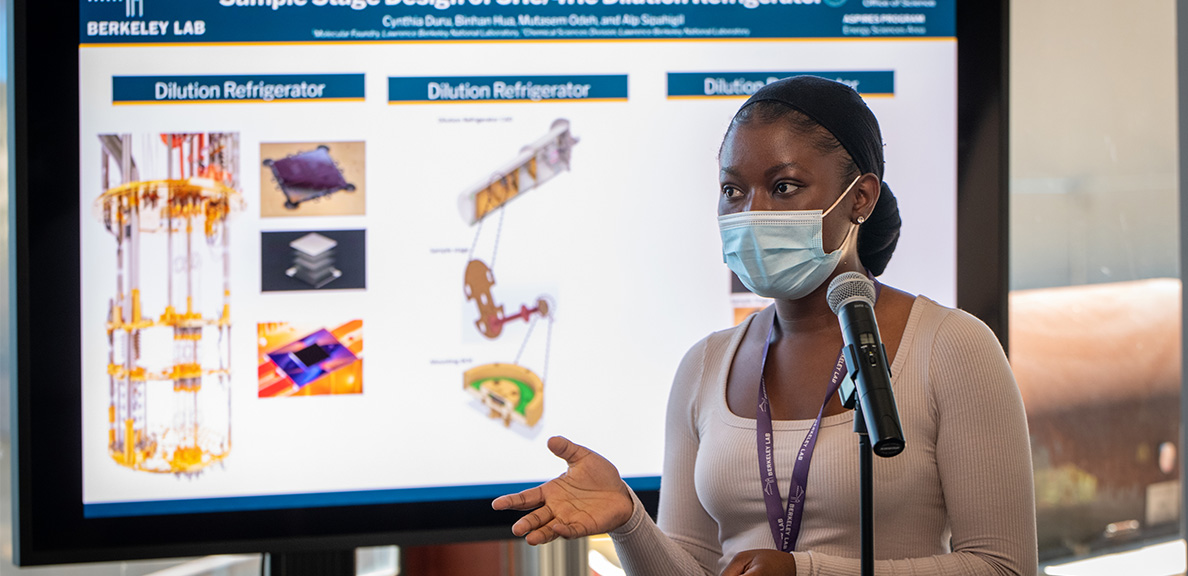 Career Awareness and Preparation: The next generation STEM workforce in the San Francisco Bay Area
BY Sarah Harris
PHOTOGRAPHY BY Mazie Mauricio
February 28, 2023
Providing STEM Exploration
Cal State East Bay's Career Awareness and Preparation Program (CAP) prepares students to enter the science, technology, engineering, and mathematics (STEM) workforce by providing educational opportunities outside the classroom. As the newest program launched by The Institute for STEM Education, CAP provides support in multiple areas and access to internships through community partnerships. The Institute aims to bring a well-rounded, accessible STEM experience to CSUEB students.  
Creating a Comprehensive Approach to Career Development
Career readiness was already a feature of other Institute programs, but CAP focuses on building the career pipeline for CSUEB through a holistic approach. According to Bruce Simon, director of the Institute for STEM Education, "We have recognized the importance of supporting students as they work to understand their interests and aptitudes, set their career goals, and understand the intersection of their life and school experiences." Figuring out a career path can be difficult, so programs like CAP guide students as they realize the possibilities for their futures.    
Boosting Confidence Through Industry Exposure
The CAP Program is fully supported by coordinator Mazie Mauricio, and one area of emphasis is building up confidence for students. "CSUEB's diverse pool of students are incredibly talented and have the necessary skills and knowledge to perform, but we have found that they just need an extra boost in confidence. The Institute's attempt to increase student confidence is by creating opportunities with industry partners who prioritize the well-being of our unique student population and empathize with their backgrounds," said Mauricio. 
Building Community Partnerships 
The Bay Area is home to a number of STEM employers and the CAP Program partners with them to create hands-on experiences for CSUEB students and offer a taste of the industry. 
In the spring 2022 semester, the CAP Program connected with Lawrence Berkeley National Laboratory (Berkeley Lab) to launch the nine-week, paid internship program Advancing STEM Pioneers in Research in Energy Sciences (ASPIRES). The ASPIRES interns worked with Berkeley Lab scientists in the Energy Sciences Area and presented their research to an audience through a poster session at the tail end of the program. CAP is in the process of helping students prepare for the 2023 ASPIRES program; applications open March 6.
The Genentech ENGAGE Mentorship Program is another partnership focused on career readiness. The program has proven successful since the fall 2022 semester: 21 CSUEB undergraduates were matched to a Genentech mentor. Connecting with a mentor allows students to explore a potential career path and receive valuable feedback. Participants also visited Genentech's facilities earlier this month for a tour. 
Many students are figuring out how their studies can help them achieve their goals after they graduate. "CAP supports this exploration and provides students opportunities to visit STEM businesses, and interact with STEM professions to work on their professional communication skills and collateral," said Simon. Building their professional profiles will help students take their first steps into the workforce post-graduation. 
A Smooth Application Process
Application requirements were updated by Berkeley Lab and the CAP Program to provide access to a broader group of students. The interns also received stipends and housing support. Coupled with workshops to improve the applicants' resumes and cover letters, the CAP Program hoped to encourage historically excluded students to apply. Mauricio said, "Through our Career Readiness Workshops, we cover topics like resume and cover letter writing, improving interviewing skills, career and goal mapping, and more." Having more support through the Career Readiness Workshops helps to level the playing field for applicants.
The Next Generation
CAP and its partners have had a major impact on its participants already. Jenesis Barajas, a participant in the Genentech Mentorship Program, said, "I'm truly enjoying the program. I needed the encouragement to do things such as applying for summer internships. I feel like I've grown in the past few months and I don't feel so alone as I navigate my college experience." The mentors serve as another support system for STEM students who will soon become the next generations of leaders in the industry. 
If you'd like to become an industry partner, go to
https://www.csueastbay.edu/giving/get-involved/corporations-and-foundations.html
.