Corporations and Foundations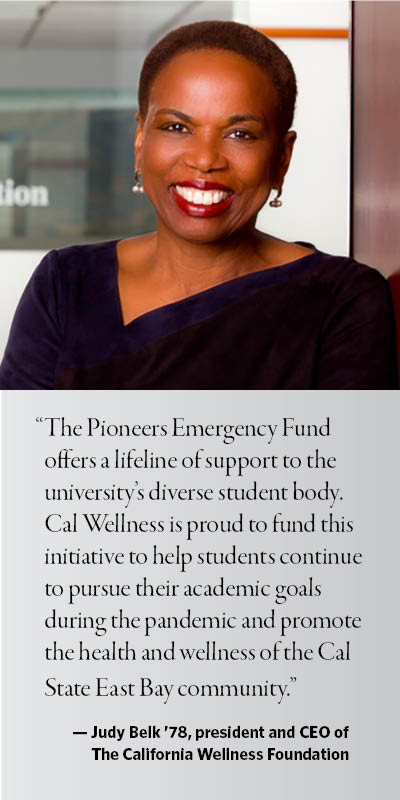 Cal State East Bay-educated students reflect the vibrant, creative, and multicultural communities of the region. Our graduates fill the ranks of new businesses and are inspiring products and innovation across the East Bay and Silicon Valley, bringing diversity of thought and perspective into highly competitive fields. 
Cal State East Bay graduates are making solid contributions to the innovation economy, education, allied health and social services. Two-thirds of the top 15 Bay Area employers of our graduates are in the STEM or allied health fields including Apple, Cisco, Genentech, Google, Kaiser Permanente, Oracle, Pacific Gas and Electric Company, Stanford Health Care, Tesla and Workday, with Facebook rapidly moving into this top list. 
Your partnership with us is truly an investment in the entire Bay Area. 
Corporate Partnerships
Corporate partnerships provide opportunities to support programs and initiatives that impact students and the community, and that also align with your company's mission. Cal State East Bay's corporate collaborations have focused on growing a capable and diverse workforce pipeline, curriculum development, and the introduction of companies and products to future users and consumers. Corporations get exposure to top talent among job-ready Cal State East Bay students and access to industry-specific faculty expertise.
Cal State East Bay is one of the five largest universities in the Bay Area and 80 percent of our students come from and remain in the Bay Area to fuel the region's workforce.
 Among Cal State East Bay's corporate partners:
Amgen

AT&T

Bank of America

Bayer

Chevron

Illumina

Kaiser Permanente

Pacific Gas and Electric Company

Swinerton

Wareham Development

Wells Fargo
Foundation Partnerships
Partnering with Cal State East Bay offers foundations access to a large community, both on and off campus, where philanthropic donations can make a significant impact. With four colleges and a pool of faculty experts, foundations can support programs that address 21st-century challenges, including access to education, social and economic justice, teacher education, and more.
Among Cal State East Bay's foundation partners:
Broadcom Foundation

Crankstart Foundation

Dean & Margaret Lesher Foundation

ECMC Foundation

Howard Hughes Medical Institute

John Muir Community Health Fund

Koret Foundation

Stupski Foundation

Wayne and Gladys Valley Foundation
Interested in learning more? Please contact Valerie Schutz, Sr. Director of Corporate and Foundation Relations, at valerie.schutz@csueastbay.edu or 510-885-4296.