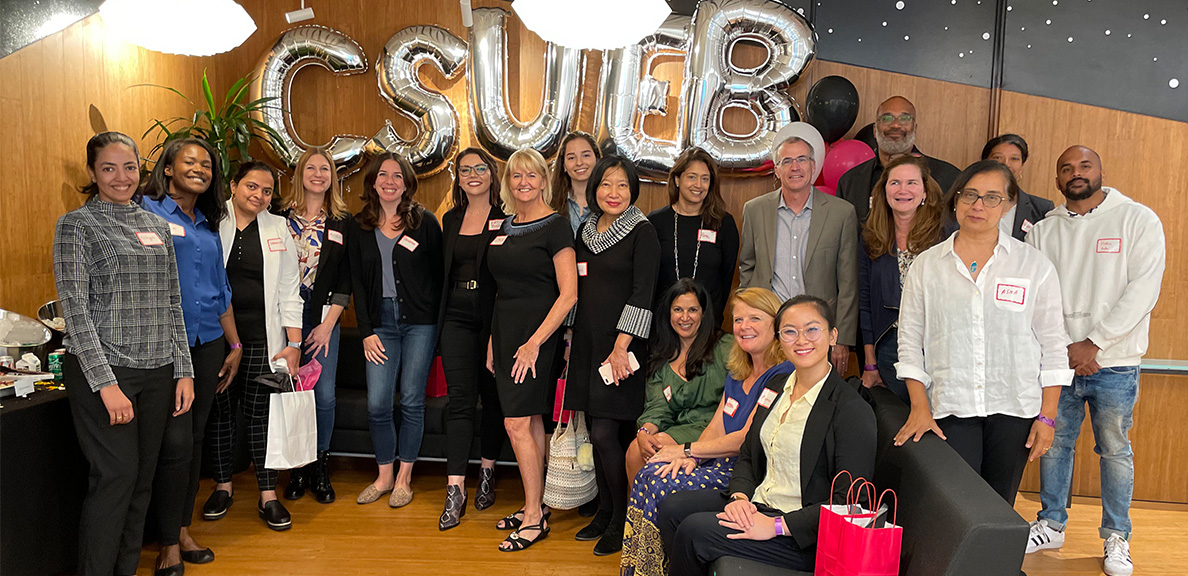 Women In Leadership Program and Forum: Closing the Gender Gap in the Workforce
BY Adelina Elo
February 28, 2023
According to an article by Best Colleges, women are surpassing men in college graduation and enrollment rates. At Cal State East Bay, nearly 60 percent of those enrolled students are women. 
Despite the high number of college-educated women, they still lag behind men in the workforce, particularly in leadership roles.
Cal State East Bay's Women in Leadership (WIL) program and "Power Your Purpose" forum are helping close that gap and build gender equity.
Developing Early-Career Readiness
The Women in Leadership program is specifically created for students and alumni who are just starting their careers because the transition from college to the labor market can be difficult, especially for women who often face discrimination and may not know how to navigate the work world.
Professor of Management and founder of WIL, Asha Rao said "The biggest fall off [for women] is the first part of their career because they tend not to negotiate their salaries and sometimes need help to articulate their vision as a leader." These factors compound over time, as it affects their future salaries and promotion ability.
The program helps combat this by preparing participants who are about to enter the workforce or are in the early stages of their careers.
Providing Unique Programming 
While other schools in the CSU system have a women-in-leadership-type program, like Fresno State's annual "Women's Empowerment Retreat" conference, Cal State East Bay is unique in that WIL provides a fellowship structure with an academia-industry collaboration and an opportunity to work on social impact initiatives.
Program fellows are supported through four key elements:
Mentorship: Fellows are paired with a business executive mentor for the academic year for professional development advice

Seminar: Fellows enroll and participate in a Women in Leadership seminar hosted by the the College of Business (CBE)

Social Entrepreneurship Leadership Project: Fellows engage in the social sector and contribute to their community through a social entrepreneurship project

Allowance: Fellows receive an award of $1000 (contingent on funding availability and meeting program requirements)
Expanding Knowledge-Sharing and Networking Opportunities
In addition to the program elements, Women in Leadership also hosts an annual forum, called "Power Your Purpose." This is the second year of the event, and it will be held in person over two days across two campuses:
Friday, March 17 at the CSUEB Oakland Center 

Saturday, March 18 at the CSUEB Hayward Campus
The event is for students, professionals, and academics to gain skills and build their networks. It will include workshops, research presentations, an ideathon, and discussion panels on various topics, including tech, venture funding, higher education, accessibility, and inclusion.
It is a great opportunity for participants to hear stories from successful women across different industries and learn how they rose to their leadership levels. 
The research portion of the event gives students a chance to submit a paper on the topic of women in leadership and present them — in person or virtually. Topics range from "Board membership equity" to "Allyship" to "DEI Analytics." Last year, submissions came from all over the world, with some scholars presenting from Europe.
The networking opportunity at the conference is especially important as people transition away from being online in the last few years, and for those who may have been impacted by recent layoffs in the Bay Area. 
While the event is focused on women in leadership, it is open to all. 

Growing the Women In Leadership Program
According to Rao the WIL program, which started at the College of Business & Economics, now includes students in the College of Science as well. But her dream is for the program to be across all disciplines.
Dean of the College of Business & Economics, Gangaram Singh agrees and welcomes the  expansion.
"I'm proud that the Women In Leadership program started at the College of Business, but I'm excited to see it roll out to the other colleges on campus," said Singh. "This will provide women at CSUEB more access to greater opportunities."
Empowering Women 
The importance of the Women In Leadership program is that it prepares women who otherwise would be marginalized from leadership roles. 
As director of development for CBE, LizaDawn Aduviso said, "Even in women-dominated sectors, like the non-profit profession, men are often in senior-level positions. But the WIL program is helping level the playing field for women. " 
Through the program's training, networking, and industry partnerships, women are given the tools they need to navigate their current and future career.