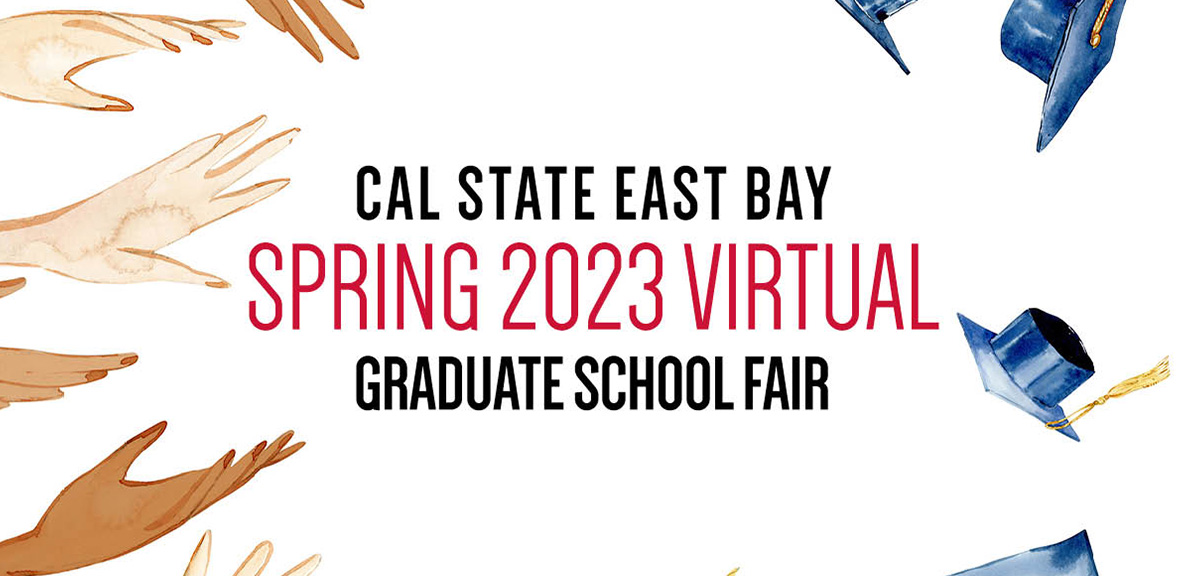 Graduate Level Research at Cal State East Bay
BY Sam Balderas
March 14, 2023
For those deciding on their post-undergraduate plans, you may consider graduate school. While it may seem daunting, a graduate degree can be a leg up in the job market and provide opportunities for research. 
An opportunity to learn more about graduate programs at Cal State East Bay is coming on March 16, when the university Office of Academic Programs and Services hosts the Spring 2023 Virtual Grad School Fair. It will be a perfect forum for curious students who may want to take their education a step further. At the Grad Fair, representatives from over 50 professional and research programs will be available over Zoom to answer any questions. 
We did a quick Q&A with Kevin Brown, Director of Graduate Studies and professor of computer science who says the event allows participants to learn about the opportunities and benefits of entering a graduate program.
What are frequently asked questions about graduate school? Common myths you'd like to dispel?
The most common one is, "Why would I go to grad school?" The best answer is, "It will allow you to get the job you want." The federal Bureau of Labor Statistics maintains a database showing the degree required for every type of job you could pursue plus the future job outlook.
Please see my video here for more reasons to attend graduate school: https://www.youtube.com/watch?v=Mo5cRjG0_j4+&feature=youtu.be
In terms of myths, some potential students may see graduate school as unachievable, but 1/6 of all CSUEB students are grad students, and most of our grad students earned their undergraduate degrees from CSUEB.
Why should students participate?
This is a great opportunity to talk to the coordinators of our graduate programs at Cal State East Bay. They do the admissions and advising for each of their own programs, so they can tell you whether a graduate degree is required for the jobs you are interested in, how to prepare for graduate school, how long it will take to earn a degree, and so on. They can also tell you where the students in their programs get jobs and how you might get involved in research in the program. From first-years to seniors, there is something for everyone. It is always wise to explore all your options, and this is an easy way to talk to the experts.
How do research opportunities expand with graduate programs?
Since graduate students already have completed an undergraduate degree, they can participate in research to a much larger extent. They can help faculty with research projects, and even publish and present papers at academic conferences. Since our graduate programs are typically much smaller than the corresponding undergraduate program, graduate students have much more access to their professors. In addition, some programs, like biological sciences and chemistry, require their students to do research in order to earn their degrees.
Opportunities to present research are also available at CSUEB. The first-ever Grad Slam Graduate Research Presentation Competition will be held April 11. 
In what ways can graduate students grow their research abilities through Grad Slam?
Our first Grad Slam Graduate Research Presentation competition will give student researchers the opportunity to deliver an elevator speech regarding their research to a general university audience. The ability to give such a speech is a valuable skill, which can serve the student many times in the future when they interview for jobs, seek funding for projects or recruit collaborators.
What should potential participants know about Grad Slam?
It is meant to be a fun, low-stress opportunity to present a student's research. The entrants will do a three-minute speech using a maximum of one PowerPoint slide. The audience will be people from across Cal State East Bay, so a big part of the competition is making your research clear to people outside your discipline. We have over $2000 in prizes to give away, and the top two winners will be invited to the CSU-Wide Grad Slam competition in May. 
What do you say to students hesitant to try Grad Slam?
This is a great opportunity to talk about the research that you are doing that you already love.  Since the audience is non-specialists, you will be the expert. That is very low stress compared to presenting at an academic conference. 
Please contact gradstudies@csueastbay.edu if you have other questions.