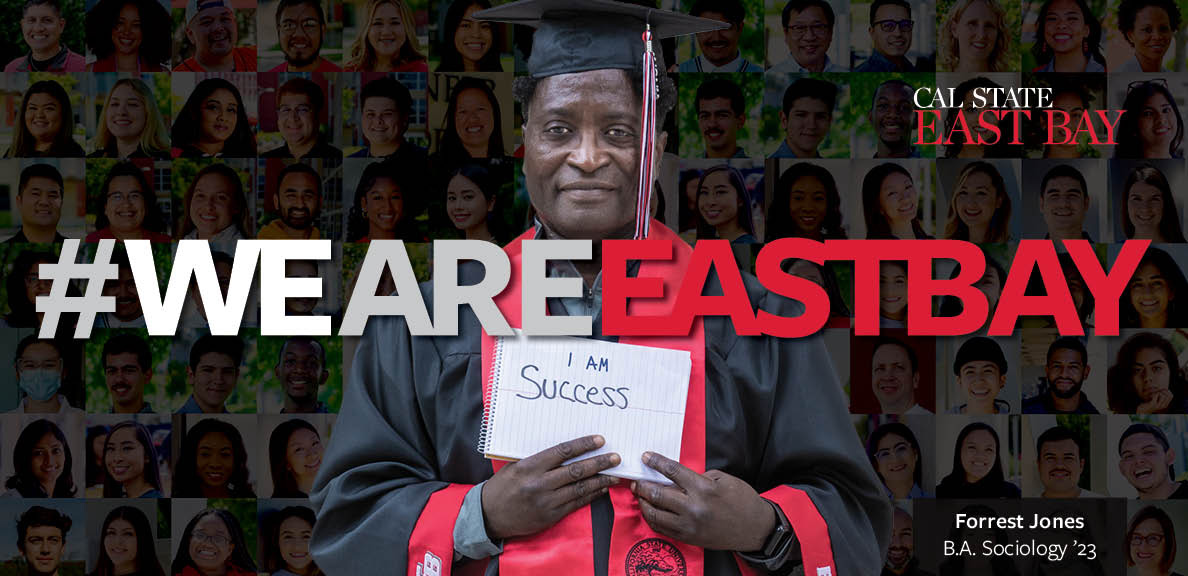 How a Prison Sentence Put One Graduate on His Path Toward True Freedom
BY Kimberly Hawkins
PHOTOGRAPHY BY Garvin Tso
May 4, 2023
Forrest Jones was a drug addict — stealing and selling things to fuel his addiction. 
"I was in such bad physical and emotional pain, homeless at one point, almost went into a mental institution," Jones said. 
Cocaine was a way to medicate his suffering. It is also what put him behind bars for a long time. 
Jones grew up the youngest of ten children in the Central San Joaquin Valley. He has no memory of his mother, who died when he was an infant. Years later, when his six sisters started leaving the house one by one, either to go off to school or to start their own families, Jones, feeling abandoned, came undone. 
"I became more reactionary, and my father didn't know how to react to that," said Jones. "He became both verbally and physically abusive toward me. And when he did, I began to rebel. I began to hang out with people who were in lives of crime."
In 1991, Jones was sent to state prison for burglary and theft. Four years later, he was released, returned to his addiction and then received a sentence of 25 years to life under the California Three Strike Law for stealing a $400 VCR. In 2018, he was paroled after serving 20 years.
"The original intent of the law was to incarcerate people who have serious and violent crimes, like murder, but unfortunately, they applied it to people who had minor crimes like mine," Jones said. 
Jones spent his incarceration studying the law and figuring out the root of his addiction. He became an activist and a journalist, writing for the San Quentin newspaper about law and prison reform. He was published in the Journal of Prisoners on Prison, made documentaries and also decided to go back to school. 
"Forrest not only endured prison for over two decades but while inside, wrote, published and advocated for sentencing reforms that helped change California's Three Strikes Law so that now only violent offenders are eligible to serve a life term under three Strikes," said Julie Beck, associate professor of sociology. "I have learned a tremendous amount from Forrest, who continues to research and advocate for sentencing reform in California. Working with him has been an incredibly valuable experience. Put simply, he continues to inspire me."
After being paroled in 2018, Jones sought out the programs and resources he wished he had years ago. While a student at Chabot College, he spent time studying in the old library at Cal State East Bay and eventually transferred to the Hayward campus. Jones will graduate this spring with a bachelor's degree in sociology.
"I think my greatest challenge is fighting this stigma of the person that I used to be and not wanting anyone to know that I did time in prison for fear of what they might think about me," said Jones. "Would a teacher even want me inside their class?"
While at the university, Jones helped to launch Project Rebound as its first student in the program which supports the higher education and successful reintegration of formerly incarcerated individuals wishing to enroll and succeed at California State University. Now he works as a program lead student, making sure formerly incarcerated students are understood, accepted and have the resources they need to be successful.  
"Forrest's energy and advocacy for new CSU East Bay students who are coming from having served time in jail, prison, or juvenile hall, now seeking their college degree, is amazing," said Beck, who has worked closely with Jones through Project Rebound and invites him to share his story in her classes. "I am inspired by his commitment to humanity — and by his sheer perseverance."
Jones promotes the program through presentations and also brings students to tour San Quentin prison. In addition, he is working with professors to create a CSUEB debate team to compete against the existing San Quentin State Prison Debate Team. 
"I've experienced the inequality, poverty and drug addiction," said Jones. "I understand this situation. So I think I'm a perfect fit for not only Project Rebound students but even the people that I'm gonna be working with as a social worker."
Through sociology, Jones has a way to make sense of his world, examining the stereotypical attitudes and judgments perpetuated against him and how groups function. After graduation, Jones says he will continue with Project Rebound as he works toward his master's degree in social work. He is looking forward to using his experience as fuel for the journey. 
"If Forrest isn't in the Project Rebound offices in Robinson Hall, or hanging out with Theatre and Dance students, you'll find him in the CORE working with tutors or helping other students," said Executive Director of Project Rebound Eileen Barrett. "He is a powerful voice for social justice and an advocate for other formerly incarcerated students."
Jones says he just wants to make life better for people. He will graduate on May 14 at 2:00 p.m. Some of his sisters will be at the ceremony. Jones said they have been his biggest cheerleaders, encouraging him through his incarceration and supporting him on his journey to his degree.