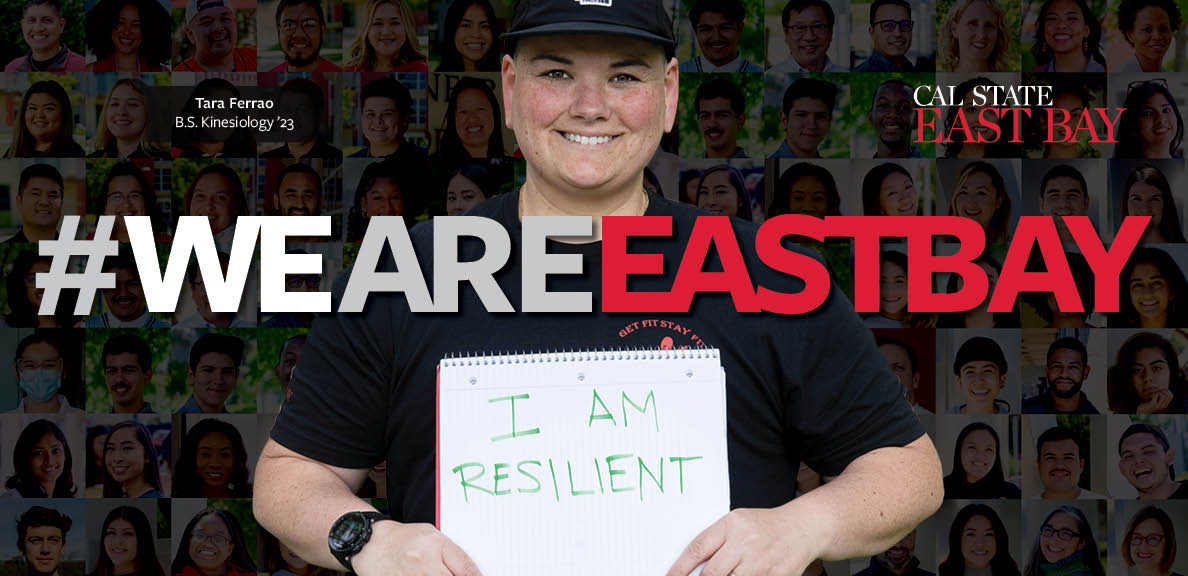 How One Student Took the Step Forward in Her Journey to Success
BY Adelina Elo
PHOTOGRAPHY BY Garvin Tso
May 9, 2023
"Growing up, I was the student that said that school just isn't for me. I don't work with school. I was so negative about it," said Tara Ferrao when reflecting back on her earlier academic experiences. 
It's hard to believe that Ferrao ever felt this way because this May she will be walking across the stage at commencement and earning a degree in kinesiology.
A long and winding road
Ferrao, a longtime Bay Area resident, didn't always know what she wanted to do after graduating from high school in Martinez, California. 
"I took some classes here and there at Diablo Valley College while I worked. But I didn't really know what I wanted and sort of goofed around," said Ferrao. 
She was interested in healthcare but this path didn't come into focus until she met her now wife, a learning disabilities specialist.
"I was working at Whole Foods at the time and [transitioned to] taking classes at Laney College in Oakland. My wife saw that I was struggling and encouraged me to get a learning assessment and that's where I found I had accessibility needs," said Ferrao. 
Armed with this knowledge and at a more mature stage in her life at Laney, she felt empowered.
"I had a hard time learning, but I now had the tricks and tools to thrive in school," Ferrao said. 
Embarking on a new path
After 15 years at Whole Foods, Ferrao knew that she wanted a career that was more in line with her passions and obtaining her degree was a way to get there.
Based on her longstanding interest in healthcare, she initially thought she wanted to go into nursing and took many of the prerequisites at Laney for the program. But when the pandemic hit — and she had time to really think about what path she wanted to take — she realized that it wasn't a good fit for her.
"I loved working at Whole Foods, but I wanted more. Plus, I knew I wanted a 9-5-type job, which nursing wasn't going to provide," said Ferrao.
She wanted to continue to pursue a professional career in healthcare but one with consistent hours. That's when she decided to change her major to kinesiology, especially since many of the classes overlapped with the nursing courses she already took.  
Carving out a future
Ferrao transferred from Laney College to Cal State East Bay in Spring 2021 to continue her education. 
"The transition to CSUEB was easy. I found a lot of support here and got the accommodations I needed from Accessibility Services," said Ferrao.
Her change to kinesiology proved to be a good move. "All my professors are supportive and inspiring," Ferrao said. "This really solidified the direction that I wanted to go and that I made the right choice for my future."
She went on to say that she hopes to use kinesiology to become a physical therapist to help people feel better and become more independent.
"There are so many people suffering from aches and pains and things like a simple movement that can make a difference really excites me! It's a good way to give back," Ferrao said.
And she's getting practice in paying it forward by leading a student group that creates videos with adaptive exercise and dance for participants through the LLAMA Project, or Life-Long Activity and Movement for Aphasia. 
"[Tara] works diligently and with passion to complete tasks, is thoughtful to consider all aspects of the movements and the physical abilities of the participants each week before recording, but also incorporates fun that is infectious!" said Jennifer Sherwood, assistant professor of kinesiology and one of the LLAMA Project advisors.
Their recent video received an honorable mention from the American Kinesiology Association (AKA) Diversity, Equity, and Inclusion Student Award. 
Moving forward
"I joke that Tara is the reason I didn't quit today," said Professor of Kinesiology Vanessa R. Yingling. "She makes me want to be a better instructor and to challenge and support students on their journey."
After graduation, Ferrao's journey will take her to the east coast! She is going to start her Doctor of Physical Therapy degree at MGH (Massachusetts General Hospital) Institute of Health Professions in Boston, a private university focused on the health sciences and one of the best graduate schools for physical therapy according to the U.S. News and World Report. 
Reflecting back on her experience at East Bay, Ferrao said, "What I'm going to take away from my time here is the wonderful relationships I made with the instructors, professors and other students. They pushed me to do things outside of my comfort zone and I'm grateful for them."