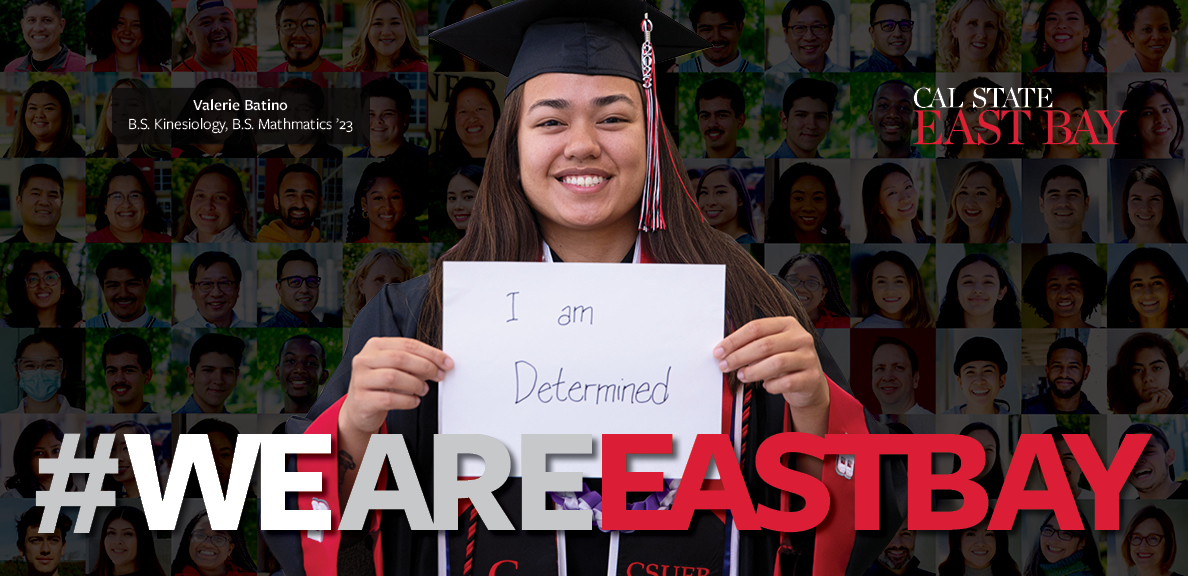 How One Transfer Student Found Community at Cal State East Bay
BY Sarah Harris
PHOTOGRAPHY BY Garvin Tso
May 8, 2023
When Valerie Christine Batino transferred from De Anza College to Cal State East Bay, she took advantage of everything CSUEB has to offer.
Thanks to being part of the Gaining Access 'N Academic Success (GANAS) program, an access and retention program targeting new CSUEB students, the transition was smooth for Batino. "GANAS really helped me connect with other transfer students and build community as a transfer student," she said. Each year, over 12,000 students apply to transfer to Cal State East Bay. GANAS creates a year-long cohort-based learning community for transfer students, pairs them with a mentor, and provides counseling, tutoring and financial aid assistance.
To make the most of the short time afforded to transfer students, Batino dived right into campus life and activities. In addition to being part of the GANAS program, she is part of the Math and Science Teacher Scholars Program and the Student Health Advisory Committee. Batino also works at the Recreation and Wellness Center as the Student Assistant Coordinator, Operations. Batino's campus involvement was recognized when she was selected as a Student Speaker for the 2023 Education Summit, a college prep event.
In October, Batino attended the Society for Advancement of Chicanos/Hispanics & Native Americans in Science (SACNAS) conference in Puerto Rico with her peers. They are in the process of starting a SACNAS Chapter at CSUEB to support students of diverse backgrounds pursuing STEM education. Batino encourages fellow students to try new things — this academic year was the first time she attended any conferences. "It was a great way to network and make new meaningful connections." 
Extracurricular activities were not the only thing Batino excelled in — she'll be graduating with bachelor's degrees in kinesiology and mathematics. 
Batino noted how difficult it was to navigate Zoom lectures after the pandemic forced the university to move to an online format. "I'm most proud of completing two bachelor's degrees that don't have any overlap (as it relates to required academic courses) all while balancing school, work, life, and self-care," said Batino. Math is part of the College of Science and kinesiology falls under ​​the College of Education and Allied Studies.
Taking a bone health class with Kinesiology Professor Vanessa Yingling is what initially sparked Batino's interest. Batino is part of the Center for Student Research Scholar's Program (CSR)  and wanted to conduct research related to bone health. She is a Level 3 scholar, meaning she is eligible to submit travel and supply grant proposals to the CSR and earn tuition support. The CSR offers students the opportunity to work closely with faculty and learn at a deeper level. 
Batino proposed a collaborative research project to Mathematics Professor Mikahl Banwarth-Kuhn and Yingling, who both eventually became her mentors. The research project seeks, "to create a multi-scale model of bone using differential equations and coding." 
Of the experience Batino said, "The biggest takeaway from this project is seeing how different fields can intersect and learning how math can be applied to anything." 
Batino will continue her CSUEB journey as she pursues a master's degree in mathematics. As for the future, Batino said, "I'm looking forward to taking a deeper dive into mathematics and learning how else I can use math in my day-to-day life. I'm also really excited to continue my bone research project with Dr. MBK and Dr. Yingling." 
Batino would like to thank the CSUEB Mathematics Department for their support and care on her educational journey.