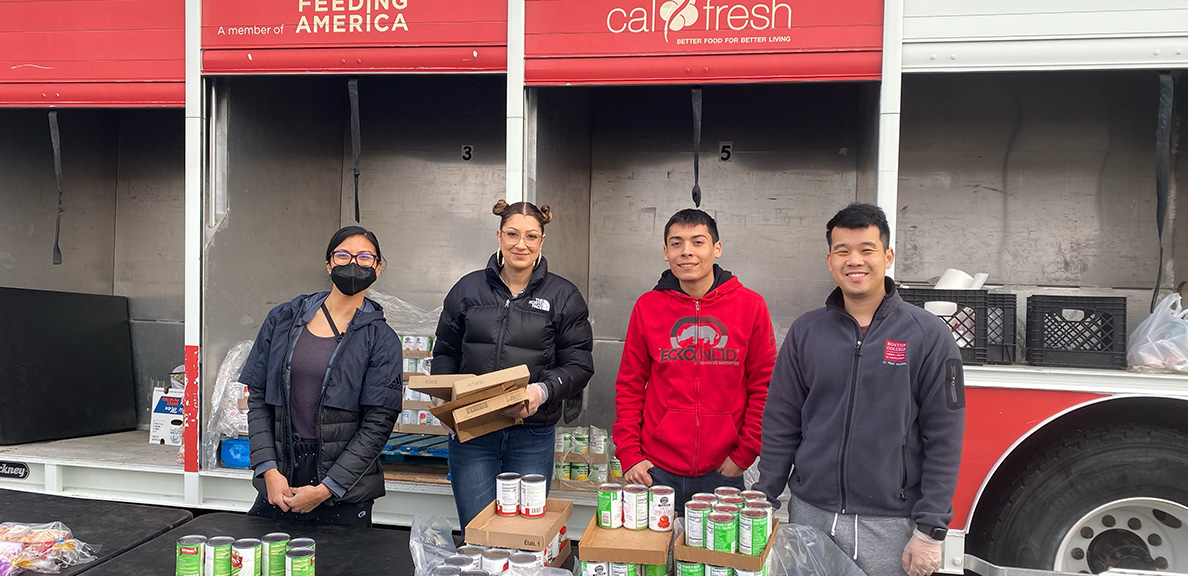 Pioneers for H.O.P.E. and CalFresh: How Cal State East Bay Helps Students in Need
BY Sam Balderas
May 16, 2023
It's no secret that many college students have to juggle expenses, often sacrificing something — rent for tuition, food for gas. This is where the state's CalFresh program comes in — helping students buy food and eat healthier. At Cal State East Bay, CalFresh Outreach Coordinator Ginnie Tran helps students get started. In her words, CalFresh is like "financial aid for food." Tran said, "Really, CalFresh is for everyone. Being a college student does not exempt you from the realities of rising costs of living and inflation. Especially when you have to balance school, work, and your personal life, any assistance can be helpful and it's worth taking the 15 minutes to apply to CalFresh." With her help we can answer some common questions about the program and how it can tie into other services on campus, including Pioneers for H.O.P.E. to make sure no one goes hungry or without the support they need to continue their education. 
Q: Who is eligible for CalFresh?
A: CalFresh is accessible to U.S. Citizens and legal permanent residents. Unfortunately, international students and undocumented students are ineligible for CalFresh. However, CalFresh does not impact your ability to obtain legal permanent residency in the future and we encourage mixed-status households to apply for aid. For more information about CalFresh for immigrants, click here.
Q: How can students access it?
A: Cal State East Bay has a dedicated CalFresh office where we help students navigate eligibility, apply for aid and maintain their benefits. Students can speak with a CalFresh Ambassador and receive 1-on-1 assistance by scheduling an appointment for office hours via BayAdvisor. If students would like to apply on their own, I would encourage you to apply using our referral link getcalfresh.org/s/csueb. Students can reach out to calfresh@csueastbay.edu for any questions or concerns.
Q: How can I learn more? 
If you are interested in learning more about CalFresh and to find out if you qualify for assistance, go to their page on the CSUEB website here.
Pioneers for H.O.P.E.
With the many unique obstacles facing Cal State East Bay students, Pioneers for H.O.P.E. has risen to the challenge. Located in Room 1118 in the Health Center, Pioneers for H.O.P.E. provides a variety of services to students in need. They offer a few main services that students can use to get the support they need: the clothing closet, the food pantry and emergency assistance, such as housing and financial assistance, when outside factors may hinder your education. Since September 2022, nearly 3,000 students have used the services offered by Pioneers for H.O.P.E., and anyone requiring assistance is welcome to check them out. 
Q: How is CalFresh connected to Pioneers for H.O.P.E?
A: Pioneers for H.O.P.E. is our campus's basic needs center where our CalFresh Services are housed. CalFresh is a mix of financial assistance and food assistance, but it's helping meet your basic needs. The CalFresh application process can take 3-4 weeks to complete and our department has a food pantry to supplement students' needs while they are waiting to hear back from the county. Additionally, students who may not qualify for CalFresh can still get their basic needs met through Pioneer's for H.O.P.E. 
If you wish to help Pioneers for H.O.P.E. in their work, consider making a gift here. If the services offered by Pioneers for H.O.P.E. sound like something you need, visit their page here to get in contact and make an appointment. The CalFresh office on campus is open Monday through Friday, from 10 a.m. to 4 p.m. in the Student Health Center Building next to the Old Library, Rm. 1121. Students can get in touch both in person and via Zoom.