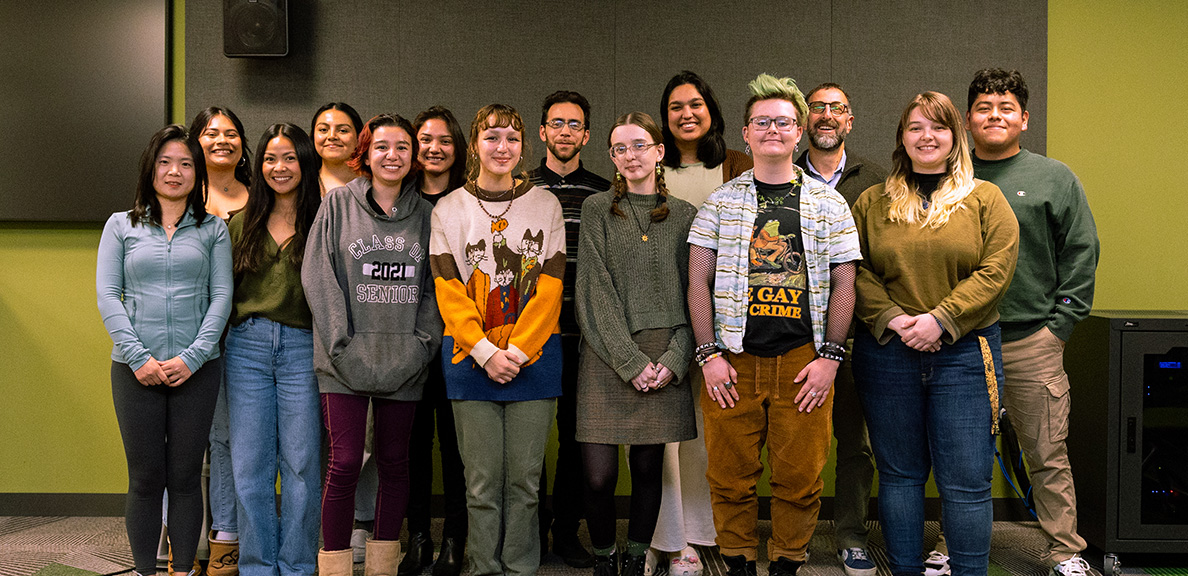 Cal State East Bay's New Sustainability Leadership Program Will Cultivate Future Leaders To Drive Equitable Environmental Solutions for Bay Area Communities
BY Josh Russell
November 6, 2023
Cal State East Bay has collaborated with California State University Trustee Emerita Rebecca Eisen to launch the Sustainability Leadership Program (SLP), an innovative, multidisciplinary paid internship and research program.
The mission of this hands-on, real-world immersion course is to cultivate regional leaders who will develop and expand environmental strategies grounded in equity and social justice.
The SLP is overseen by Professor Bruce Simon, director of the Institute for STEM Education at Cal State East Bay.
Guiding the class and tapping his network of Bay Area leaders is Tony Marks-Block, an ecological anthropologist in the Anthropology, Geography and Environmental Sciences department.
With seed funding from Eisen and her spouse, James Eisen, the SLP launched this fall with its inaugural cohort of 10 students selected from a diverse, competitive pool of over 100 applicants. Selection includes a $5,000 scholarship for each student.
The SLP is designed to provide Cal State East Bay students with a deep understanding of the conditions that are harming Bay Area communities and ways regional leaders are solving them.
"The larger motivation is really to train the next generation of leaders who can support a transition to a more sustainable policy implementation in the Bay Area and across the state," said Marks-Block.
Students will receive one-on-one mentorship by senior environmental leaders with experience developing and implementing successful policies through decades of advocacy. Textbooks will take a back seat to lessons learned in the field with direct exposure to the dynamics between private interest groups, local communities and nonprofit agencies working to improve conditions. 
According to Simon, the enthusiasm from a very diverse pool of applicants across a wide range of academic majors proves there is unquestionable demand to study equitable environmental sustainability and gain leadership skills at Cal State East Bay.
"Our goal is to just help [students] continue their growth to be leaders…whether that means a leader in their community or a leader in the work that they do, or a leader in their business." said Simon.
What differentiates Cal State East Bay's SLP is students do not have to be environmental studies majors to qualify. 
"To do environmental work, it means you need a wide variety of skills from marketing to arts. Business, construction, education–all the things we offer at this institution," said Marks-Block. "One of our goals is to have a diverse cohort." 
Each week, they'll convene to share knowledge from their experiences in the field, engage in healthy discourse and reflect on key learnings.
By Spring 2024, students will have gained significant hands-on skills to jumpstart their journeys toward guiding Bay Area communities away from environmental peril while protecting fragile ecosystems of water, air and land upon which all species depend.
And all it took was a concerned Bay Area leader who chose to put her compassion into action.
Empowered by the Eisen family's vision, Simon believes this six-year funded program will provide a return on investment that East Bay communities need. The long-term goal is to secure funds to make the SLP a permanent Cal State East Bay offering.
Simon says the program is a bright example in Cal State East Bay's legacy of helping people from all walks of life "improve their economic standing, improve their social standing and find solutions to the challenges of society."
Interested in supporting the SLP? Learn more about SLP here.