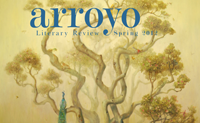 Arroyo written in text with trees in the background
Alumnus Stan Pisle '85 may seem like an unlikely poet to many, with his computer science degree and a job as Senior Technical Director – IT Voice, Global Customer Service Division at AT&T. But he minored in English at then-Cal State Hayward, and has always been a writer, even as the computer degree paid the bills.
College literary magazines are one of the prime venues for publishing poetry, so when the English department's Prof. Susan Gubernat approached him about a new project — a literary magazine produced by students in the graduate program — Pisle was more than receptive.
"Having gone through the rejection process a lot myself, I figured putting another venue out there for writers couldn't hurt," he says.
Pisle has been the sponsor of Arroyo, now in its fourth year, since its inaugural edition in 2009. This year's edition of Arroyo was released a bit early, to be ready for the annual Association of Writers & Writing Programs Conference. The launch party will be held Feb. 23 at the Bistro in downtown Hayward, open to ages 21 and up. Copies are available at the University Book Store and University Library. More information is online at the Arroyo Web site.
When he met with the first editors, Eric Neuenfeldt and John Gannon, Pisle says he found the situation "amusingly familiar," since he's no stranger to the proposal side of projects. But the budget they proposed for Arroyo was modest, and Pisle recalls his reaction by paraphrasing e.e. cummings: "It was a spring day, and my blood approved." Pisle decided he could cover the costs himself, especially with matching funds from the AT&T Foundation.
As for his own interests in computers and poetry, Pisle says it's not unusual. "Technology takes the same level of innovation and creativity as the arts."
Working in AT&T's speech application development group, he draws "as much on the writing and speech skills I learned at CSUEB than as I do on programming skills. Probably more."
Pisle has also been a sponsor of CSUEB's Distinguished Writers Series, and has continued to write for both his job — position papers and work-related projects— and outside. Occasionally the two intersect. "Sometimes an amusing poem sums up a $100 million dollar project better than a expense report."
SS