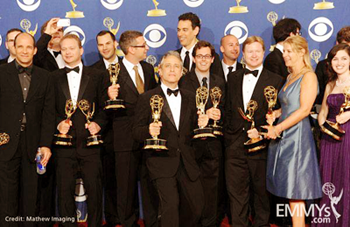 JR Havlan '87 (far left) with his boss, Jon Stewart, and the Daily Show cast and crew backstage at the 2009 Emmy Awards. Photo: Mathew Imaging from Emmys.com
September 19, 2012 5:00am
From Comedy Central's world news headquarters in New York... A standing ovation to JR Havlan '87 and the writing staff of "The Daily Show with Jon Stewart," who added another statue to their collection this week, with a win for outstanding writing for a variety series at the Creative Arts Emmy ceremony on Sept. 15. It's their eighth win and 12th consecutive writing nomination!  
According to the Academy of Television Arts & Sciences, the Creative Arts Emmys celebrate the collaborative nature of television  — an appropriate place to recognize the team effort that goes into making "The Daily Show."  
In 2010, Havlan described his work environment in an interview with Cal State East Bay Magazine, saying "Every day of the week, I have the distinct honor and really enjoy the fact that I get to have a couple hour-long discussions and debates with a roomful of brilliant, hilarious people. Day after day, it's the best conversation I've ever had."
"The Daily Show" is also nominated for Outstanding Variety Series, which it has won every year since 2003. The winners will be announced at the 64th Annual Primetime Emmy Awards on Sunday, Sept. 23. Highlights from the Creative Arts Emmys will air Saturday, Sept. 22 on ReelzChannel.  
SS