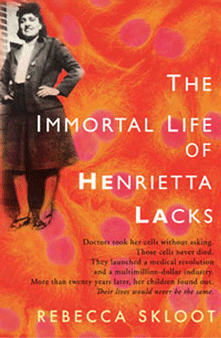 The Lacks Family will be discussing "The Immortal Life of Henrietta Lacks'" and relating personal stories about this remarkable woman on Monday evening, Feb. 17.
February 13, 2014 10:25am
In support of Cal State East Bay's "Week of Inclusive Excellence" Feb. 17-21, the university's Leadership and Employee Enrichment Program (LEEP) has encouraged faculty and staff  to take part in the university's first LEEP Campus Reading Program.
This year's book, and a topic that will highlight CSUEB's Week of Inclusive Excellence, is The Immortal Life of Henrietta Lacks. The former No. 1 bestseller on the New York Times list -- written by Rebecca Skloot -- explores the life, death, and ethical controversy surrounding Henrietta Lacks, a poor black tobacco farmer whose cells were taken from her without her knowledge. Many millions of dollars were generated and important tools for medicine were created from those cells, and yet she never knew and her family didn't benefit from the discovery.
Members of Ms. Lacks' family will be talking about Ms. Lacks and answering audience questions in the University Theatre on CSUEB's Hayward Campus, as part of the week's celebration of CSUEB's campus diversity, on Monday, Feb. 17 from 6 to 7 p.m.
Modeled after many successful community-wide reading programs across the nation, this program has brought together students, employees and community members to read a single book of significance.
Small group discussions and related activities have taken place to help readers engage in the content and dialogue with others, thereby helping connect across many different levels.
Additional information about the Lacks Family event and all "Week of InclusiveExcellence" programs and activities is available by contacting the University Office of Diversity at (510) 885-2809 or by visiting diversity.
-- Barry Zepel