Prospective Students & Program Application
Program Admissions
Prerequisites: For admission to the program, applicants must complete five prerequisites. These courses must be completed with a grade of "B" or better prior to beginning the program. Pre-requisities are intended to provide a foundational understanding and readiness for graduate and field experiences. The following are prerequisite course titles and CSUEB catalogue equivalencies. Please use the CSUEB course numbers as examples for course description.
Theories of Learning (3 units)- Behavioral or Cognitive

Statistics (3 units)- Introduction to probability

Abnormal Psychology (3 units)

Human, child, or Adolescent Development (3 units)

Psychological Tests (3 units)- Psychometrics OR Research Design (3 units)
Exams: The required exams (updated as of 10/2021)
      A. The Graduate Record Examination (GRE) - now recommended, but not required. 
      B. California Basics Education Skills Test (CBEST) - c
andidates need to demonstrate proficiency in one of the    
          Basic Skills Requirement options determined by the California Commission on Teacher Credentialing.
Pass the CBEST

Pass the CSET: Multiple Subjects CSET exams PLUS Writing Skills Exam (CSET #142)

Pass the CSU Early Assessment Program or the CSU Placement Exams

Achieve qualifying score on the SAT or ACT

College Board Advance Placement (AP) Examinations

Pass the Basic Skills Exam from Another State

Meet the Basic Skills Requirement by Coursework (university and community college level, with grades of "B" or better)
*For reading: a course in critical thinking, literature, philosophy, reading, rhetoric, or textual analysis.
*For writing: a course in composition, English, rhetoric, written communication, or writing.
*For mathematics: a course in algebra, geometry, mathematics, quantitative reasoning, or statistics.

Meet the Basic Skills Requirement by Coursework and Exam
For more information, visit CTC Basic Skills Requirement.
For options #7 and #8, please complete the Request of Basic Skills Requirement Evaluation form. You will need to email the form and include a copy of your transcripts (unofficial is acceptable) and a copy of your test score, if applicable,  in pdf format and email to credentials@csueastbay.edu. The subject line of your emails needs to be "Request of BSR Evaluation" and include your name. Once the Request for Basic Skill Requirement request has been reviewed, you will receive the decision back via email (the email listed on the form). The turnaround time is 4-6 weeks. 
Application: Two separate applications are required, one to the University and one to the Department by the deadline.
Full-Time Enrollment: The program requires full-time enrollment in a 3-year course of study.  Part-time enrollment is not allowed. Students take all required classes in a sequential order and participate in practicum/fieldwork and the Coummunity Counseling Clinic (CCC). 
Official Transcripts: You are required to submit 2 sets of transcripts, from all undergrad work to CSUEB. One set of official transcript to the University Graduate Admissions Department and unofficial transcripts with the Department Application.
Applicants with international transcripts with a foreign degree must provide an official evaluation of that coursework by a CTC approved agency, for a list of approved agencies visit  FOREIGN TRANSCRIPT EVALUATION
Statement of Purpose: In the Statement of Purpose, describe your professional goals. We are interested in knowing how you developed these goals and how you assess your strengths and weaknesses relative to achieving these goals. Be sure to discuss the program related questions in your statement of purpose. Do not use a generic statement without discussing the program questions.
The following are the statement of purpose questions for the School Psychology program application:
1)  
What brought you
to the field of School Psychology?
2)   What is the
role
of a School Psychologist and
why
do you want to be one?
3)  
How
have you learned about what School Psychologists do?
4)  
How
would you apply your knowledge to the profession?
5)   What
strengths
will help you be a good School Psychologist and what
challenges
will you work on to reach your goals?
Letters of Recommendation: three (3) letters are required for the Department Application. Request letters from professional individuals who can speak to on your academic performance and professional skills and abilities.
Resume: The resume is required and include your educational background and professional qualifications and experiences.
Interview: Only selected applicants will be invited for an interview based on the application submission.
ACCEPTANCE TO THE SCHOOL PSYCHOLOGY GRADUATE PROGRAM IS ONLY MADE AFTER A REVIEW OF THE ABOVE LISTED REQUIREMENTS.
Admissions Deadline
Online Department Application is now OPEN for Fall 2023 Admissions. We are rolling admissions and review applications at each round until all spaces are filled. Applicants are strongly encouraged to apply sooner, rather than later. Applicants can apply to ONLY one graduate program in the Department of Educational Psychology.
Fall 2023 Admissions Application Deadlines:
Round 1: November 30th
Round 2: January 15th
Round 3: March 1st
Graduate Tuition
1 Based on 2021-2022 resident tuition and fees for full-time enrollment of 6 or more units for two semesters. Other expenses may vary. Amounts are subject to change without advance notice.
2 In accordance with California Assembly Bill 990, CSU East Bay provides the typical market costs of a one bedroom apartment in Hayward area.  The room and Board expenses included in the off-campus cost of attendance represent the typical costs students pay when enrolled a CSU East Bay.  Actual costs of room and board will vary.  Many students living off-campus have roommates, which decreases their housing costs. 
Non-resident Students (U.S. and Foreign)
Nonresident Tuition of $396 is paid on a per unit basis (in addition to basic tuition and system wide fees charged all students) for all campuses.  The total nonresident tuition paid per term will be determined by the number of units taken.
Why CSUEB School Psychology Graduate Program?
You can make a difference! Consider joining our nationally accredited program to become an innovative leader that will make a difference in psychology and education. Our program is collegial, supportive, and offers quality instruction. 
Multiple outcomes upon graduation (Master's in Counseling, Credential in School Psychology, Training toward Marriage and Family Therapy Licensure)

Cohort Model

The only nationally accredited program in the Bay Area (NASP approved)

Community Counseling Clinic (CCC) & Immediate Fieldwork experience

Non-competitive & Collaborative (Brown Bag events, Professional Organizations, Research Opportunities)

Comprehensive Training & Supervision

Data-based and Outcomes Approach

Professional Development: Social Justice League (SJL) & School Psychology Association (SPA)

Students are well prepared for the school psychology field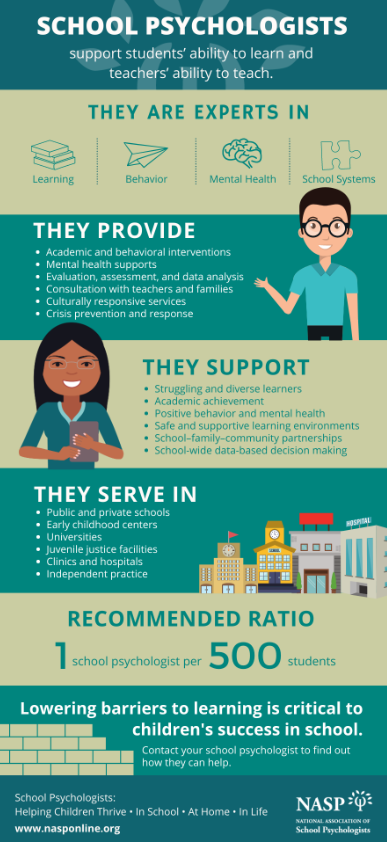 Role of School Psychologists
School Psychologists design strategies and programs to address learning, emotional, and behavioral challenges; Conduct educational assessments to identify special needs; Provide individual and counseling; and Coordinate intervention strategies for individuals and school-wide crises.  
Children need school psychologists for...
Learning difficulties

Social difficulties

Behavioral difficulties

Crisis, grief, poverty, homelessness

Prevention programming

Referrals to community programs

Advocacy
Program Structure
The School Psychology graduate program is a full-time, three-year program. Courses are offered in a defined cohort sequence during Fall and Spring terms, during the day and evenings, in the fall and spring semesters. A summer session between Year 1 and Year 2 will be required. 
Cohort
A "cohort" is a group of trainees who enter, move through, and graduate from the program in the same group, at the same time. Cohorts foster learning communities where professionals-in-training from other programs within the Educational Psychology Department support each other.
Clinical Work and Fieldwork
Professionals-in-training are placed in schools for all three years in the Program. These opportunities provide rich experience in preparation for psychoeducational assessments and clinical work with students, parents, and teachers in schools. Professionals-in-training begin working in schools at the beginning of the program and have fieldwork opportunities in Bay-Area school districts. First, second, and third-year trainees provide support to students, teachers, and parents while completing course-related assignments. Concurrently, trainees have opportunities to work in the Community Counseling Clinic (CCC) to provide counseling to individuals, couples, families, and children in the community struggling with stress, anxiety, depression, and/or relational difficulties. We promote resilience and practice strengths-based, problem-solving assessments, and interventions. 
School Psychology Credential
Trainees are required to complete Program requirements and NASP standards at competency.  The Praxis II Exam in School Psychology is required.  Upon meeting these requirements, trainees are recommended for the California Commission on Teacher Credentialing (CTC) School Psychology Credential.
Marriage and Family Therapy (MFT) License
Marriage and family therapists are a crucial advocate and provider of mental health services. They are trained in various theories, for individuals, couples, and families. They receive training in how to diagnose and treat mental and emotional disorders within the individual, couples and family systems. Once fully licensed, they are able to open their own private practices, however, many still continue to work in agency or clinic settings.
The Program provides coursework and training toward the Marriage and Family Therapy license. Those interested in pursuing the MFT license are required to continue to obtain additional hours toward the 3,000 hour requirement beyond the School Psychology Program.
A Day in the Life of a CSUEB School Psychology Student...
Day in the Life...9/28/2020