2021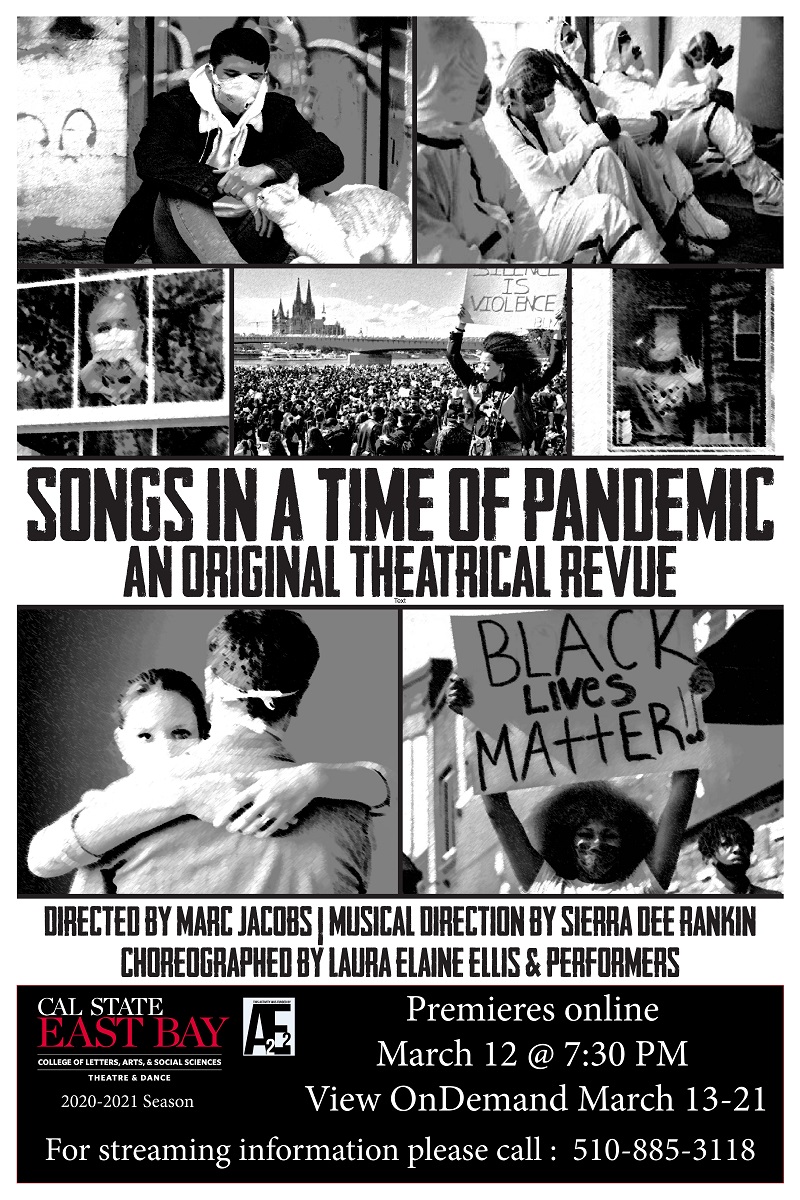 Songs In A Time Of Pandemic
An Original Theatre Revue
Directed by Marc Jacobs

Choreographed by Laura Elaine Ellis and Performers
Musical Direction by Sierra Dee
Songs in a Time of Pandemic is more than a musical revue. It is a snapshot of who and where we are after a year of Covid-19, Social Distancing, Black Lives Matter protests, and the startling changes in our government. The cast of 9 singers, 6 actors, and 9 dancers were put through interviews to cast a light on their own reactions to this unusual time. Out of that, has come songs, monologues, and dances that tell a story that is at once personal and universal.
Musical Premiere
Friday, March 12th at 7:30 pm
On-Demand Streaming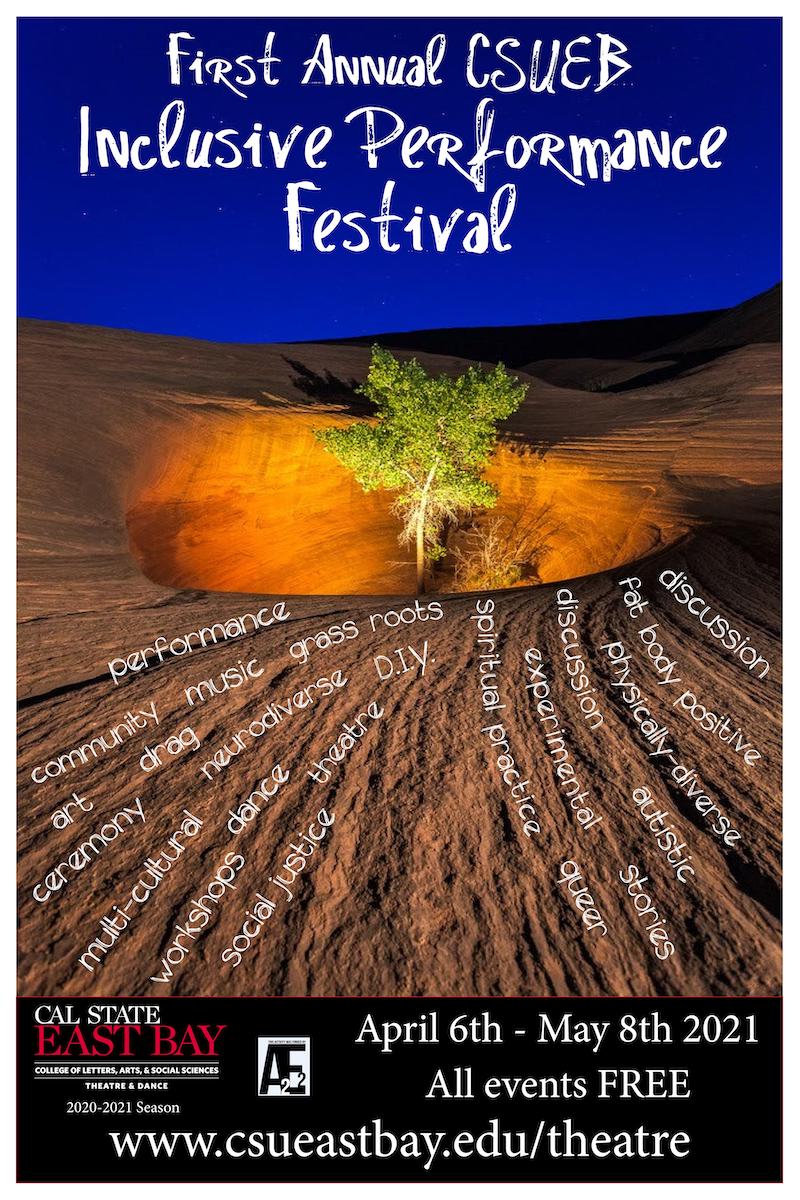 CSUEB in collaboration with Dandelion Dancetheatre presents
the first annual
 Inclusive Performance Festival
The Cal State East Bay Department of Theatre and Dance is collaborating with Dandelion Dancetheater and a wildly diverse group of artists, activists, free-thinkers, and creative rabble-rousers to launch the first annual Inclusive Performance Festival (IPF) throughout April and May of 2021. The IPF is a grass-roots, DIY, radically inclusive, process-oriented festival that is experimenting with sharing performance in accessible, relevant, life-affirming, and innovative ways to meet the needs of many intersecting communities in this new era for the arts. 
Planned collectively by a council of Queer, BIPOC, Autistic, Disabled, Jewish, Neurodivergent, Fat, Young, Elder, Outsider, and uncategorizable artists, the festival presented virtual, in-person, and hybrid dance, music, theatre, drag, ritual, educational events, participatory performances, discussions, workshops, ceremonies, and more. 
IPF is directed by Eric Kupers in collaboration with a planning council of event organizers, and featured the Wandering Ensemble, SNJV, Shapes and Shades Dance Company, Wildance, Emmaly Wiederholt & Tonya Rivera, Evangel King, Dancing Earth Creations, Us in the U.S., the CSUEB Pilipinx American Student Association, Festival of Latin American Contemporary Choreographers, Dandelion Dancetheater, Ultrasonic Current, the College Link Program, Mohini Studio, Rebekah Enderle, the Inclusive Interdisciplinary Ensemble, and more.
Online Performance Dates
April 6 - May 8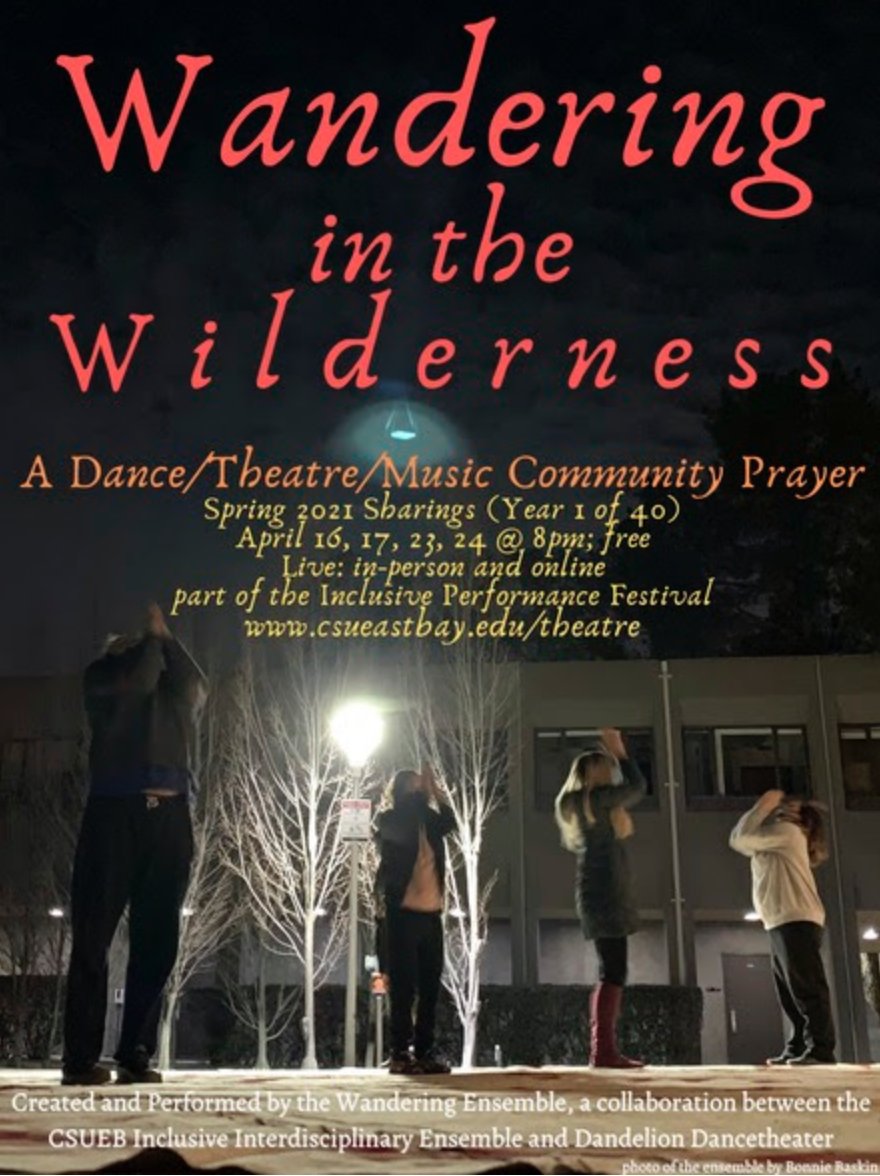 The CSU East Bay Theatre and Dance Department and Dandelion Dancetheater
are proud to present
Wandering in the Wilderness
(Cycle 1)
Directed by Eric Kupers
Wandering is an experimental performance ceremony exploring the spaces in-between when we have moved away from the things that no longer work in our lives, but we don't yet know what is next. The work emerges from Jewish stories in the Torah associated with Passover, focusing on the time after the Jews were freed from slavery, but had to spend 40 years in the wilderness to prepare themselves for the Promised Land.
The work investigates the nature of uncertainty, groundlessness, and mystery—particularly inquiring into how to leave behind situations, attitudes, relationships, governments, homes, and habits of abuse, oppression, and dysfunction.
 Wandering is also a site-specific, outdoor, physically distanced dance/music/theater ceremony.
 To fully embody this exploration, we will take 40 years to create this work, with work-in-progress sharings on approximately 1-year cycles, usually around the time of Passover celebrations.
The world premiere will take place on April 8th, 2061 (the second night of Passover.) 
Wandering in the Wilderness is being developed by the Wandering Ensemble:
Abigail Brown, Alex Barbour, Amy Marie, Bonnie Baskin, Bri Martin, Carmen Wong, Chantel Burrell, Corissa "Reese" Johnson, Deborah Trudell, Gabrielle Lochard, Gabriela Teodora, Eric Ray Kupers (Director/Choreographer, Writer/Video Artist), Ina Gonzalez-Valenzuela, Latoya Carter, Lisa Tenorio, Melissa Rosales, Raven Malouf-Renning (Assistant Director), Rebekah Enderle, Slytherin Prince Saul Galdamez, Scott Duane, and Suelyn Pewitt.
 Creative Collaborators include: Bandelion (Music), David Juarez (Lighting Design), Elias Ramer (Stories), Richard Olmsted (Scenic Design), Ulises Alcala (Costume Design), Ultrasonic Current (Music), and the land itself, which has been ancestrally tended for thousands of years by the Yrgin/Chochenyo/Ohlone people.
Performances:
April 16, 17, 23, 24, 8:00 - 10:00 pm (in-person and/or online)
We will have 18 spots per performance for in-person audience members.
We will set up physically distanced chairs outside. All audience members must wear masks.