Theatre and Dance Credential Program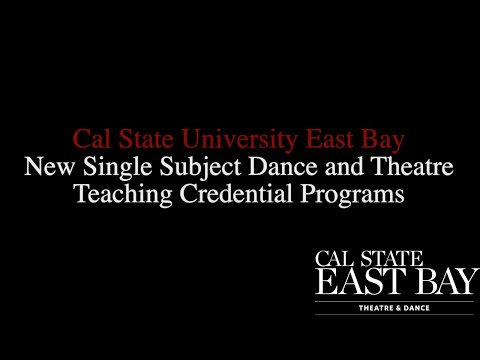 Welcome to Cal State East Bay, where your journey to becoming a Theatre or Dance teacher is ready to take off!
Are you a teaching artist excited to train the next generation of performing artists?
Are you tired of seeing talent, creativity and drive dampened by lack of opportunity or access?
Do you believe in the power of public education?
Then join us! We are looking for teachers like you.
---
Single Subject Dance and Theatre Teaching Credential Program
Introducing the new Single Subject Dance and Theatre Teaching Credential Programs!
If you are interested in completing your undergraduate degree in Theatre or Dance, and then moving on to get your teaching credential, then we have good news for you. Graduates of CSU East Bay with a Major in Theatre or Dance will not only benefit from our Theatre and Dance teaching methods classes, but will also have priority for acceptance into our credential programs. Your pathway to a full-time job as an arts educator may begin as soon as you arrive for your first year of college.
Our approach to Theatre and Dance is inclusive, interdisciplinary and experimental. Site-specific performance is a frequent event on our beautiful and spacious campus. Undergraduate students are encouraged to perform every semester, and students may create and direct their own work. We tour locally, regionally and nationally to share our students' powerful and original voices.
Every Dance and Theatre faculty member is an active working professional artist, offering students unparalleled opportunities to experience the performing arts industry well before graduation. Our guest artists are superb and our performing spaces range from a fully-equipped proscenium house to two flexible studios as well as outdoor venues.
For more information on how to apply for the credential programs in Theatre and Dance, contact Dr Eric Engdahl, Chair of the Teacher Education Department at Eric.Engdahl@csueastbay.edu
To learn more about our undergraduate degree in Theatre Arts, with concentrations in Dance & Inclusive Performance, Acting & Musical Theatre, or Technology & Design, contact Eric Kupers - Chair of the Department of Theatre & Dance at Eric.Kupers@csueastbay.edu.
---
Credential Program Frequently Asked Questions
WHAT ARE THE REQUIREMENTS TO APPLY?
You must have an undergraduate degree to apply. You do not need to have a major in dance or in theatre to be eligible for the credential program.
The other requirements can found at the application webpage https://www.csueastbay.edu/ted/.
Please note the CSETs are required for all matriculated credential students. It is expected that students will take the CSETs during fall semester, after the tests have been validated.  There are no waivers for the CSETs due to undergraduate major, professional experience, or teaching experience. 
HOW DO I APPLY?
To enter the Dance Credential or Theatre Credential program, you must apply both to CSUEB and to the Department of Teacher Education/Credential Program. For CalStateApply, be prepared to submit electronic copies of transcripts for every single college course you ever took for credit (including community college courses taken during High School.) For Teacher Ed, your undergraduate degree transcript will be sufficient.
 Find your application forms for CSUEB and the Credential Program here:
https://ce.csueastbay.edu/ce/programs/single-subject-teaching-credential/
 We will hold virtual interviews with applicants in March, and notify candidates in mid-April. Summer Session runs June 1 – July 31st.
WHAT IS THE COURSE OF STUDY?
Credential Programs begin in Summer with a full-time load of (entirely on-line) courses in methods and pedagogy. During Fall Semester, you will begin your student teaching (and register for courses to receive credit for this teaching.) You will also take courses. Spring Semester is similar to Fall Semester in terms of structure.  Students in the online program can reside anywhere in California.
WHAT IS THE TYPICAL SCHEDULE OF CLASSES?
 In 2021-2022, the Dance/Theatre credentials will be offered in the Online program.  Many classes in the program are asynchronous, but attendance is required at synchronous online class meetings.  Synchronous classes are also scheduled after the pk-12 school day, typically late afternoon.  During the summer, synchronous classes will meet in the afternoon. 
WHAT ARE FIELDWORK REQUIREMENTS?  WILL I BE PAID FOR STUDENT TEACHING?
There are two ways to complete fieldwork requirements.  One is as an unpaid "Student Teacher."  During fall and spring semesters a student teacher spends a minimum of 600 hours working with an experienced classroom teacher.  Generally 4 hours a day for 4 days a week in Fall;  5 hours a day for 4 days a week in Spring.
If you are hired as an intern teacher under an intern credential – which a school district may elect to do – then you may fulfill your student teaching requirement this way. To do this, you will be issued a limited credential - only for one school district  - which expires after 3 years. An advantage of intern teaching is earning seniority while fulfilling your fieldwork requirement.   The department cannot help students find intern jobs as the university cannot make a school district hire anyone. 
 For teachers currently working full-time in a private school, you may fulfill your fieldwork there, but you will also be required to complete a (smaller) number of hours of full-time student teaching in a public school in order to get the credential.
 WHAT IS THE COST?
The total cost for the 1-year program is approximately $11,000. Financial aid is available to those who qualify.
 I HAVE A TEACHING CREDENTIAL. WHAT DO I NEED TO DO TO EARN THIS NEW CREDENTIAL?
If you have been teaching with a PE or English credential, you will be grandmothered in and eligible for dance/theatre teacher positions in CA public schools with your current credential. If you wish to add a Dance or a Theatre Credential, you simply need to 1) complete one methods course (during the semester of your choice); and 2) pass the CSET. For the first year of CSUEB's new dance and theatre credential programs (2021-22), we may not be able to offer non-matriculated students places in the methods courses. If there is enough interest, we hope to offer methods courses in the future to credentialed teachers through CSUEB Open University.
WHAT HAPPENS AFTER I COMPLETE THE CREDENTIAL PROGRAM?
By the end of your credential year, you must pass the edTPA assessment in your subject. Those who pass, and who complete their credential program satisfactorily will receive a preliminary credential from CSUEB. Once you start your first teaching job, you begin Induction, which is a 2-3 year process to get your Clear (permanent) Credential.
DOES MY CREDENTIAL WORK IN OTHER STATES?
Credentials are issued by individual states, so every state determines reciprocity.  California has some of the most stringent credentialing, so it is often the easiest state from which to transfer a credential.  Reciprocity is generally possible for Oregon, Washington, Nevada and Arizona.