Mike Kozuch, Ph.D. Faculty Profile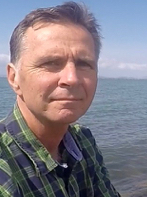 Mike  Kozuch, Ph.D.
Lecturer
Dr. Mike Kozuch is a geophysicist whose interests and experience span a variety of earth and ocean sciences. Mike has mapped the geology and recompiled the national geologic map of Honduras, developed seismic hazard models of Venezuela, participated in a Caribbean ocean voyage to map the ocean floor with sidescan sonar, managed a major GPS campaign across 5 countries in the southeast Caribbean and worked on earthquake hazard projects in New Zealand.
Mike is now engaged in lecturing on topics in earth and ocean sciences at Cal State East Bay and is exploring the use of social media in science outreach and education.
You can catch Mike on his YouTube channel or Instagram @myscienceblast.