Jeffery Seitz Faculty Profile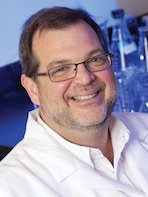 Jeffery  Seitz
Associate Vice President, Research and Sponsored Programs
Currently, I am the Associate Vice President in the Office of Research and Sponsored Programs.  In this role, I am responsible for
encouraging and supporting faculty research, creative activities and scholarship,
engaging students in faculty-mentored research,
supporting principal investigators in the management of grant awards, 
ensuring compliance to regulations and ethical standards regarding regarding the conduct of research,
ensuring compliance with sponsor requirements.
I have been a Professor of Geology in the Department of Earth and Environmental Sciences since 1997.  I have taught a wide variety of undergraduate and graduate courses in Geology and Environmental Science. My advanced courses focus on Petrology, Geochemistry and Planetary Science.
My primary area of expertise is in experimental geochemistry.  My current research has focused on measuring the partial molal volumes of aqueous organic mixtures at high temperatures and pressures. These experimentally determined data can be used to help develop and refine estimates of the thermodynamic properties of organic compounds for which measurements are not available. Ultimately, this research has applications to developing a more accurate geochemical model for the origin of life on Earth in extreme environments such as hydrothermal vents (black smokers) and solar system bodies such as Mars and Europa.
Most of my professional activity, since coming to East Bay, has been in science education. I am a Director of the Science Partnership of the East Bay that partners with the Alameda County Office of Education, other county offices of education, and schools and districts throughout the San Francisco Bay area.  Since 2008, the Science Partnership has been awarded nearly $17 million in grants from NASA, the National Science Foundation and the State of California to provide services to schools and districts in the San Francisco Bay area seeking to strengthen their science programs and science instruction consistent with the Next Generation Science Standards.  
Ph.D., Geosciences, Virginia Polytechnice Institute and State University
A.M., Earth & Planetary Sciences, Washington University in St. Louis
A.B., Earth & Planetary Sciences, Washington University in St. Louis
Fall Semester 2021

| Course # | Sec | Course Title | Days | From | To | Location | Campus |
| --- | --- | --- | --- | --- | --- | --- | --- |
| GEOL 101 | 01 | Intro to Earth Sciences | ARR | | | WEB-ASYNCH | Online Campus |
| GEOL 102 | 01 | Earth Sciences Laboratory | TU | 9:30AM | 12:00PM | SC-N212 | Hayward Campus |