Mariana T. Guzzardo, Ph.D. Faculty Profile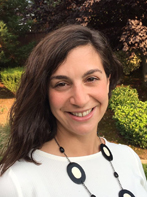 Mariana  T.   Guzzardo, Ph.D.
Assistant Professor
Mariana T. Guzzardo grew up in San Juan, Puerto Rico and remained there until she graduated from the University of Puerto Rico with a bachelor's degree in Psychology.  She then attended the University of Connecticut (UConn), where she obtained her master's and doctoral degrees in Human Development and Family Studies with a specialization in Adult Development and Aging. As a doctoral student, she conducted qualitative and quantitative research that considered how environmental resources (e.g., features in the home, community-based services) address the needs of older adults with disabilities. Much of this research follows the guiding principle that a combination of housing, services, and informal support can preserve a sense of dignity and autonomy as one experiences increasing levels of functional impairment with age.
After receiving her degree, she worked as a full-time professor at UConn and taught a variety of courses within the field of human development. Later, as a postdoctoral research associate at Northeastern University, she focused on the analysis of data from the Boston Puerto Rican Health Study (now at UMASS- Lowell) and collaborated on several publications, covering topics such as the meaning of health and aging as well as social support within close relationships. Her current research continues to focus on the housing and service needs of aging individuals with an emphasis on the Latinx communities in the Bay Area. 
Most recently, her research focuses on access and use of community-based long-term care among Latinx older adults.  The main her research has explored disaster resilience among older adults living in Puerto Rico after hurricane María of 2017 and during the COVID-19 pandemic. 
Another facet of her research comprises a study of transnational identity among the Puerto Rican diaspora. As a postdoctoral research associate with BPRHS, Guzzardo and co-authors wrote about Puerto Rican participants' multiple discourses on identity. She and co-authors also considered how the sentiments expressed in published poetry by Puerto Rican immigrants resonate with the subjective experiences of the participants in the BPRHS. Guzzardo's interest in the topic of diasporic Puerto Ricans' cultural/national identities stems from her background and experiences. She considers herself both Puerto Rican and American, but these two entities, Puerto Rico and the United States, have a political relationship born from conflict, and fraught with tension related to Puerto Rico's colonial status. With parents of Cuban and Italian heritage, her background has composed a hybrid identity and multidimensional lens reflected in her research and teaching. The words of Gloria Anzaldúa, below, not only echo her sentiments about Puerto Rican transnational identity, but also reflect the topics she explores in her research relating to dialogical subjectivity.
"The struggle is inner: Chicano, indio, American Indian, mojado, mexicano, immigrant Latino, Anglo in power, working class Anglo, Black, Asian--our psyches resemble the bordertowns and are populated by the same people. The struggle has always been inner, and is played out in outer terrains. Awareness of our situation must come before inner changes, which in turn come before changes in society. Nothing happens in the 'real' world unless it first happens in the images in our heads." Gloria Anzaldúa