Mariana T. Guzzardo, Ph.D. Faculty Profile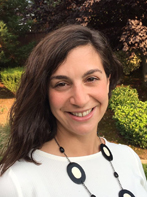 Mariana  T.   Guzzardo, Ph.D.
Associate Professor
Mariana T. Guzzardo grew up in San Juan, Puerto Rico, and remained there until she graduated with a bachelor's degree in Psychology from the University of Puerto Rico.  She then attended the University of Connecticut (UConn), where she obtained her master's and doctoral degrees in Human Development and Family Studies, specializing in Adult Development and Aging. Later, as a postdoctoral research associate at Northeastern University, she focused on the analysis of qualitative data from the Boston Puerto Rican Health Study (UMASS- Lowell).
Mariana's research focuses on the use of community-based health and social services among Latinx/e older adults with disabilities. Most recently, her research explores the experiences of older Puerto Ricans with disabilities during Hurricane María of 2017 and the COVID-19 pandemic. In her work, she considers how community-based support contributes to resilience in disaster experiences. 
Another facet of her research focuses on transnational identity among the Puerto Rican diaspora. As a postdoctoral research associate with BPRHS, Mariana and co-authors wrote about participants' multiple discourses on identity. She and co-authors also considered how the sentiments expressed in published poetry by Puerto Ricans resonate with the BPRHS participants' subjective experiences.