Our Mission
Cal State East Bay's INSPIRE provides a brave space for students to grow, learn, and engage with faculty, campus life, and each other. INSPIRE's social justice themed graduation pathway builds community and bridges academics with lived experiences.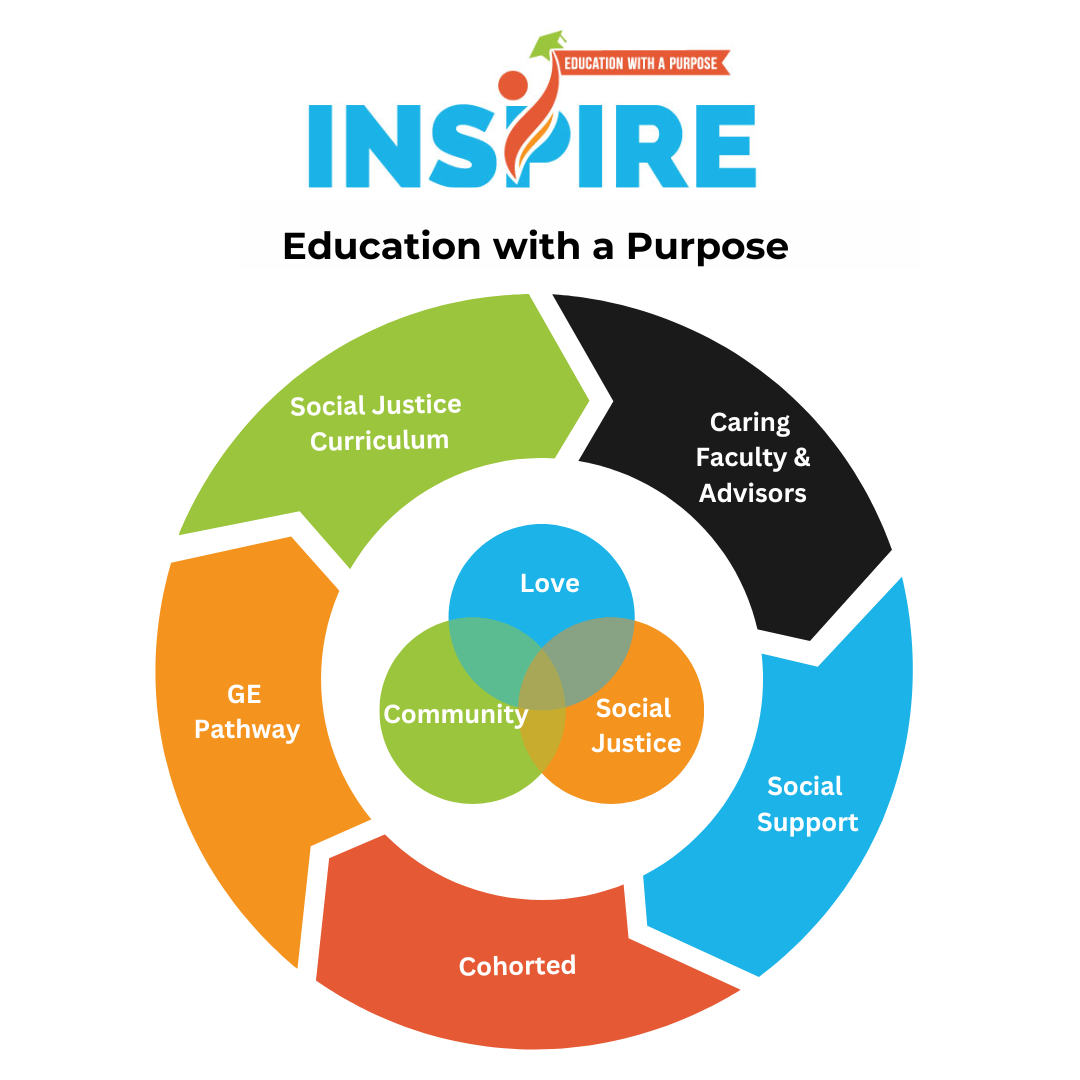 Social Justice Curriculum 
In all INSPIRE courses, students are provided with opportunities to reflect upon their histories and roles in creating social justice for their communities. INSPIRE encourages students to bring their lived experiences to co-create an enriching learning environment. 
Dedicated, caring faculty and advisors
INSPIRE faculty and advisors are in community with one another to offer a holistic college experience. INSPIRE faculty collaborate during the summer to design the INSPIRE courses and continue to work together throughout the year to support student success. Advisors help students select classes, majors, and connect them with campus resources. 
Social support
INSPIRE provides students with a Student Advocate, a graduate student in the Social Work department, who meets regularly with students. The Student Advocate supplements the support students receive from INSPIRE peers, faculty, and advisors and contributes to students' well-being, resilience, and ability to cope with stress or difficult situations.
Cohorted
Students will enter INSPIRE together and progress through a set of required classes together. By taking classes together, students form friendships, community, and support each other as they navigate their first year. In INSPIRE, you are never alone. 
GE pathway
All students are required to complete a set of general education (GE) courses. In INSPIRE, we selected courses that address social justice in our communities.  INSPIRE courses are in conversation with each other allowing students to gain a deeper understanding of our community.
"I like how the teachers break things down and how the program builds this community atmosphere with its students."

- INSPIRE Student (Incoming Class 2022)

"I've never been so comfortable in a classroom. These INSPIRE classes make me feel like I belong and make me feel like I can be myself."

- INSPIRE Student (Incoming Class 2022)

"[I liked] how we had multiple classes with the same people, it felt like a community. "

- INSPIRE Student (Incoming Class 2022)

"It was a great experience during the first semester as a freshman"

- INSPIRE Student (Incoming Class 2022)

"I get a lot of help when needed, each teacher engages with students individually when needed, very safe environment easy to get comfortable in."

- INSPIRE Student (Incoming Class 2022)

"I felt more confident every time I go to class. Especially in INSPIRE class, I feel more connected to people than I was in high school."

- INSPIRE Student (Incoming Class 2022)

"I enjoyed all of my INSPIRE courses a lot and I liked that they all felt like a community and I never felt judged or out of place."

- INSPIRE Student (Incoming Class 2022)

"I didn't feel alone when I was struggling I honestly gained a lot of knowledge and built my network."

- INSPIRE Student (Incoming Class 2022)