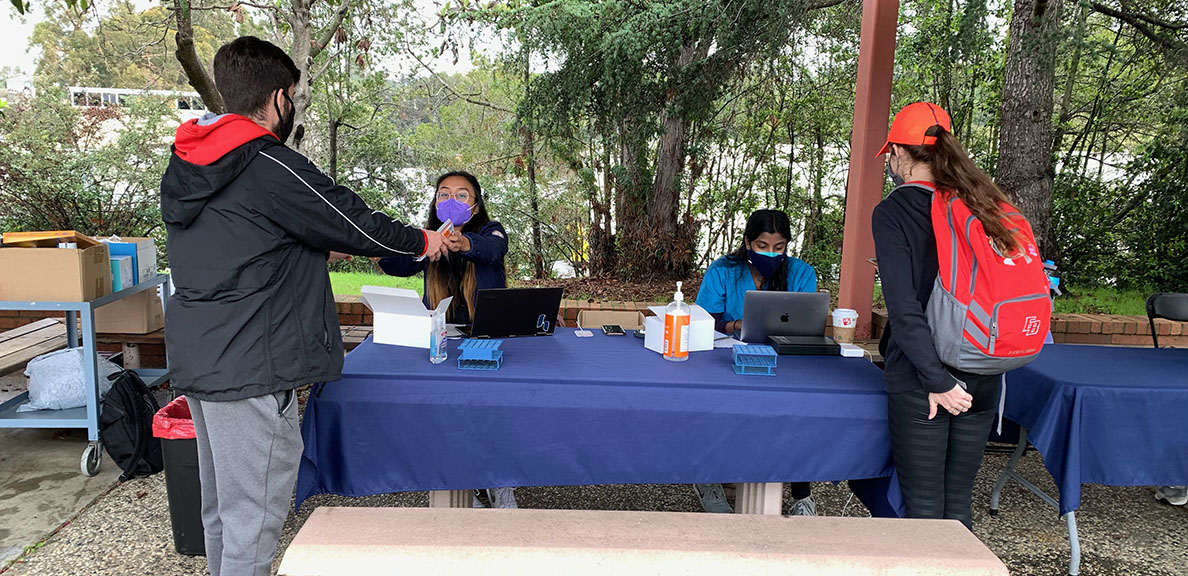 What to Expect for Spring Semester
BY Maha Sanad
January 24, 2022
This Spring semester marks nearly two years of being in the COVID-19 pandemic. Online learning and wearing masks have become the norm. With the recent surges in cases as a result of the Omicron variant, practicing proper precautions against COVID-19 is more important than ever.
Cal State East Bay, along with many universities, announced that the first two weeks of the spring semester would be remote. The university will return to its planned course delivery on Jan. 31, with approximately 60 percent of its classes scheduled in person.  
Masks are mandatory to be worn in all indoor spaces on campus until further notice, regardless of one's vaccination status. Arnab Mukherjea, professor and chair of the Department of Public Health, says that based on last semester's partial in-person instruction, it is more than possible to transition back to on campus safely. 
"If we have the conditions in place on campus to make it as safe as any other public place of business — an indoor mask mandate, a booster mandate, access to testing, and access to masks — Cal State East Bay would be as safe as any other place you would go to in a public setting," said Mukherjea.
Upgrade Your Mask
Mukherjea's recommendations for masks include: 
Most Effective Masks/Face Coverings
N95

KN95 

-hree-layer surgical masks
Least Effective Masks/Face Coverings
Cloth masks

Neck fleeces

Folded bandanas

Knitted masks
N95 and KN95 masks may be scarce or costly, and Mukherjea says you can wear a surgical mask and put your cloth mask on top as a solution.  
Cal State East Bay will distribute up to three KN95 masks to employees and students each week, either through Risk Management or at the Ask Me tables beginning Jan. 31.
"The university has KN95 masks for distribution to students and employees. This is another way our Cal State East Bay community can continue to practice good public health habits to keep us safe when we're together," Lyanh Luu, Director of Environmental Health and Safety at Cal State East Bay. 
Testing and Booster Vaccinations 
Cal State East Bay will require students, MPP and Confidential employees who are eligible to receive a vaccination booster to do so by Feb. 28, 2022. Those who are not eligible to receive boosters by Feb. 28 will have six months after receiving their final initial vaccination dose to receive a booster.
Represented employees will not be subject to the booster requirement until the CSU concludes its meet-and-confer process with labor unions.
Cal State East Bay, in partnership with La Familia, will be offering several on-site booster clinics on the Hayward campus.
Free, on-campus COVID-19 testing is also available for all Cal State East Bay students, faculty and staff on both the Hayward and Concord campuses. Mukherjea recommends taking advantage of the on-campus testing by doing maintenance tests every week or every other week even if you are vaccinated.
Mukherjea also said that mental health is just as important as physical health.
"It is very important for all of us to be attuned to our mental health," said Mukherjea. "This [pandemic] has been a bit of trauma. No one knows how to navigate this because it's all new terrain. We need to make sure that if we are feeling anxious, nervous etc., there are resources on campus. We don't want to bottle things up. We need to tend to our mental, social, and physical health."