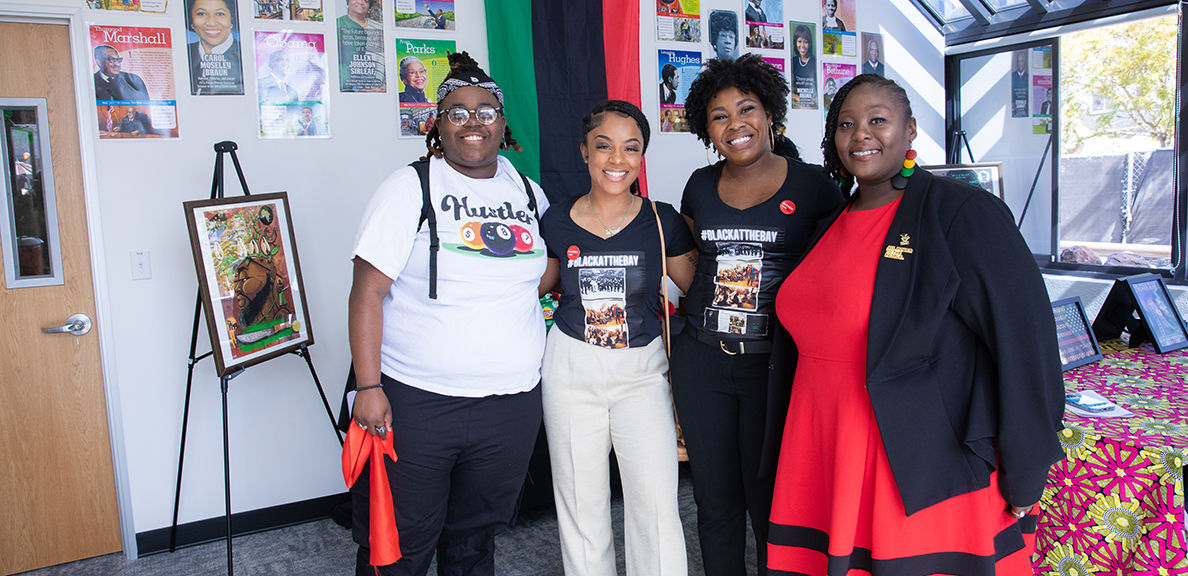 New Black Student Success Center Receives First Major Gift
BY Cal State East Bay
PHOTOGRAPHY BY GARVIN TSO
August 18, 2022
Shortly after the opening of the Black Student Success Center on campus, Cal State East Bay received its first major gift in support of the new space and the population it serves.
The $150,000 pledge is part of a larger planned gift of $600,000 from an anonymous alumni donor who was one of only a few Black students on campus when she attended over 50 years ago. 
"When I was in high school, no one told me I could go to college," she recalls. "I came to what was then the California State College at Hayward as an older student and a mom. At that time, there weren't many Black students nor parents like me and very little in the way of support systems."
When the donor came to a point in her life when she had more capacity to share her resources than she once realized, she wanted to use it to create a better on-campus experience for students like herself. 
"I want today's students to have the support system Black students of my generation wish we could have had to help us navigate a four-year college," the donor said.
The donor's gift is the first major gift in support of any of the new affinity student success centers, which opened in March 2022 and provide dedicated separate spaces on campus for students who identify as Black, undocumented, Latinx and AAPI. 
Cookie Garrett, Director of Diversity and Inclusion and Affinity Centers, says the gift will help the center fulfill its mission of giving Black students a space to learn and grow in their personal identity as they engage in academia, celebrate their unique identities and find their community.
"The generous donation from our anonymous donor will help the Black Student Success Center in our mission to support Black students holistically," Garrett said. "On behalf of the Black Student Success Center we sincerely thank our donor for sowing this generous seed into our tribe so that we may continue to grow and produce the change we want to see." 
The planned gift — which the university will receive after the donor passes away —  will also provide significant resources to students in the form of scholarships with $300,000 allocated to Kinesiology and STEM majors. These scholarship recipients must also be part of programs, such as Sankofa Scholars, aimed at fostering Black student success. 
"The College of Science is broadening participation in STEM disciplines by creating an inclusive and supportive environment that helps students develop a sense of belonging and purpose in their majors," said Dean Jason Singley. "These scholarships will allow students to spend more time on their studies and participating in academic support programs which will lead to greater academic success."
 The $450,000 gift dedicated to Black student success is the largest gift that Cal State East Bay has ever received for this purpose. 
"Upon graduation, I had many opportunities that I might not have had, had I not been able to attend a university such as CSUEB (Hayward). I am grateful for the ability to assist with the education of students who are where I once was," says the donor.
In addition, the donor was concerned about the struggle of unhoused students in an expensive housing market. Her gift will provide another $150,000 to fund emergency housing assistance for students through the Pioneers for H.O.P.E. program. The fund will help unhoused students move into permanent housing with security deposits, first and last month's rent, moving costs, and supplies and furniture for their new home.