News & Events
What's New?
Sankofa is now an official affiliate of the Umoja Community.
The Sankofa Scholars Program is pleased to announce our affiliation with the Umoja Community. THE ORGANIZING PRINCIPLES OF THE UMOJA COMMUNITY.
Umoja is committed to collaborating with campuses at a local level so that there is integration of the core Umoja Community with the particular college mission goals, strategic plan and student equity efforts.
We share a name with a core set of pedagogies and promising practices.
We support the academic success of all students.
We support the persistence and retention of all students toward defined educational goals: transfer, certificate, associate degree.
We Integrate both instructional and student services.
We integrate direct instruction of information and technology literacy.
We integrate sound assessment strategies and a set of core benchmark measures.
We recruit and train students, staff and faculty through seminars, conferences, and other professional development.
We facilitate the sharing of resources: financial, curriculum, methodologies, pedagogies.
Sankofa Scholars End Of Year Celebration 2020
CSUEB President, HUSD Board President, CSUEB Student Cameron Turner, HUSD Superintendent.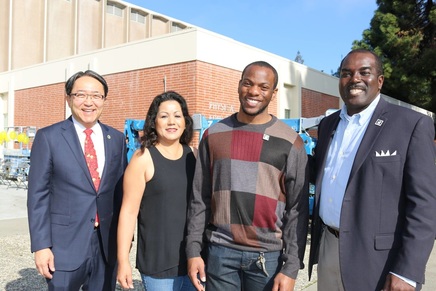 Meet Cameron Turner, a Hayward Native and  a Math and Psychology major student at Cal State University East Bay (CSUEB) and a recent guest speaker at the Annual Education Summit.
"There are no limits for the students at Cal State University East Bay," those were the words that Cameron spoke to over 600 Bay Area students before they dispersed into workshops and college tours. Cameron is a basketball player who dreams to one day open his own nonprofit recreation center for youth.
Thank you Made in Hayward student Cameron for sharing your pathway story of becoming a student at the most diverse university in the country, CSUEB.
"CSUEB the closest thing to a family beyond home!" Cameron Turner.