University Art Gallery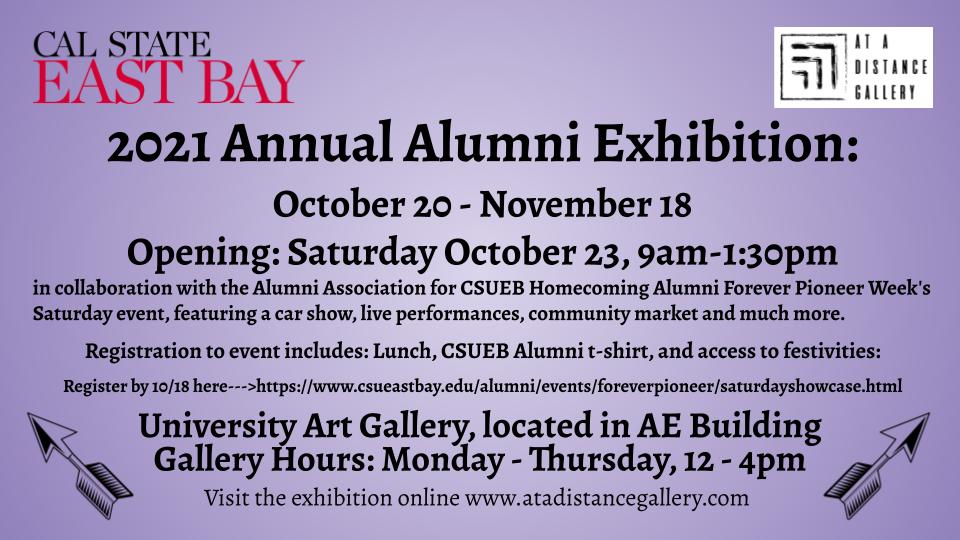 California State University, East Bay
---
DUE TO COVID-19 SOCIAL AND PHYSICAL DISTANCING ORDERS, ALL GALLERY EXHIBITIONS WILL BE VIEWABLE VIRTUALLY.  WE HOPE TO BE ABLE TO HAVE PHYSICAL EXHIBITIONS COMING SOON IN THE UNIVERSITY CAMPUS GALLERY, ONCE IT IS SOCIALLY SAFE. PLEASE STAY TUNED FOR UPDATES.
---
Location
The University Art Gallery is located on the first floor of the Art and Education Building. University maps and directions
---
Parking
Campus parking is $10 per weekday, $5 per weekend day, or $2 per hour. Permit dispensers, that take credit cards or ATM, are located in Lots K, H and N. The parking maps.
---
Hours
Open Gallery Hours DURING COVID MASKING AND DISTANCING ORDERS:
Open Monday-Thursday: 12 - 4pm (During exhibition dates)
Closed on Fridays, Weekends, University Holidays, Winter Break, Spring Break, and Summer Break
---
Information
***We are NOT currently taking unsolicited artwork submissions or outside exhibitions.