University Art Gallery
Spiritual Vessels
Chinese Teaware by Modern Masters of the Zisha Tradition, a Selection of Masterpieces from Major American Collections
October 20 - December 3, 2009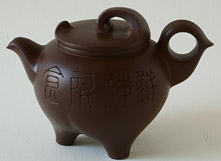 The pieces were created from exceptionally porous purple Zisha sand found only in the Dingshu area of Yixing, 120 miles northwest of Shanghai. China's Zisha masters are considered national treasures in their native country and follow a Ming Dynasty tradition dating back five centuries.
The group of California collections from which this selection has been made is the largest outside China. These handmade vessels are known for being so porous that they absorb a tiny amount of tea each time it is brewed, eventually developing a coating that retains the flavor of the tea.
"In East Asia, tea is considered a gift from heaven, and thus deserving of considerable respect," said Lanier Graham, art gallery director. "The goal of the Zisha teapot maker is not merely to make a fine pot, but to encourage each drinker, with each sip, to recall the intimate spiritual relationship that we have with the natural world."
The exhibit's guest curator, Bing Fan YeYoung, has been a professor of Chinese art and philosophy for many years. He teaches the Chinese Five Arts in the Sacramento area and will be writing the definitive study on Zisha teaware for the University of Beijing.
Concurrently, "German Expressionist Prints, from the collection of Roy Kahn" will be shown in the satellite gallery at the back of the main gallery. Graduate student Rachel Bush, A museum studies major from Fremont, is curating the exhibition.
2009-2010 Annual Exhibits
Faculty Exhibition
January 7 -March 8, 2010
Bachelor of Fine Arts Exhibition 
March 30 - April 22, 2010
Juried Student Exhibition 
May 18 - June 5, 2010
Juror Maria Medua, Director, SFMOMA Artists Gallery