Pink Ribbons, Inc.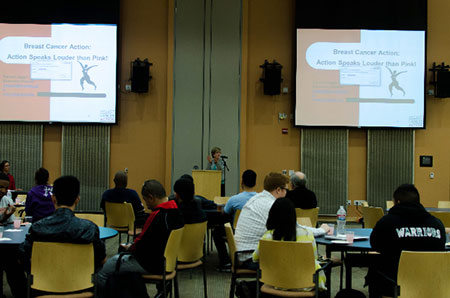 April 2012
Dr. Samantha King is a faculty member and the acting Director of the School of Kinesiology and Health Studies at Queen's University in Kingston, Ontario, Canada. She is the author of the book, Pink Ribbons, Inc.: Breast Cancer and Politics of Philanthropy, on which the documentary, Pink Ribbons, Inc. was based.
Dr. King led two different events during her visit to the CSUEB campus in April 2012. The first was a workshop for approximately 70 students in the University Union to learn more about the politics of philanthropy. King co-conducted this workshop with Karuna Jagger, the Executive Director of Breast Cancer Action.
On the second day of King's visit, the CSSJ screened the film Pink Ribbons, Inc. Dr. King took questions at the film's conclusion. Attendance as this event was approximately 300-350 people.