Politics of Women in Sport & Media Coverage with 
Dr.

 

Cheryl

 

Cooky
Tuesday, March 8, 2022
Youth Sports and Activism Summit
Hosted By the Center for Sport and Social Justice
Thursday, April 11, 2019
Led by members of the CSSJ and Dr. Scott Brooks of the Global Sport Institute (Arizona State University)
Part 1: 4:00-6:00pm, Old Union basement room CSUEB 
This phase of the event will begin with a brief introduction by the Co-Directors of the CSSJ. They will then illustrate community work that they have conducted with youth sports in our urban area, including a previous event, YouthSpace held in 2015 .
Dr. Scott Brooks will discuss his work in various American contexts with urban youths and their activism practices.
Bay Area community leaders involved in facilitating innovative urban youth sports projects will then each share their experiences and issues. Each featured group will then conclude with discussion about their relationship with the CSSJ and future directions.
Question and Answer time led by moderator, Dr. Scott Brooks.
Wyomia Tyus : The Politics of Black Womanhood and Sport, September 27th, 2018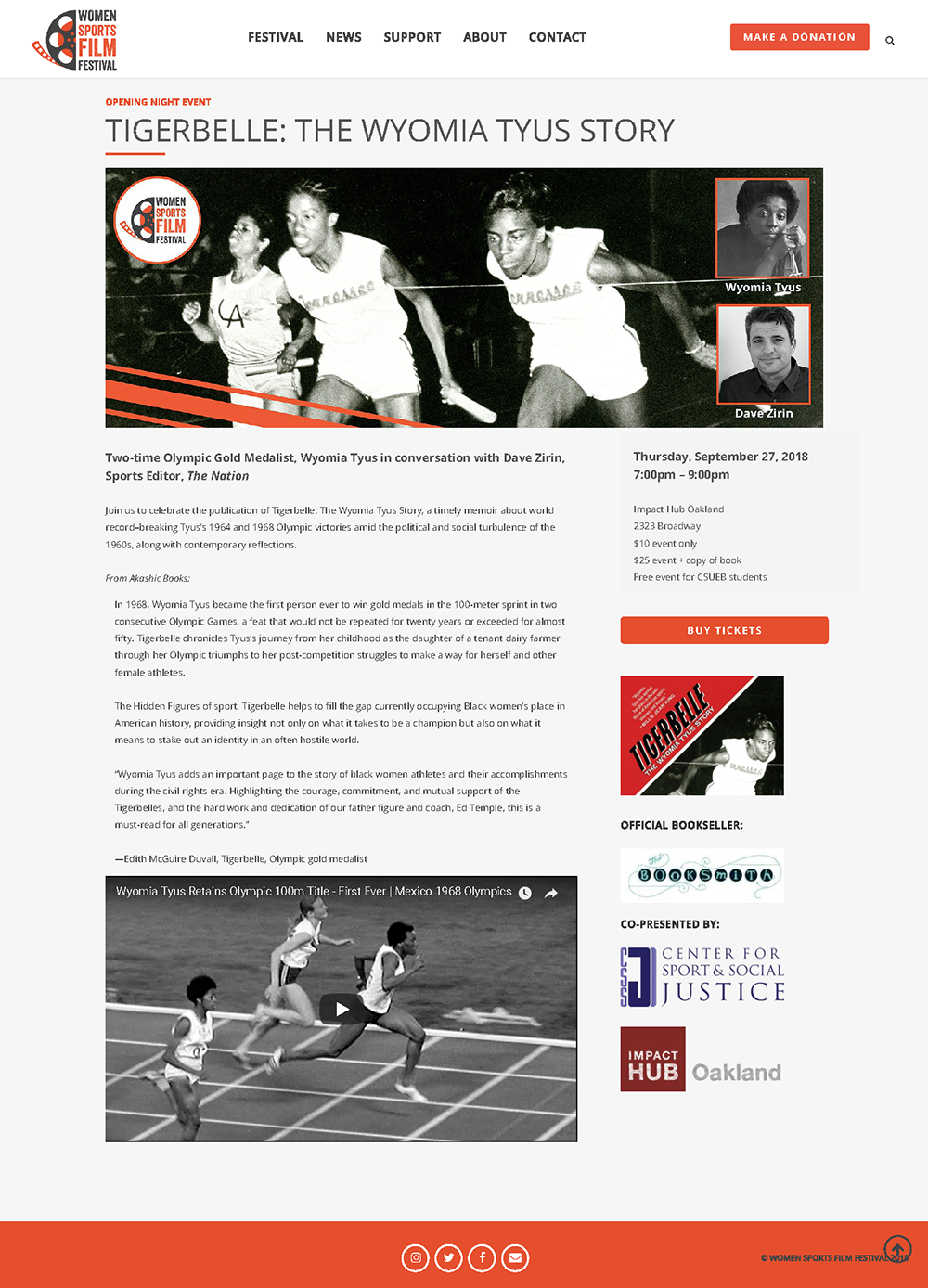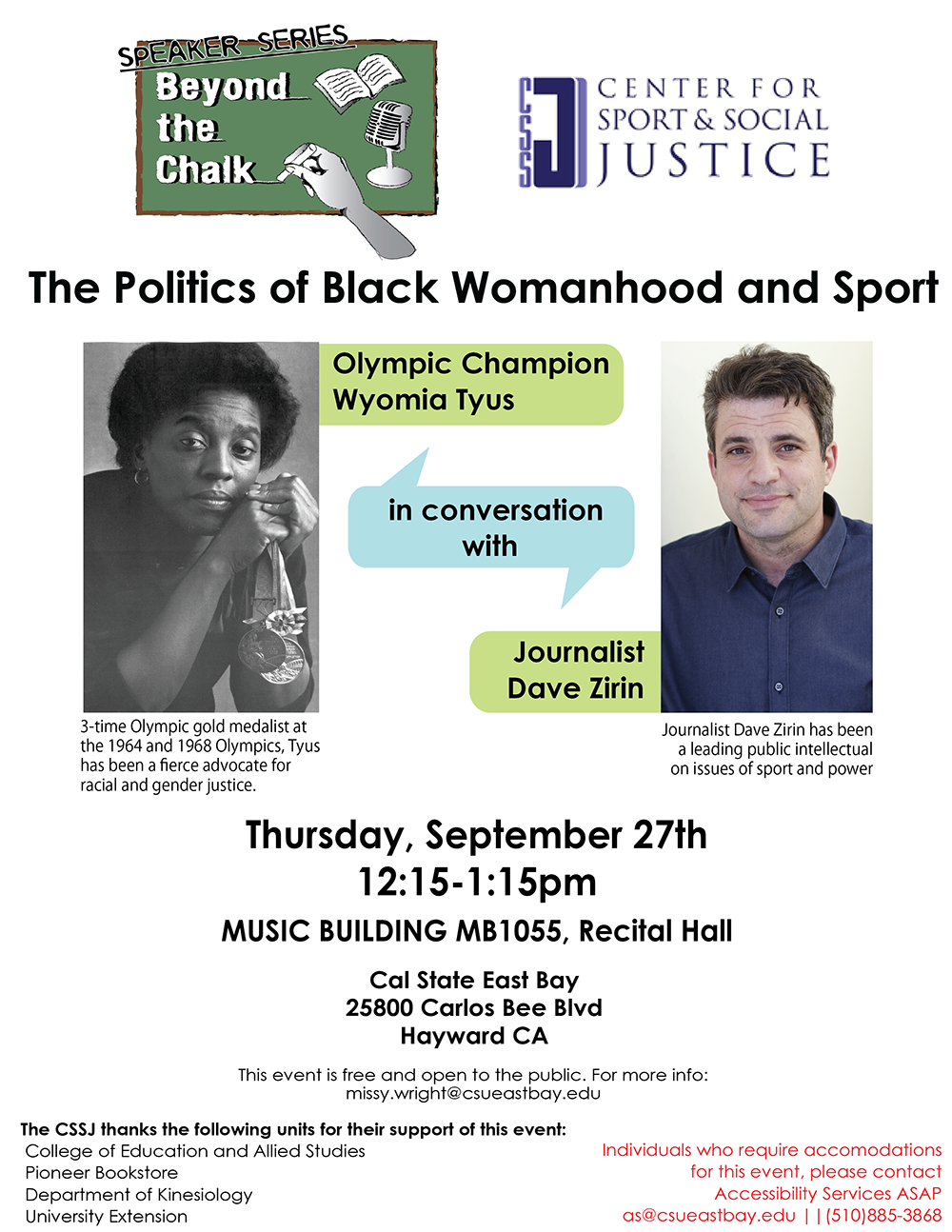 CAAMFest! Piedmont Theater in Oakland , 5/22/2018
Thank you to all of you who came out to our screenings at SFFILM, the Oakland International Film Festival, and the Show Me Justice Film Festival! You have yet another opportunity to watch Futbolistas 4 Life in the Bay Area at CAAMFest that starts up next month. We're screening in partnership with Cal State East Bay's Center for Sport and Social Justice.
This Too Shall Pass, May 1st, 2018.
49 Experiments with Impermanence
It was a 5-day, 49-hour performance event exploring time, impermanence, and spirals of intersecting cycles from diverse cultures. Watch, listen, sleep, meditate, join in, and/or participate in whatever ways move you. The CSU East Bay Inclusive Interdisciplinary Ensemble, directed by Eric Kupers, presents a 49-hour experimental performance investigating questions about the time we are existing in, including:
How can we make sense of this time we're living in?
Is this the beginning of the end or the start of something new?
How do we find faith, courage, and wakefulness in terrifying times?
What is the nature of time, impermanence, mortality, rebirth, historical cycles, natural cycles, the search for meaning, and the journey of the human race?
What do we have to learn from dance, music, theater, meditation, healing, and other creative practices that take us out of our usual life's pace?
What do we have to learn from one another when we take the time to sit and be creative together?
Soccer Without Borders Sport and Social Justice Event, April 18, 2018
This lecture featured CSUEB staff and faculty as well as leading representatives from the "Soccer Without Borders" award-winning non-profit group coming together to raise awareness about immigration and refugee policies that impact many students and youths in our local communities. An open panel discussion will also take place during this time to address audience questions.After the lecture, there was a soccer game in the nearby Pioneer Soccer Stadium featuring youths from Soccer Without Borders teams based in Oakland and Hayward, as well as CSUEB student and faculty representatives.
Sport and the #MeToo Movement, April 18, 2018
Books and podcasts from panelists and resources for those who have suffered sexual abuse was highlighted. We had student health services information available, as well as possible community and/or legal resources.
60 minutes for the three panelists to address their insights on the politics and culture of sports and how that impacts gender identity, gender relations, and the safety of athletes. Sharing ideas about how to address and reduce sexual violence in athletic settings. 30 minutes slotted for Questions from the audience. Options for posing questions verbally, written and via text message.
A meet and greet with friends and supporters of the CSSJ. Hosted on campus, this private fundraiser provided invited attendees an opportunity to meet and talk with the panelists.
FIBA Allow HIJAB and stay for a talk and Q&A with Bilqis Abdul-Qaadir - October 2, 2017
Bilqis Abdul-Qaadir is the all-time leading scorer in Massachusetts history for high school basketball (male or female). In 2010, she became the first NCAA Division I player to wear a hijab on the court. But for three years she was blocked from pursuing her professional basketball career due to a FIBA rule that bans headscarves in international competitions. Unwilling to stray in her beliefs, Bilqis chose faith over basketball and became an advocate working alongside other Muslim players. In numerous powerful ways, Bilqis has raised her voice for the next generation. Come learn about her journey.
In conversation with Olympic champions and Tennessee State Tigerbelles Wyomia Tyus & Edith McGuire Duvall – April 17, 2017
The Center tor Sport & Social Justice at Cal State East Bay was delighted to welcome three time Olympic gold medalist Wyomia Tyus back to campus. Tyus was joined by her Tennessee State Tigerbelle teammate and Olympic gold medalist, Edith McGuire Duvall.
Ovarian Psycos – May 10, 2017
Showing of Ovarian Psycos and Q&A with Yolihuani Tekolokuautli and Ovarian Psyco founder Xela de la X
Games for Hope
The CSUEB All Stars and Soccer Without Borders – May 11, 2017
Women Sports Film Festival – September 29 – October 1, 2017
The festival celebrates female athletes and storytellers through documentary film. This year, the CSSJ was a co-sponsor for the Everyday Activism panel discussion that featured Chamique Holdsclaw, Alison Desir, and Bilqis Abdul-Qaadir. This panel discussion was moderated by Rita Liberti from the CSSJ and showcased the different ways these powerful women have been activists in their communities.
Ghost Town to Havana
The Center for Sport & Social Justice is proud to be a partnering sponsor in helping to bring this documentary to campus on March 2, 2017 in UU 311 at 11am.

Cal State East Bay in Rio De Janeiro 2016
Through classroom learning and activities all around the city, the CSU East Bay Rio Summer 2016 program explored the most visited city in the southern hemisphere in the lead-up to the Olympics.

Women Sports Film Festival - July 28, 2016
The festival celebrates female athletes and storytellers through documentary film.
The Olympics and the Politics of Resistance - February 10, 2016
An Evening With Olympians and Civil Rights Activists John Carlos and Wyomia Tyus in conversation with award-winning journalist Dave Zirin.
Indigenous Dance Festival
The CSU East Bay Festival of Indigenous Dance will bring together a diverse collection of indigenous dance groups
Youthspace Program
A summit to support physical activity for young people in our communities
Queering Fields and Courts: LGBTQ Issues in Sport – January 28-29, 2015
Queering Fields and Courts: LGBTQ Issues in Sport
Killer Curves: The Paradox and Politics of "Fit" Latina Bodies
Larissa Mercardo-Lopez, Ph.D., will discuss how ideas about fitness and health are complicated by cultural constructions of Latina bodies and identity
Coaching Coaches to Reduce and Prevent Sexually Violent Language in Coaching
Donna Duffy, Ph.D. will give a research presentation and then a workshop for high school coaches
Tunnel of Oppression (Feb 2014)
A student-driven art installation exploring racism in American football
An Evening with Mary Tillman (Nov 2013)
A mother's attempts to seek the truth about her son's death in Afghanistan
The Hidden Cost$ of College Sports (Apr 2013)
A panel discussion of issues surrounding Division 1 sports programs
Females in Sport: Looking Better than Ever? (Nov 2012)
An exploration of gender and power in sport after 40 years of Title IX
Pink Ribbons, Inc.  (Apr 2012)
A student workshop and film screening on breast cancer and the politics of philanthropy
Sports, Politics, and Resistance in the United States (Feb 2012)
A discussion on race, gender, sexuality, and other issues of identity in sport