Create Your Space and Dress the Part
Create Your Space
Evaluate your space and identify an area to dedicate towards schoolwork and keep all your related materials there. Remove anything that may distract you but also keep something nearby that may motivate or inspire you.
Also think about what other's may be able to view behind you for when you use video conferencing (i.e. Zoom). Having a presentable space behind you or using a virtual background can make you feel more comfortable to use the video feature, which can help you stay engaged in your class sessions.
Dress the Part - When it's time to "go to class", change into your outfit of the day. This can help you get into school mode and focus on being in class or studying. After you're done for the day, you can change back into your home clothes or pajamas.
Here are some tools to help you set up your space!
Create Your Space Examples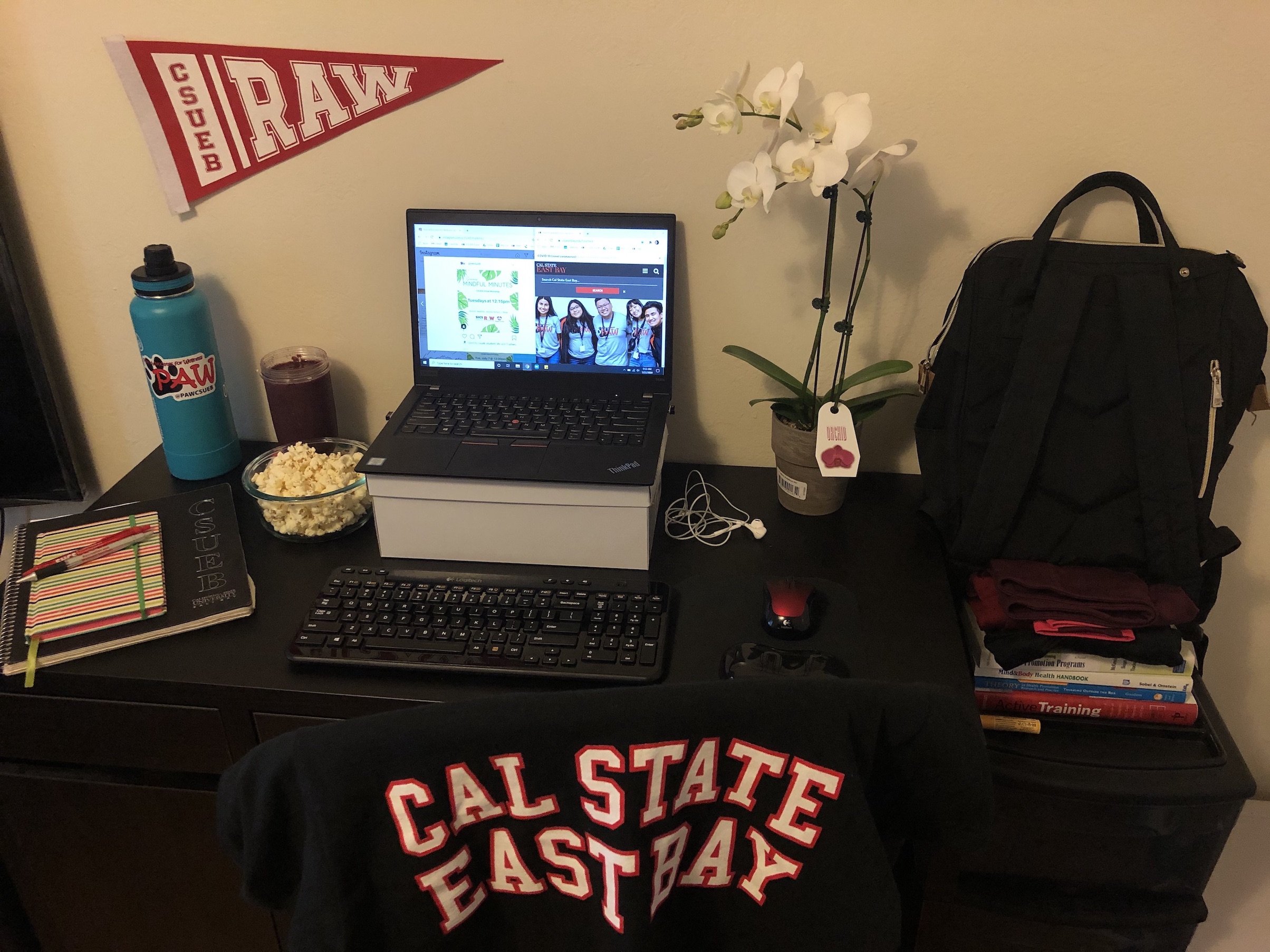 Desk Setup
I used a shoebox to lift up my laptop so it's easier for me to see the screen. 
I have my water and healthy snacks nearby (popcorn and a fruit/veggie smoothie).
I keep a journal in my drawer. I use it when I journal or go to the Mindful Minutes workshop.
I have my workout clothes ready to go for my afternoon workout.
I try to only do schoolwork at this desk. When it's time for me to video chat with my friends or relax, I go to another spot in my room or house.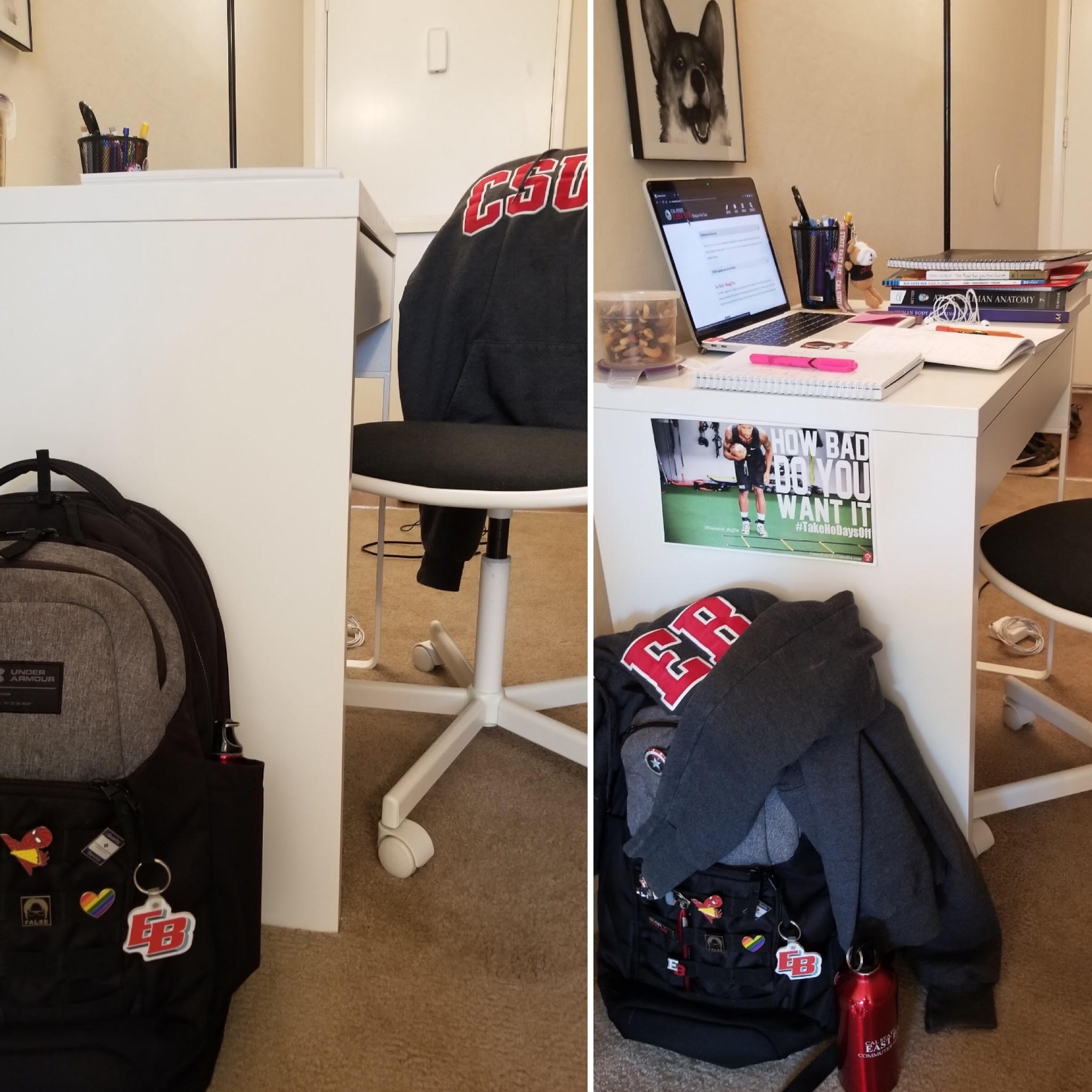 Backpack Method
I live with roommates so sometimes I study in different rooms. I like to use my backpack to keep all of my materials so everything is organized, easy for me to find, and easy to transport from room to room.
I also have headphones ready so I won't disturb my roommates when listening to lecture and a notebook to take notes.
I like to use a paper planner to write out all of my due dates and post-it notes to remind myself of important information.
My Cal State East Bay swag: sweater, key chain, and water bottle. (The dog key chain on the desk is actually belongs to my roommate. :D )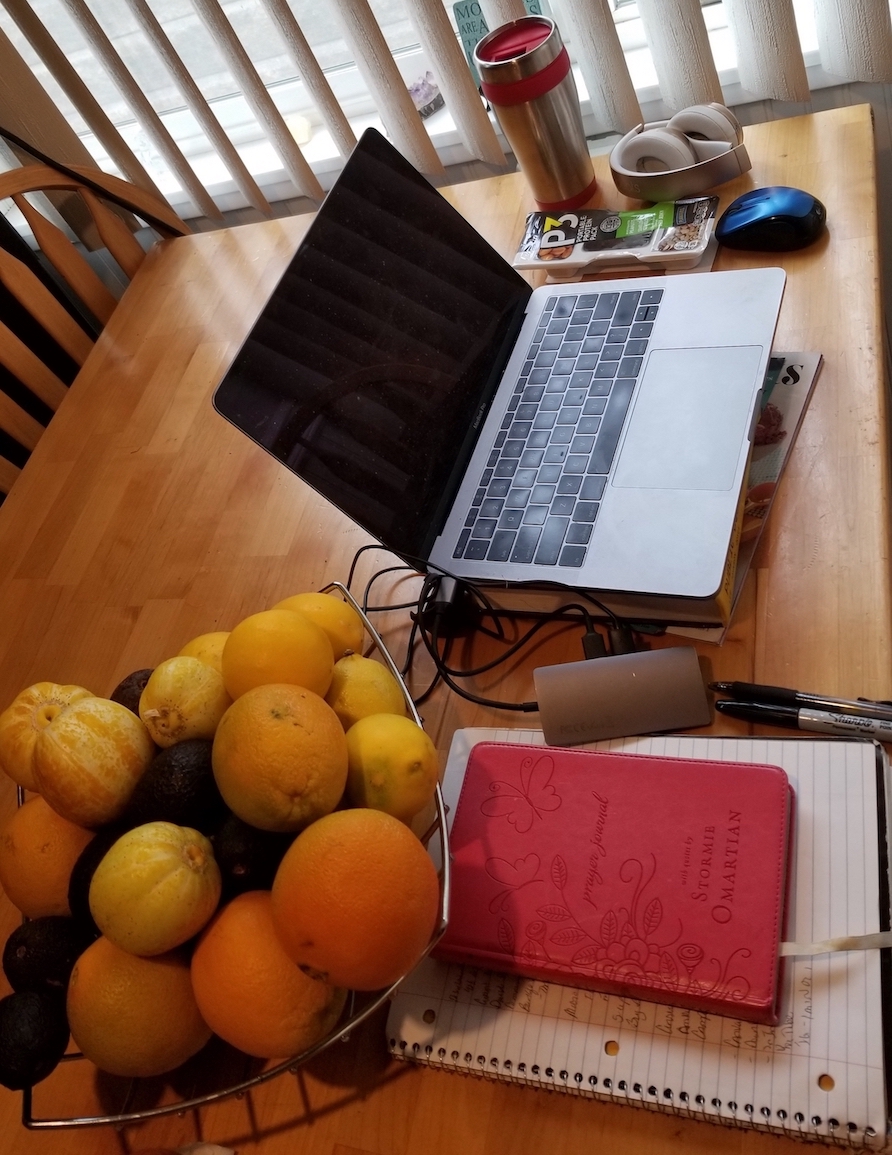 Kitchen Table
I like to use my kitchen table as the place where I do all of my schoolwork. I also look after my kids so I'm nearby as they do their activities throughout the day.
I use magazines to help prop up my laptop so it's easier to see the screen and a charger ready to go.
Another benefit of my space is being able to look outside my window, even if it's for a minute to give my eyes a break from the screen. I also have easy access to my protein rich snacks (beef jerky, sunflower seeds and peanuts) and a bowl of fruit and avocados!
I also have my backpack nearby so I can put away all of my items when it's time to use the kitchen table for something else.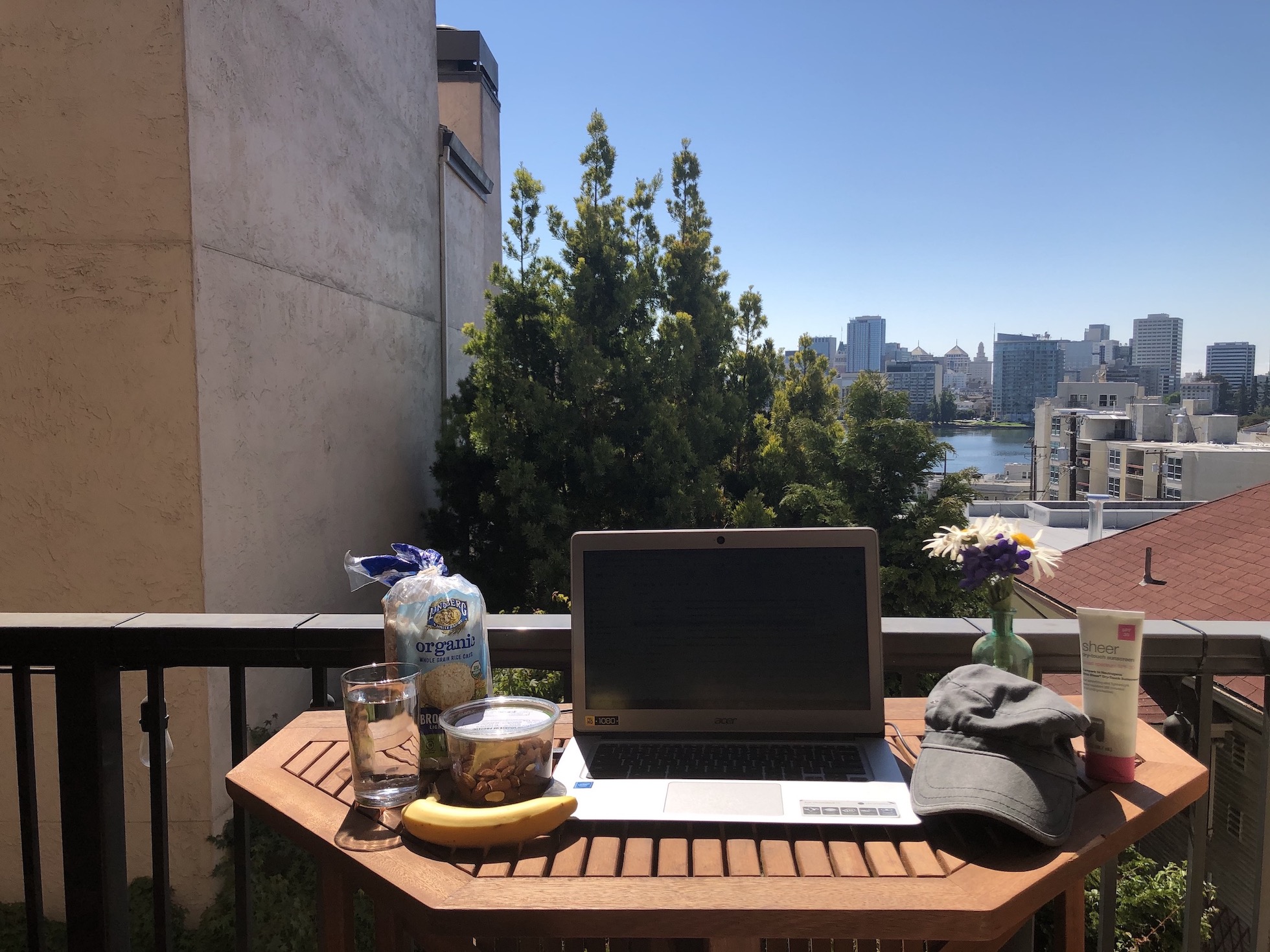 College Outdoors
My friends from college and I won't be able to see each other in person as much this semester, so instead I'm leaning on my love for the outdoors to give me that extra boost. 
I practice sun safety, especially when sunshine is my study buddy. (It's also important to practice sun safety on cloudy days.)
I take time to pause and enjoy the scenery. I like to stay connected to nature. It contributes positively to my sense of well-being, and my overall mood.
I learned that daylight and a connection to the outdoors collectively helps reinforce circadian rhythms, increases alertness, improves our mood, and decreases fatigue.
CSUEB Virtual Backgrounds
Cal State East Bay's University Communications department put together campus images that you can use as your virtual background on Zoom.
Pioneer Bookstore
Visit our Pioneer Bookstore website to bring a touch of Cal State East Bay to your space!