Spring Move Out Information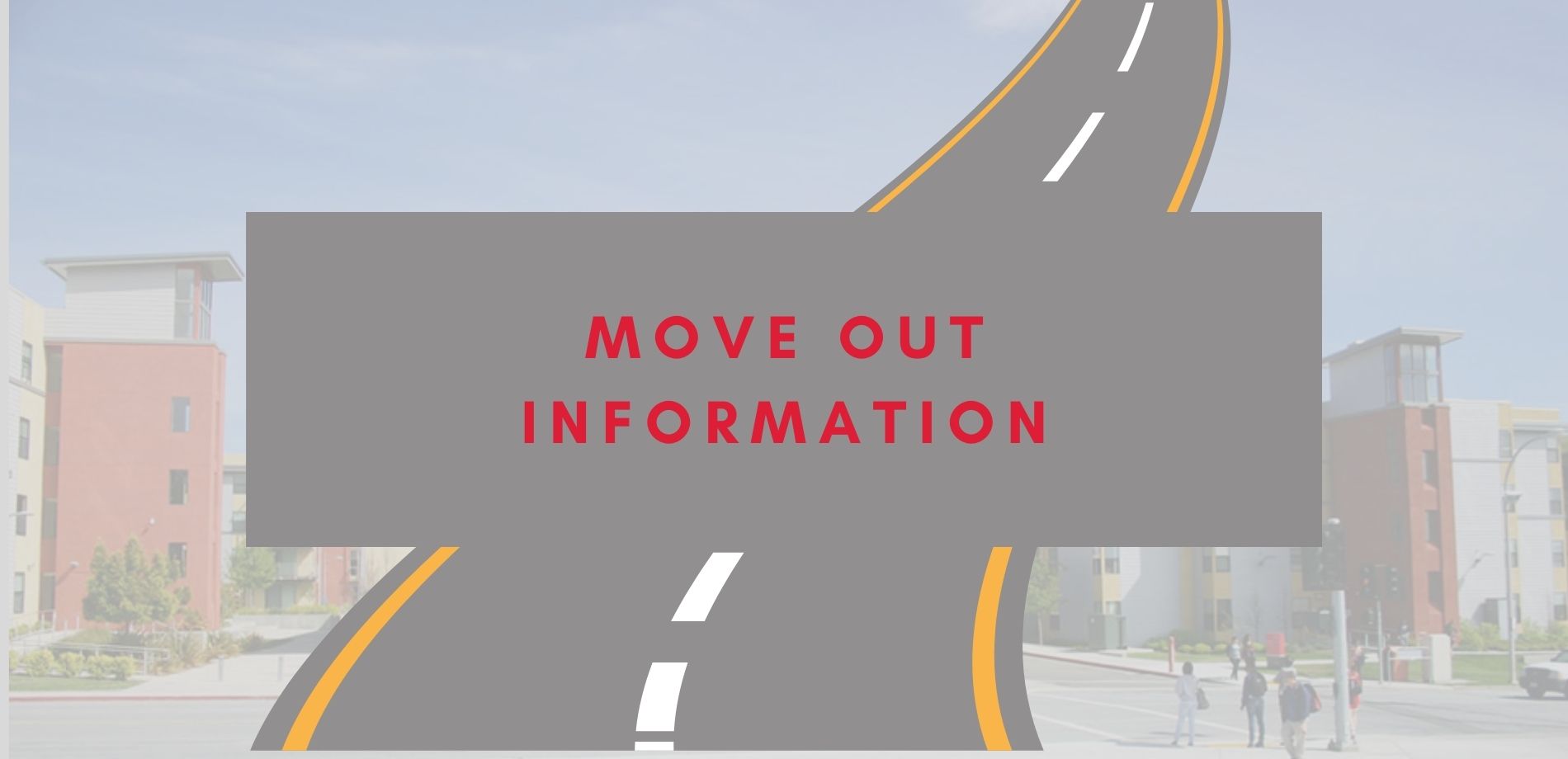 As the end of the academic year approaches and residents are planning to move out, please be sure you are aware of the following information and requirements:
As a reminder, your 2021-2022 License Agreement is in effect until the day you check out.

CHECKING OUT:
Residents are strongly encouraged to move out within 24 hours of their last final exam
The deadline to move out is 2 PM on Friday, May 13th.
Steps for a successful Check-Out: 
Remove all belongings.
Remove all trash and recycling.
Thoroughly clean your apartment/suite.
Complete an Express Check-Out Envelope, sealing your keys inside. (Sequoia and Juniper residents will complete an Express Check-Out slip since they do not have physical door keys to turn in.) Then drop the completed envelope/slip into an Express Check-Out dropbox. Envelopes and drop boxes are in the following locations:


Calaveras/Coloma/Sierra/Sonora - El Dorado lobby on the wall left of the desk
Tamalpais - Tamalpais lobby on the wall across from the front desk
Shasta/Diablo - On the wall in the lobby of the respective building
Sequoia/Juniper - Lobby on the wall across from the front desk
University Village - Lobby wall left to the entrance door
If you moved out and forgot to turn in your keys, here are instructions:
Send certified mail to:

Student Housing
1901 Harder Rd.
Hayward, CA 94542

Ensure the keys are labeled with your name, net ID, and room number inside the envelope
We must receive the keys by 5/20 in order to not be charged for lost keys.
Housing is not responsible if keys get lost in the mail or do not arrive on time
LICENSE EXTENSION:
If you are not able to check out by 2 PM on May 13th due to unavoidable circumstances, complete this License Extension request form. Extensions will only be approved to stay until Monday, May 16th at 2 PM. For consideration, complete the form by noon on Friday, May 6th. You will be notified of your approval status by May 6 by the end of the day. Extension requests will not be accepted after May 6th at noon.
Residents will be charged a nightly rate of $40 for each night they stay on campus beginning May 13, 2022. A nightly stay is defined as staying on campus past 5 PM. The form must be submitted by the deadline for consideration for a license extension.
Summer Residents who paid to live on campus between the spring and summer term (May 13 - June 4) do NOT need to complete the license extension form. Information regarding the summer transition will be sent at a later date.
DINING:
The last meal available in the Pioneer Kitchen (PK) for the spring semester will be lunch on Friday, May 13th. The PK and Market will close at 1 PM for the semester. Friendly Reminder: Please use all of your flex dollars by 1 PM on Friday, May 13th. Any remaining monies after that time will expire.
INFORMATION REGARDING YOUR MAIL:
Due to U.S. Postal Service regulations, the Post Office does not forward mail from this address. For uninterrupted mail service, please notify your friends, relatives, credit card companies, magazines, etc., of your new mailing address. All mail received after you check out will be returned to the sender. If you have any questions regarding your check-out, please feel free to email housing@csueastbay.edu.
CLEANING SUPPLIES AND EQUIPMENT CHECK-OUT - Lassen Community Room
As you prepare to check out, various supplies will be available to borrow by visiting the Equipment Check-out Room in the front part of the Lassen Community Room (directly across from Sequoia Hall). Please bring an ID other than your BayCard to checkout equipment.
Supplies include a vacuum, broom, paper towels, cleaning spray, and moving carts. Supplies are available between the hours of 10:30 AM - 5:00 PM and are on a first-come, first-served basis.
Equipment Room Hours-
Sat/Sun May 7-8: 10am-5pm
Mon-Thurs May 9-12: 5pm-10pm
Friday May 13: 8am-2pm
The equipment checkout flyer is available here.
TRASH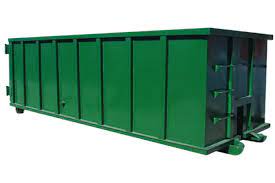 Large green dumpsters will be placed around Pioneer Heights. Click here for the map. Please use this for landfill garbage and be sure to put recycling in the blue bins as usual. If a dumpster is overflowing, please find a different dumpster. Please do not set trash on the ground of the trash enclosures as it will attract pests.
E-WASTE
Near the large dumpsters, you will find collection bins for E-Waste. They will collect items like old TVs, laptops, tablets, monitors, old cell phones, cable/wire/charges, computer equipment, etc. Do not place these items in the landfill dumpsters as it can lead to fines for the university. Please use the E-Waste collection sites instead.
TRAFFIC FLOW & PARKING- Wednesday-Friday (Pioneer Heights)
Beginning Wednesday, the only entrance into Pioneer Heights will be the street right before the Dining Commons (Pioneer Kitchen). Other street traffic will be one-way out of PIoneer Heights
Certain sides of the road will be designated as either 20-minute loading zones or no parking zones. Please follow the signage. Refer to this map for parking/traffic details.
FREE FEST
FreeFest is East Bay's pop-up free store! FreeFest helps keep gently used items out of the landfill and gives them a second home. Donations from residents can include electronics, kitchenware, clothes, textbooks, and unopened, non-perishable food. Big-ticket items from past years include printers, crockpots, fans, and lamps! The following items are prohibited: undergarments (including bathing suits), open makeup, open food, or used toiletries.
Friday, May 6 - El Dorado Hall
10 AM - 1 PM - Drop off donations to El Dorado Hall
1 - 7 PM - Stop by and see what free items you can find! (donations will still be accepted during this time as well)
SUMMER HOUSING:
Housing for the summer is almost completely full. If you need on-campus housing this summer, please apply on the housing portal as soon as possible. To learn more about Summer housing, please refer to the rates. Summer residents will receive a separate email with instructions for moving to their summer assignment.
QUESTIONS:
Options to contact:
Your RA
Lassen Housing Office- M-F; 8 AM - 5 PM
Follow us on Facebook @csuebhousing and Instagram @csuebhousing
THANK YOU FROM STUDENT HOUSING AND RESIDENCE LIFE FOR MAKING THIS YEAR GREAT!
We thank each of you for taking a journey with us as we traveled through this wonderful, yet challenging academic year. The world has changed quickly but we hope that the experiences over the past year helped in developing a better understanding of yourself, what is important to you, and how you can use this knowledge to move forward into the future.
If you are returning next year, take the time this summer to do something you love and bring that experience back next year to share with your community. Please adhere to the safety requirements and come back to us healthy in the fall.
If you are leaving our community to explore new opportunities outside of Student Housing, we wish you the best and look forward to seeing your continued development. Stay safe and healthy.
Lastly, if you are graduating, congratulations! Our staff is celebrating your major accomplishment! We hope to hear about your successes as you move into the next chapter and be sure to always remember our community that you helped to cultivate.