Spring Move Out Information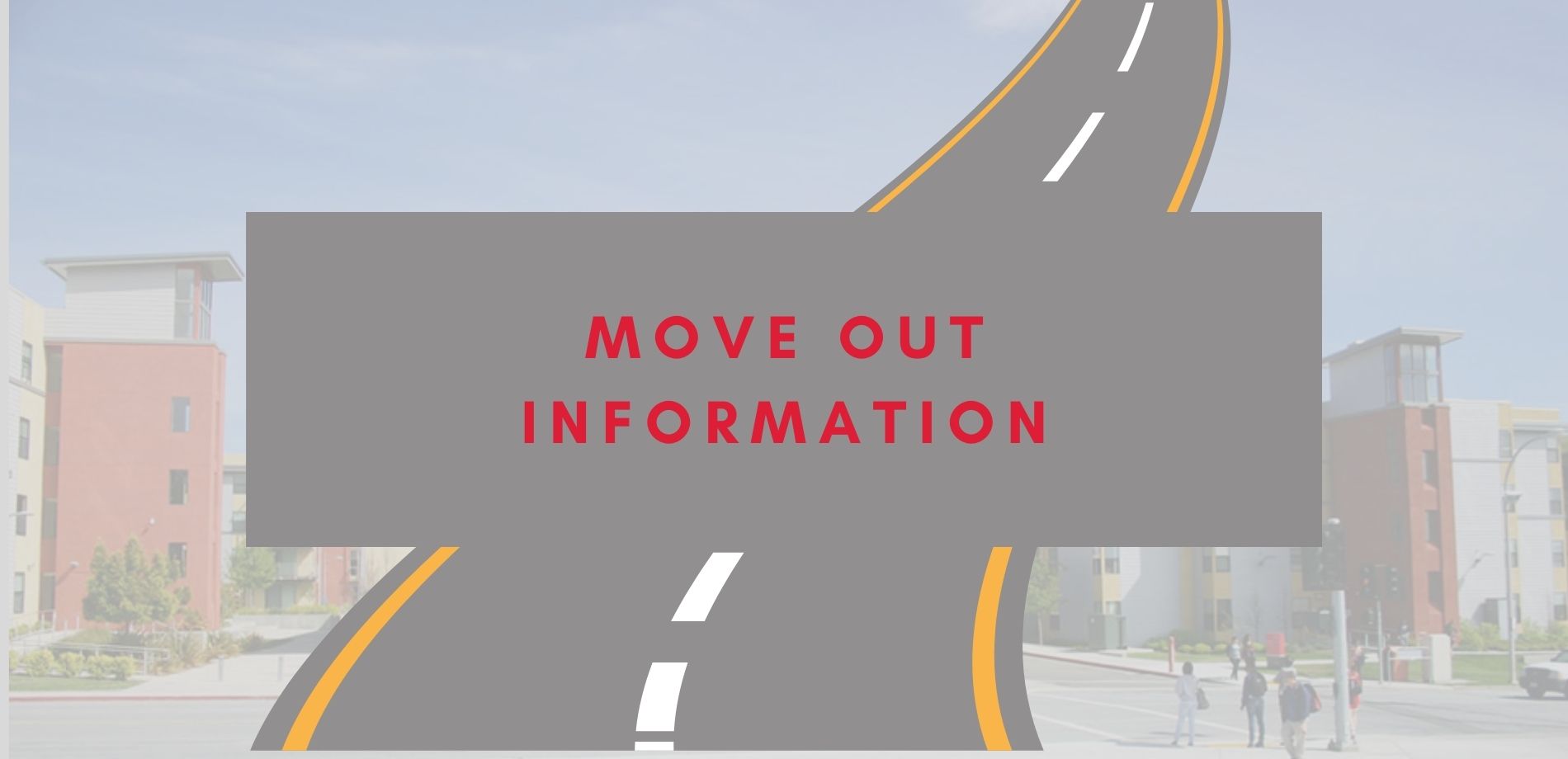 As the end of the academic year approaches and residents are planning to move out, please be sure you are aware of the following information and requirements:
As a reminder, your 2020-2021 License Agreement is in effect until the day you check out.

CHECKING OUT:
Steps for a successful Check-Out: 
Remove all belongings.
Remove all trash and recycling.
Thoroughly clean your apartment/suite.
Complete an Express Check-Out Envelope, sealing your keys inside. (Sequoia and Juniper residents will complete an Express Check-Out slip since they do not have physical door keys to turn in.) Then drop the completed envelope/slip into an Express Check-Out dropbox. Envelopes and drop boxes are in the following locations:


Calaveras/Coloma/Sierra/Sonora - El Dorado lobby on the wall left of the desk
Tamalpais - Tamalpais lobby on the wall across from the front desk
Shasta/Diablo - On the wall in the lobby of the respective building
Sequoia/Juniper - Lobby on the wall across from the front desk
LICENSE EXTENSION:
If you are not able to check out by 2 pm on May 14th due to unavoidable circumstances, complete this License Extension request form. Extensions will only be approved to stay until Monday, May 17th at noon. For consideration, complete the form by noon on Thursday, May 6th. You will be notified of your approval status on Friday, May 7th. Extension requests will not be accepted after May 6th.
Residents will be charged a reduced nightly rate of $25 for each night they stay on campus beginning May 14, 2021.
Residents who have received a summer assignment do NOT need to submit this request. Information regarding summer transition will be sent with summer assignment information.
DINING:
The last meal available in the Pioneer Kitchen (PK) for the spring semester will be lunch on Friday, May 14th. The PK and Market will close at 1 PM for the semester. Friendly Reminder: Please use all of your flex dollars by 1 PM on Friday, May 14th. Any remaining monies after that time will expire.
TO-GO CONTAINERS:
Please return your to-go containers and any dishes/silverware to the Pioneer Kitchen prior to Friday, May 14th at 1 PM.
INFORMATION REGARDING YOUR MAIL:
Due to U.S. Postal Service regulations, the Post Office does not forward mail from this address. For uninterrupted mail service, please notify your friends, relatives, credit card companies, magazines, etc., of your new mailing address. All mail received after you check out will be returned to the sender. If you have any questions regarding your check-out, please feel free to email housing@csueastbay.edu.
MOVE OUT SUPPLIES:
As you prepare to check out, cleaning supplies (vacuums, brooms, multipurpose cleaner, and paper towels) and moving bins will be available starting Monday, 5/10. Residents can check out these items from Lassen Housing Office between 8 AM - 5 PM or with the RA on duty between 8 PM - 10 PM.
LIMITED TO 1 PERSON TO ASSIST WITH YOUR MOVE:
One friend/family member will be permitted to enter the residence hall to help you move. Please abide by all other COVID-19 safety precautions such as facial coverings at all times, physical distancing, and limiting elevator occupancy to 2 people at a time.
CAR-MENCEMENT TRAFFIC ON FRIDAY:
Please be aware that there will be increased traffic starting on Friday morning due to Car-mencement. Please notify any friends/family coming to help you move out to stay in the right lane as they enter campus on Harder Road. After the intersection of Harder and West Loop Road, they will be able to veer off to the right into Housing, entering behind the Dining Commons. Please plan for delays.
SUMMER HOUSING:
Housing for the summer is almost completely full. If you need on-campus housing this summer, please apply on the housing portal as soon as possible. To learn more about Summer housing, please refer to the rates. Summer residents will receive a separate email with instructions for moving to University Village.
QUESTIONS:
Options to contact:
Your RA
Lassen Housing Office- M-F; 8 AM - 5 PM
Follow us Facebook @csuebhousing and Instagram @csuebhousing
THANK YOU FROM STUDENT HOUSING AND RESIDENCE LIFE FOR MAKING THIS YEAR GREAT!
We thank each of you for taking a journey with us as we traveled through this wonderful, yet challenging academic year. The world has changed quickly but we hope that the experiences over the past year helped in developing a better understanding of yourself, what is important to you, and how you can use this knowledge to move forward into the future.
If you are returning next year, take the time this summer to do something you love and bring that experience back next year to share with your community. Please adhere to the safety requirements and come back to us healthy in the fall.
If you are leaving our community to explore new opportunities outside of Student Housing, we wish you the best and look forward to seeing your continued development. Stay safe and healthy.
Lastly, if you are graduating, congratulations! We recognize that this is not the way you imagined ending your undergraduate experience, but our staff is celebrating your major accomplishment! We hope to hear about your successes as you move into the next chapter and be sure to always remember our community that you helped to cultivate.