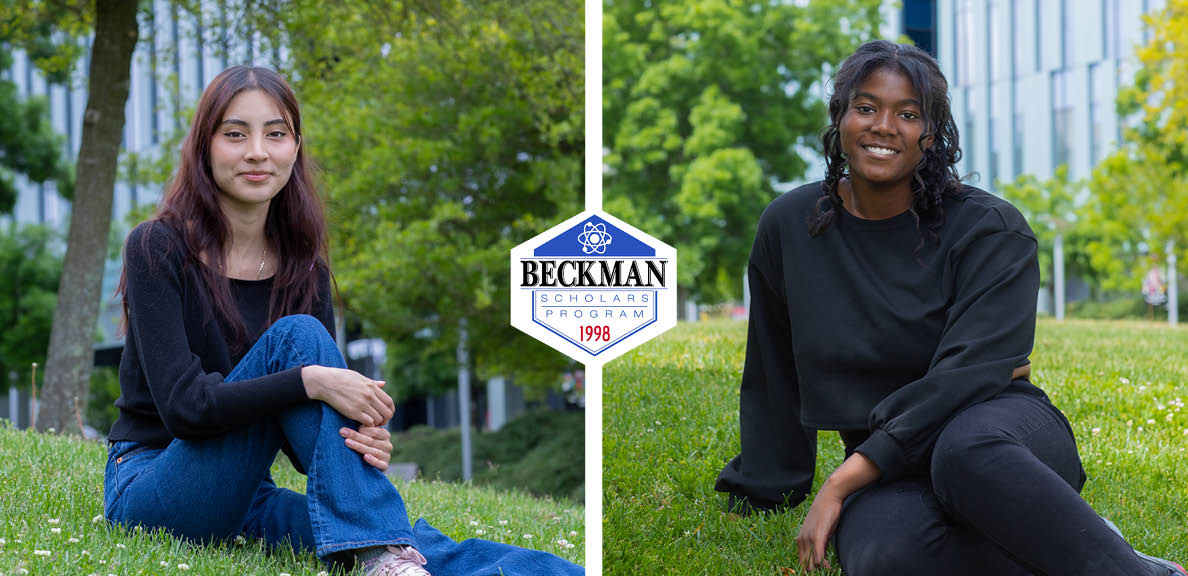 Cal State East Bay Beckman Scholars to Conduct Research in Biology, Biochemistry
BY Sarah Harris
PHOTOGRAPHY BY Garvin Tso
May 15, 2023
For the first time in campus history, two Cal State East Bay students have been selected to receive the Beckman Scholars Award. Established in 1977, the Arnold and Mabel Beckman Foundation supports undergraduates with exceptional talent to conduct in-depth, mentored research. Around 1,500 students from across the nation have benefited from the Beckman Scholars Program to date. 
Just 14 universities across the United States were awarded a 2023 Beckman Scholars distinction. Students Litzy Juarez Serrano and Tiana Bishop went through a rigorous interview process before being matched with their CSUEB faculty members. 
Bishop, a cell and molecular biology major, said, "I felt accomplished when I was accepted. I really wanted to be a part of this program to make my family proud, and my mother especially. When I received the email saying I was accepted, I actually felt tears come to my eyes." 
Bishop will be mentored by Jenny Hazlehurst in the Department of Biological Sciences. Together they will analyze fecal samples of hummingbirds in both rural and urban regions for Hazlehurst's Hummingbird Diet Project.
"Conducting research with undergraduate students is by far my favorite part of being a professor in the CSU system. It is incredibly rewarding to watch students grow into their confidence and skills as scientists,"said Hazlehurst. "I can't wait to see what discoveries we make!"  
"I am looking forward to the lab section, and writing the lab reports. I do not get a chance to be a real scientist in my day to day life, so even the most tedious of labor, I am excited to do," said Bishop.
Mark Borja in the Department of Chemistry and Biochemistry will mentor Juarez and said, "For most students who start doing research in my lab, it's their first time doing scientific research. It's rewarding to see them really getting into it and realizing that through having this opportunity, it might open a totally new career or life path for them." Juarez, a junior studying biochemistry, noted her excitement to be part of a program that allows her to conduct research she so enjoys. 
Juarez explained that her project "focuses on high-density lipoproteins (HDL), apolipoproteins A-I (apoA-I, the main component of HDL), and lipids. Under the supervision of my mentor, Dr. Borja, I will explore how HDL particles synthesized using different lipids, commonly found in the food we consume, as well as different sizes of HDL particles affect apoA-I exchange rates. I chose to pursue this project because of the importance of apoA-I and HDL in cardiovascular diseases."
"I'm looking forward to the opportunity to guide a student toward becoming a seasoned researcher who thinks about science not only as what they can learn in a classroom, but as something they can contribute knowledge to through what they discover," said Borja. 
Juarez and Bishop will have the opportunity to present their findings at the Beckman Symposium. "Not only am I looking forward to exploring apoA-I exchange rates, but I am also looking forward to sharing my findings and presenting aspects of my project at research conferences and events," said Juarez. 
Hazlehurst said, "The Beckman Scholar program is an incredible opportunity to conduct research with a faculty mentor and provides the critical financial and material support to students so that they can do so. I hope more students will pursue research opportunities through this and other programs like the Center for Student Research (CSR) before they graduate, as it really is an amazing experience in addition to a great resume builder for their future careers!" 
A total of $156,000 will be awarded to the university over three years thanks to The Arnold and Mabel Beckman Foundation. Students can learn about the variety of CSR programs here.