About Us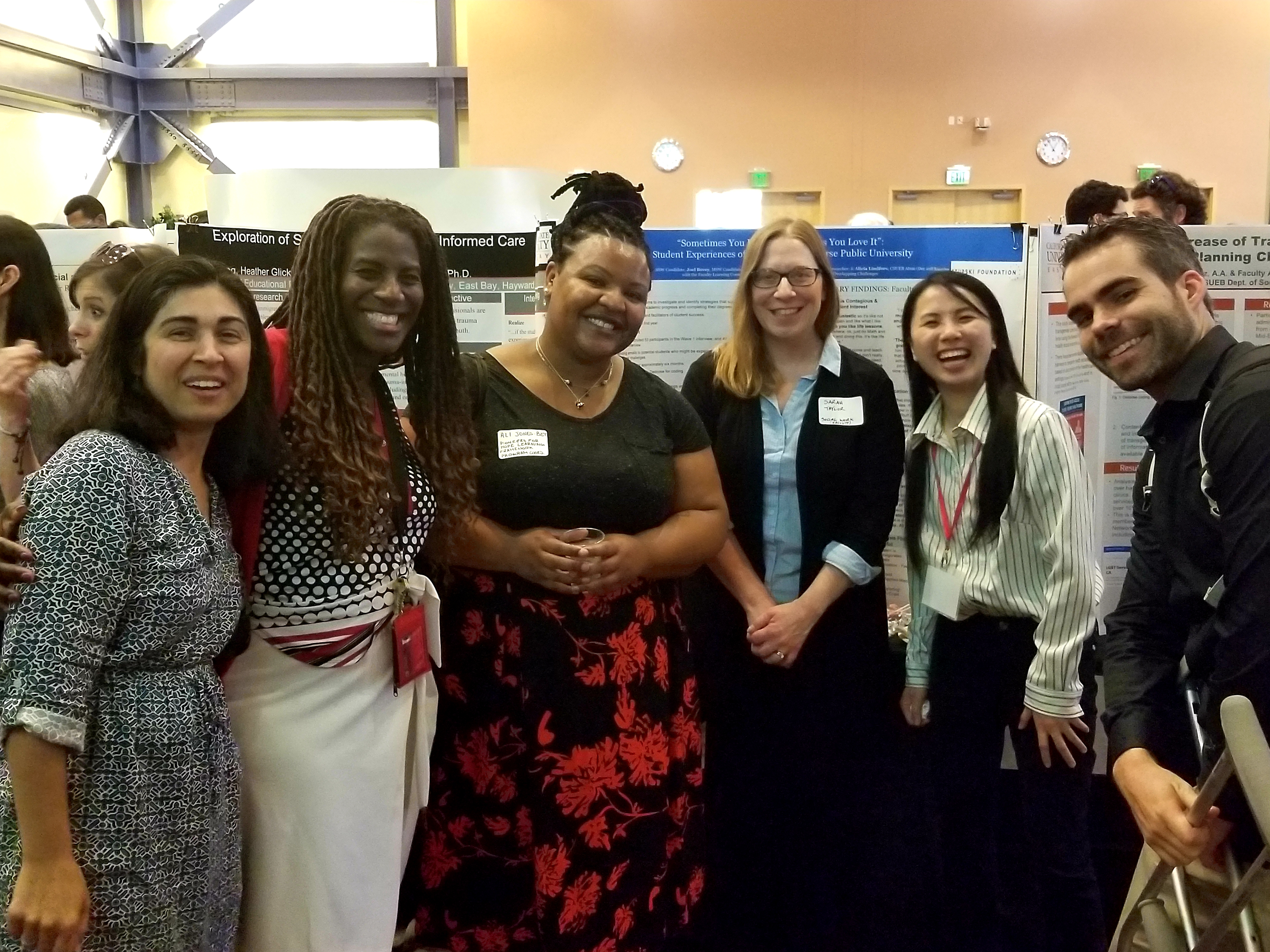 Photo: Learning Framework Team Members at the 2019 Week of Scholarship; from left: Dr. Negin Toosi, Darice Ingram, Ali Jones-Bey, Dr. Sarah Taylor, Tsz Kwan Lan (Connie), & Dr. Ryan Gamba
This page features past and present team members who contributed to the project in a variety of ways, including brainstorming on the original project design; assisting in data collection, data analysis, or dissemination; participating in the Faculty Learning Community; or making a significant contribution to the #MakeRoom project.
Leadership Team
Sarah Taylor, MSW, PhD, is a Professor and Department Chair in Social Work at CSUEB. Her research focuses on promoting well-being, building collaboration, and advancing equity across human service systems. She explores these themes in a variety of contexts, including higher education, mental health, disability, and LGBTQ+ communities. Dr. Taylor's work involves collaboration with community partners on research and evaluation projects of interest to stakeholders, with a focus on applied, community-based, participatory action research. 
Ali Jones-Bey, Project Coordinator
Ali Jones-Bey served as the Coordinator of the Pioneers for HOPE Learning Framework Program. She is also a former student, having recently earned her MA in English Literature at CSU East Bay. Ali has over seven years of experience in program management, coordination and writing. She holds a second MA in Poetry from the University of Manchester, and spent two years living in England and traveling. She is interested in the intersection of literature and real life, and in her free time, she reads poetry and science fiction. Her favorite podcast is The Read and she also enjoys long motorcycle rides, crocheting, and spending time with her family. 
Edward Inch, Former Provost and Project Principal Investigator
Dr. Inch served as the Provost at CSU East Bay from 2016-2021. He is currently the President of Minnesota State University, Mankato. From 2011-2016, he served as Dean of the College of Arts and Letters at California State University, Sacramento. He previously served as Provost and Vice President for Academic Affairs at Capital University in Columbus, Ohio, and has participated as an American Council on Education Fellow and accreditor for the Northwest Commission on Colleges and Universities. At Sacramento State, he led the initiative to double his college's four-year graduation rates and improve retention rates, and served as a member of the University Strategic Planning Committee. 
In February 2016, Dr. Maureen Scharberg accepted the new position of Dean of Undergraduate Studies at Cal State East Bay. She is now Dean of Academic Programs and Services, coordinating academic programs, and academic support services as well as providing leadership to student success issues, enrollment management and semester conversion. Before her administrative appointment at Cal State East Bay, Dr.Scharberg served as Associate Vice President of the Office of Student Academic Success Services (SASS) at San Jose State University (SJSU) and coordinated all aspects of supporting and promoting student success at SJSU including improving retention and graduation rates and overseeing academic support services. Her previous administrative appointments at SJSU were Director of the Science Education Program and Associate Dean of the College of Science. As Associate Dean, Dr. Scharberg focused on STEM student success, retention, advising and curricular design as well as course and program assessment plans and strategies. In 1991, Dr. Maureen Scharberg received her PhD in Chemistry from UC Davis and joined SJSU as a faculty member in the Department of Chemistry. She has been in the CSU system for over 26 years. In her spare time, Maureen enjoys hiking, working in her garden and spending time with her basset hounds and cats, all of which were rescues.
Key Collaborators
Dr. Alina Engelman, DrPH, MPH is an Associate Professor of Public Health at Cal State East Bay and a member of the Community Health Commission for the City of Berkeley. Dr. Engelman focuses on health initiatives for underserved populations, including the deaf, in her roles as a Research Affiliate at Health Research for Action at UC Berkeley, and as a collaborator on an NIH-funded project at Gallaudet University. Her teaching includes courses in epidemiology, community health (including sections on food security), and research methods. She received her DrPH at UC Berkeley, and her MPH in Global Health at Yale. In her spare time, Alina loves to travel and explore new places.   
Dr. Gamba received a Master in Public Health degree in Maternal and Child Health from the University of California Berkeley (UCB) and his PhD from UCB in Epidemiology. Before pursuing graduate school, he worked at the Food Bank of Yolo County and the San Diego State University Special Supplemental Nutrition Program for Women Infants and Children (WIC) Program as a nutrition educator. His research focuses on food insecurity and hunger in America. Ryan is a CASA volunteer, which is a program designed to pair advocates with foster youth to help insure their physical, mental and emotional needs are being met. Ryan also loves to cook and stay active! 
Dr. Nidhi Khosla, PhD, MPH, PGDRM is an Associate Professor of Public Health at California State University East Bay. She has a unique training in behavioral, organizational and epidemiological research methods and field experience in management of health programs and working with communities using participatory, rights-based empowerment approaches. Her research concerns access to care among vulnerable populations and reducing health disparities. At present, she is focusing on increasing access to and satisfaction with end-of-life care among minorities, especially persons of South Asian origin. She has also researched organizational behavior such as collaboration among HIV agencies. Dr. Khosla received her PhD in Public Health from the Johns Hopkins Bloomberg School of Public Health and her Master in Public Health degree from the University of North Carolina at Chapel Hill. 
Community Partners
Sara Lamnin, Hayward City Council Member and Chair, Task Force to End Hunger and Homelessness in Hayward 
Sara Lamnin currently serves as a Hayward City Council Member. In this role, she chairs the City's Housing and Homelessness Task Force and is the City's representative to the Housing Authority of the County of Alameda. Prior to being elected in 2014, she co-lead the Hayward Community Action Network - a collaborative effort to address homelessness in and around Hayward. Sara also helped to develop the South County Kinship Support Services Program empowering and supporting grandparents and other relatives raising younger relatives. Sara received her MA in Healthcare Administration from CSUEB in 2004.
sheila Burks, Manager of Equity and Inclusion at Alameda County Community Food Bank
sheila joined Alameda County Community Food Bank in 2010 after a professional career that included almost 20 years' work in financial services and affordable housing at Citibank and Fannie Mae, respectively.  In her current role as Manager of Equity and Inclusion, sheila collaborates with partners to develop and advocate for policies and practices that address the root causes of hunger, including racism.  Her role has been deliberately linked to the Food Bank's equity and inclusion journey; building Community one conversation at a time because we cannot assume that "more diverse" necessarily translates into "more equitable".  She is currently focused on partnerships that address the ability of first-generation college students and formerly incarcerated individuals and their families to navigate to more stable and sustainable economic outcomes in which they can thrive.  sheila is a passionate advocate for racial and economic justice and expanding opportunities to ladders of success. 
Faculty Collaborators 
(In alphabetical order by last name)
Lee Adams, MLIS, MA is the E-Resources Librarian and liaison to the Criminal Justice, Economics, and Hospitality, Recreation, and Tourism departments in the CSU East Bay University Libraries. Supporting student success by understanding student needs is a priority for her. She received her Masters in Library and Information Science from the University of Hawaii at Manoa, Honolulu, HI, her MA in Women's Studies from DePaul University, Chicago, IL, and a BA in Philosophy from Northwestern University, Evanston, IL. Lee loves travelling, the ocean, reading graphic novels and young adult fiction, going to the movies, her tiny vegetable garden, and she is learning to knit.
Jeffra D. Bussmann, MLIS, is an associate librarian in the Library Faculty Department at California State University, East Bay. Previously, she worked as a Research Librarian for mathematics, physics, and astronomy at University of California, Irvine. She developed a love for science and humanities while earning a Bachelor of Science in Mathematics with a minor in Spanish at Cal Poly, San Luis Obispo. Her current research areas are information literacy in the sciences, social and research justice in colleges and libraries, and information access in the sciences. In her personal time, she is very active in her church and local community.
Mariana T. Guzzardo, Ph.D., is an Assistant Professor in the Department of Human Development and Women's Studies at California State University, East Bay. She grew up and studied in San Juan, Puerto Rico until she graduated from the University of Puerto Rico with a bachelor's degree in Psychology.  She then attended the University of Connecticut, where she obtained her master's and doctoral degrees in Human Development and Family Studies with a specialization in Adult Development and Aging. Later, as a postdoctoral research associate at Northeastern University, she focused on the analysis of qualitative data from the Boston Puerto Rican Health Study (UMASS- Lowell). Her research focuses on access and use of community-based health and social services among Latinx elders with disabilities.  Much of Mariana's work also considers Puerto Ricans in the U.S. as a unique transnational case for exploring health in aging, the exchange of support in close relationships, and cultural identity. Her most recent research explores the experiences of elderly Puerto Ricans with disabilities on the Island in the aftermath of Hurricane María in 2017.
Natalie Ingraham, PhD, MPH earned her PhD in Sociology from UC San Francisco in 2016. She has also conducted qualitative research on gender and reproductive health as a staff research associate at Advancing New Standards in Reproduction Health (ANSIRH) at UCSF and in the Dept. of Social Welfare at UC Berkeley. She is interested in the intersections of body size, gender, sexuality and health. Her dissertation examined three data sets at this intersection: sin and redemption narratives on fatness in The Biggest Loser, body size experiences of lesbian and bisexual women over 40 and a situational analysis of Health at Every Size.  She completed a BS in Psychology from University of Science and Arts of Oklahoma and earned Master of Public Health degree from Indiana University. More information including her teaching and publication/research experience can be found at www.natalieingraham.com
I believe that our foremost professional priority is to improve the effectiveness of clinical practice to better meet the needs of individuals with communication impairments who we serve.  We can do so by advancing scientific knowledge of the profession as well as developing "real-world" interventions that bridge the gap between research and clinical practice. It is in this niche that my professional interests are grounded. I teach coursework in autism, language development and disorders, research methods, counseling, and early intervention.
As director of the CSD Early Social Communication Research Clinic, I lead undergraduate and graduate students in research, outreach, and training activities related to autism, family centered intervention and collaborative and consultative practices. I also lead the Conversation Club-a social skills group intervention program that is focused on social communication skills for adults with autism enrolled in the College Link Program at CSU East Bay.
I'm an experimental social psychologist with a special focus on diversity and intergroup relations. My research deals primarily with diversity in terms of race, gender, culture, and religion. I completed my undergraduate degree at Stanford University, received my Ph.D. in 2011 from Tufts University, and then completed a post-doc at Columbia Business School. Before starting at CSU East Bay, I spent a few years as a Visiting Scientist at Technion and a consultant for the Research Department of the Baha'i World Centre in Haifa, Israel. I also have an affiliation with the Tufts Labor Lab as a data analyst for the Global Women's Economic Empowerment Initiative.
Dr. Rush Woods is currently a Professor Emerita in the Department of Social Work at CSU East Bay. Dr. Woods also holds the distinction of being appointed as the first Diversity Officer for California State University, East Bay. In her role as Diversity Officer, Dr. Woods coordinated efforts to foster and support diversity, equity and inclusion as core values throughout all aspects of the University community. Her work emphasized diversity-oriented programs and initiatives including implementation of the University Diversity Plan to ensure that actions are taken to fulfill its commitments. She previously served as the Chief of Staff to Dr. Leroy Morishita, President of Cal State East Bay. Joining the faculty initially as a lecturer in the Department of Sociology, Dr. Woods was appointed as a tenure track faculty member in 2001. A founding member of the Department of Social Work, Dr. Woods served as its chair from 2007-2010. As a professor and active scholar in Social Work, Dr. Woods is recognized regionally and nationally for her work in the areas of race, gender and equity issues in the academy; photo-voice, community empowerment; and the overlap between domestic violence and animal abuse. In addition, Dr. Woods has served as the principal or co-principal investigator on a series of Title IV Education Department grants and California Social Work Educational Consortium II Mental Health Department grants. 
Staff Collaborators
(In alphabetical order by last name)
Dr. Lael Adediji served as the Program Coordinator for the Renaissance Scholars Program, which serves former foster youth at Cal State East Bay. She was a first-generation and low income student, and has a strong interest in supporting these students as they progress through college and enter the career. Before coordinating the Renaissance Scholars Program, she served as an EOP Counselor at Humboldt State, EOP Counselor and Coordinator at Cal State East Bay, and Advising Information Coordinator at San Jose State. Outside of her work hours, she serves on the New Haven District African American Parents Forum and District African American Advisory Council with the purpose of supporting the learning outcomes of African American children in the New Haven School District. Dr. Adediji received her B.A. in Sociology from UC Davis, her Masters in Sociology from Humboldt State University, and her Doctorate in Education from San Francisco State University.  
Maricela Garcia-Flores, Former Employee Health and Wellness Coordinator
Maricela Garcia-Flores served as the Employee Health and Wellness Coordinator at CSUEB. She holds a BA in Psychology from CSU East Bay and a MA in Holistic Health Education with a specialization in nutrition from JFK University. Mari has 15 years of experience in administrative support, program management and coordination in higher education. What she loves the most is being mom to a wonderful and fast growing daughter. The weekends usually consist of family time and good food. She also owns a small side business where she handcrafts all natural body products and aromatherapy jewelry.
Jessika Murphy, MEd is the coordinator for the Diversity and Inclusion Student Center at Cal State East Bay. A New England native, Jess spent the last ten years working in higher education, and obtained her MEd in Social Justice Education from UMass Amherst. Now residing in Oakland, Jess is excited to be a member of the Cal State East Bay Student Affairs team, and loves working with her student staff in the Center to bring a diverse calendar of co-curricular programs to campus and help extend learning outside classroom wall.  
Alison Richardson currently serves as the Executive Director for Student Equity and Success Programs at California State University, East Bay (CSUEB). She is responsible for increasing the retention and graduation rates of our first generation and undeserved students through innovative services and programs. Prior to her appointment as Executive Director, Alison served as the Director of the Educational Opportunity Program for six years at CSUEB. For three years, she served as the Program Development Director at the YMCA of the East Bay in Oakland, CA. At the YMCA, her main focus was developing grant funded community programs and initiatives that centered around health, wellness and education with regards to critical issues crucial within East Bay communities. Before joining the YMCA she spent twelve years in Higher Education at UC Davis, University of Southern California, California State University Northridge and the University of San Francisco where she directed residential life, campus events, undergraduate student orientation, student government, involvement and leadership programs. Alison received her Bachelor of Arts in Industrial/Organizational Psychology and Master of Arts in Higher Education Administration with an emphasis in Student Personnel from the University of San Francisco.  
Student and Alum Collaborators
(In alphabetical order by last name)
Shelby Bergeron
Shelby earned her B.A. from CSU East Bay with a major in Sociology. She has lived in Hayward for over two decades, and is from Northern Michigan originally. Shelby's academic goals are to get a Master of Social Work and a Master in Library Science. Shelby has been volunteering for Friends of The Hayward Public Library over the past ten plus years, in many different roles, while reaching all members of the diverse backgrounds of the Hayward community. She is also entering her second four-year term on The HPL Commission. With the opening of the new public library, she plans to explore all the community resources of Hayward and surrounding communities, including CSUEB. Food insecurity and homelessness are her two main areas of interest, and she has also worked with LGBTQ++ youth, as well as the elderly. 
Joel Bovey
Joel Bovey earned his MSW with a concentration in community mental health at CSU East Bay. He is a scholarship recipient through the Center for Student Research and is mentored by Sarah Taylor. He currently works as a counselor at an adult crisis residential facility in Marin. For his internship, he is placed at Mount Diablo Unified School District working with foster and homeless youth. During his undergraduate degree at UC Santa Barbara, he worked as a research assistant on a corrective reading program for ELS students. In addition, he mentored at-risk youth involved in gang activity and collected data to study the benefits of having a mentor. This is where he developed a passion for social justice and working with minority groups and disenfranchised populations. In his spare time, he trains in Brazilian Jiu-Jitsu, runs marathons, and collects sneakers. He has future goals to become a licensed social worker, publish quality research, and open a community center for at-risk youth. 
Bryan Felix
Bryan Felix graduated from the Master of Science eLearning program in 2021 at Cal State East Bay. He is a full-time Technology Education instructor in Sacramento for students K-6. He is also an online faculty module developer and student assistant for the Department of Social Work at CSUEB. 
Mworia Lilian Kathambi
Mworia is a Senior International Student at CSUEB majoring in Clinical Psychology and is on a pre-medicine journey. She has an AA in Psychology from Chabot College. Mworia has served in the Chabot College Senate (as the Communications Director) where she vicariously championed for International students, to which there was a policy set up to ease Employment, Economic Hardship Application Fees with the DHS and Early Class Registration strain for them. Housing was a big part of her fight, and Chabot is well on the way to have student housing, including largely International students in the years to come. She has a deep passion for Public Health reforms in her home country, Kenya. With regards to this, she plans to launch a social enterprise next year geared at economic and health empowerment in Rural Kenya, hopefully in the rest of Africa in the near future! She hopes to be a Neurosurgeon. Adieu!
Mary Katreeb
Mary Katreeb earned her B.A. from CSUEB with a major in Communication and Media Studies. She has an AA in Communication Studies from Los Medanos College. She is currently interning for Dr. Nolan Higdon of the CSUEB Communication Department and is a social media intern for the Along the Line Podcast. She also works full time as the Program Director for a small business in Brentwood, California. After graduating with her Bachelor's Degree in Spring 2021, she plans to attend graduate school at Cal State Fullerton to earn a Master's Degree in Human Communication. 
Connie Lan
Tsz Kwan Lan (Connie) earned her MSW at California State University, East Bay. In the year 2017-2018, Connie is interning at UCSF Citywide Case Management Services which is a mental health outpatient clinic. As a Citywide clinician, she is receiving the Multicultural Stipend from the SF county. In her next academic year, Connie will be interning in the SF Jail Behavioral Health Services as a second year MSW student. Connie is interested serving the underserved population who suffer from mental health issues. Connie can speak multiple languages: Cantonese, Mandarin, and English. She is passionate about helping people with her clinical and language skills. Connie also loves to share her international experiences and work as a social worker in an international level. Outside of clinical settings, Connie enjoys volunteering at a community center, Animation/Comic/Game (ACG) cultures and cosplay. 
Alicia Lindfors
Alicia is a mother of four with one grandson! She recently earned her BA in Sociology and her vision is to address both homelessness and the housing shortage by introducing small eco-friendly communities to the Bay Area. Before CSUEB, she studied Social Science at Laney College, and worked at ECS in San Francisco to stem homelessness and support seniors in finding affordable housing in the Bay Area. She was a also member of the Level Five Club at CSUEB, which supports formerly incarcerated students. Alicia currently works at the Raphael House in San Francisco, providing support for families that are experiencing homelessness. 
Mallory McLeod
Mallory McLeod is an East Bay alum with a Bachelor's in English and is currently studying for her Masters in Literature. In between ruthlessly studying for her exit exams, she enjoys haunting nearby bookstores and libraries and anywhere else where the printed word is revered. She was diagnosed with Asperger's Syndrome during her final year of undergraduate studies and has developed a keen interest both in studying her own differing perception of the world and in helping younger students on the spectrum adjust to and survive college life. In her free time, she enjoys reading queer fiction, writing, listening to podcasts and stimming the stress away.
Auzeen Mendoza is a current CSUEB graduate student in communications, coming from UC Berkeley with a B.A. in English. Her academic interest focuses on disability and feminism. She is currently researching the impacts of deaf communication in diverse households and hopes to continue her knack for research by obtaining a PhD in the future.
Nicole Morales
Nicole Morales is a current CSUEB undergrad student majoring in Communications with a Strategic Communication Concentration. She also works as a Retail Sales Consultant at AT&T. After she graduates in the Spring 2021, she plans to continue at CSUEB to get her Master's Degree.
Annie Rudorf
Annie Rudorf earned her MSW at CSUEB with a concentration in Children, Youth, and Families. Annie's first year internship was with San Lorenzo Unified School District where she worked with children and their families on issues ranging from emotional and behavioral support to housing and community resources. For her second year internship, Annie will be placed with the Alameda County Department of Children and Family Services in the Emergency Response unit. Prior to pursuing her Master's degree, Annie worked with homeless and unstably housed youth at a shelter in Oakland, which ignited her passion for social work. Annie also served as a Research Assistant during her undergrad at UC Santa Cruz and feels strongly that research has the potential to affect positive change for communities. In her free time, Annie can be found walking Lake Merritt listening to podcasts, doing jigsaw puzzles, or sharing food and drinks with her close-knit friends whom she calls "framily".
Huyen "Kiki" Vo graduated in 2018 with her Masters in Social Work from California State University, East Bay. While in her program, she served as a Medical Social Worker intern at Highland Hospital in Oakland. She loves working with children, adults, and low-income vulnerable populations. Her dream is to obtain her license in social work (LCSW) and ultimately, work in a hospital or outpatient setting to support burn survivors in the transition back to society. In her free time, Kiki loves to volunteer, dance, cook, hike, work out, and spend quality time with her friends and loved ones.
Victor Washington
Victor Washington graduated in 2018 with his Master of Social Work student at California State University, East Bay. He is a MHSP stipend recipient interning as a clinical social worker at UCSF Citywide Program in San Francisco. During his undergraduate studies Victor endured various barriers, which later sparked his interest in research and mental health. Victor plans to obtain his clinical license, attend doctorate school, and eventually direct a resource center for people previously incarcerated, and those with mental health challenges. For leisure, Victor enjoys spending time with his two-year old son, family and friends. 
Charles Watkins
Charles Watkins is majoring in Sociology with a minor in Communications. He has grown to love the Bay Area since leaving his hometown of Los Angeles, CA and hopes to become a Professor in Social Work someday, ideally here at his soon-to-be alma mater. Currently, he is applying for graduate programs in California and is excited about working with the Pioneers for HOPE Learning Framework Team! In his leisure time Charles enjoys playing basketball, writing poetry, acting and cooking vegan dishes.