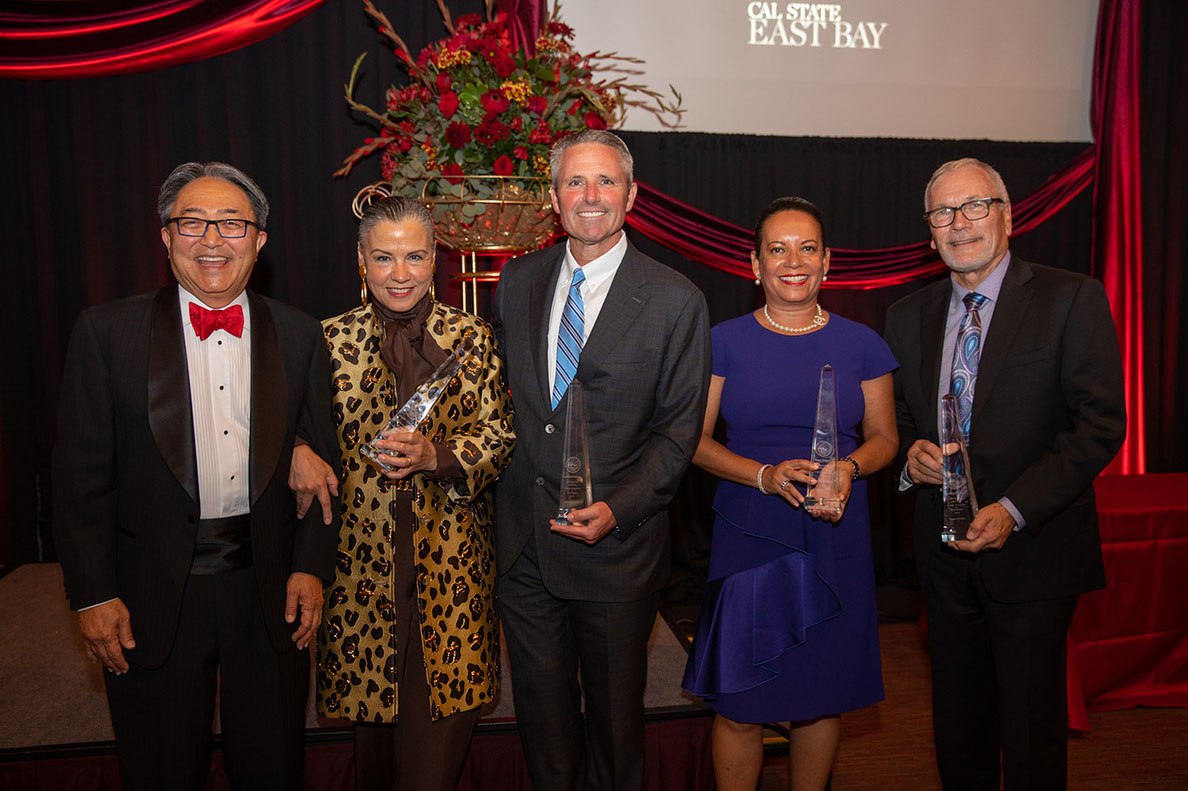 Rising in the East
BY NATALIE FEULNER
PHOTOGRAPHY BY GARVIN TSO
October 22, 2019
Hundreds of Cal State East Bay students, faculty, staff and alumni recently took part in a weekend of celebratory events, including the university's annual Distinguished Alumni Gala. Alumni who graduated more than 50 years ago took part in a Golden Grad breakfast, scholarship recipients and donors participated in a luncheon event, and the athletics department inducted several new members to its Hall of Fame. The alumni department also hosted a "Pioneer Museum" featuring memorabilia including logowear, theater performance posters and a box of dirt from the university's groundbreaking, among other items.
At the Distinguished Alumni Gala, President Leroy M. Morishita honored alumni Karen Oliver (B.A. '74, Art), James Hannan (B.S. '89, Business Administration), Sara Toyloy (B.S. '87, Biological Science), and Ken Kahrs (B.S. '73, Recreation.) Morishita also announced the conclusion of the Rising in the East comprehensive campaign, which publicly launched in September 2016 with a goal of $60 million. 
The campaign, which focused on three key areas — People, Place and Purpose — ultimately raised $66 million. Key initiatives included scholarships ($10 million); an Applied Sciences Center ($22.5 million); and CORE, which will house the Student Center for Academic Achievement, library services and the Hub for Entrepreneurship and Innovation. 
"Eleven years ago, when this campaign started, few of these programs existed, and those that did were likely on a smaller scale," Morishita said. "The Rising in the East campaign has modernized our campus, further strengthened our faculty and support for students, and elevated the excellent work [we do] at Cal State East Bay. Cal State East Bay will continue to be "rising in the East," because we have more people to serve, more opportunities to uncover, and more solutions to be found."
Interested in learning more about how funds raised will support current and future students? Check the Campaign Conclusion website and Cal State East Bay social media weekly for updates.