Alumni Association Membership Verification Instructions
As a graduate of Cal State East Bay or Hayward, you have access to many benefits. Some benefits require proof of Alumni Association Membership status. As a no-dues Alumni Association, membership in the association is contingent on the successful completion of a degree program at Cal State East Bay. All graduates who successfully complete a degree program automatically become members of the Alumni Association and are eligible for all membership benefits.

Verification of Membership for Insurance Discounts
Verification of degree completion can be done with an unofficial or official transcript, which will verify that the degree was completed on the conferral date similar to what is displayed below: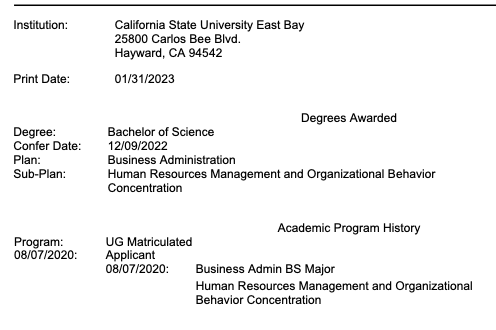 Please note that alumni must be "degree conferred"  or "degree awarded" by the university (successfully applied for graduation and completed all requirements) in order to have been added as a member of the Alumni Association.