GEOC for Faculty

The GE, Overlay, and Code (GEOC) Subcommittee of CIC reviews proposals for new GEOC certifications, revisions to existing GEOC courses, and existing GEOC courses up for recertification. All the information on this page is provided in greater detail in the Faculty Guide to GEOC Course Approvals.  
MISSION
The GEOC Subcommittee ensures that courses approved for GE, Overlay, and/or Code credit reflect the spirit of general education.  In reviewing courses, the committee looks for evidence that a course has, at its heart, the GEOC learning outcomes and that these outcomes are the primary focus of and fully integrated into the course. In particular, GEOC learning outcomes should not seem incidental or inserted into an existing non-GEOC course.  Course-specific learning outcomes, content, activities, and assignments/assessments must mutually reinforce the GEOC learning outcomes; and the elements of GE should be present even in the course description.
Process and Timeline
Senate policy establishes a Timeline for Curricular Changes (17-18 CIC 35), and the Curricular Procedures Manual describes the approval process for new course, revision, and recertification requests. The approval process for GEOC courses is highlighted below.  All processes are originated, routed, and tracked through Curriculog.
Course proposals revision/recertification requests must reach the APS step by October 15th.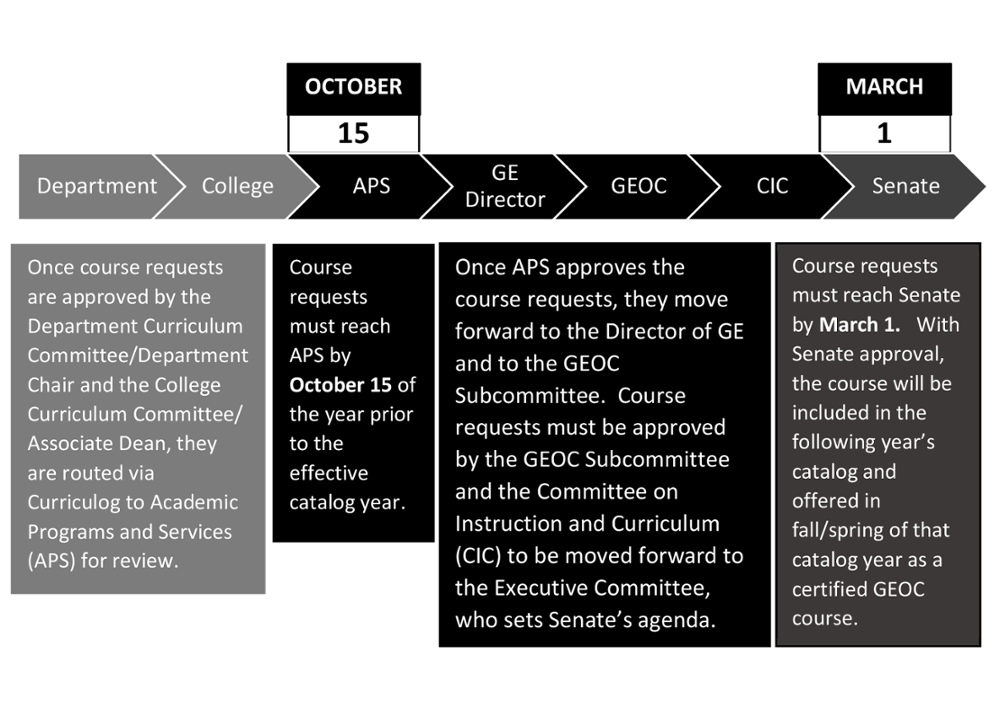 Course proposals/revision/recertification requests that do not reach APS by October 15 must be re-submitted using the appropriate Curriculog form for the next catalog year.
Recertification of GEOC Courses
As state in the Policy for Renewal of General Education Programs (13-14 CIC 4 amended), existing GEOC courses will be reviewed by the GEOC Subcommittee on 5-year intervals. A new review cycle began in 2019-20 and will proceed over the next four academic years as shown in the figure (right). Important points to note:
Any existing GEOC course that is not approved by the committee for recertification will lose its GEOC certification(s).
Course recertification reviews will occur according to the schedule regardless of when the course was originally certified.
Courses that carry both a GE and Overlay or Code certifications will be reviewed for both certifications according to the GE designation. 
Separate recertification requests must be submitted for each GEOC certification carried by a given course.
Lower-division GE Areas C1, C2, D1-3, and all Code courses (and all associated Overlays) are scheduled for recertification in 2020-2021.
Course recertification requests must reach APS by October 15, 2020.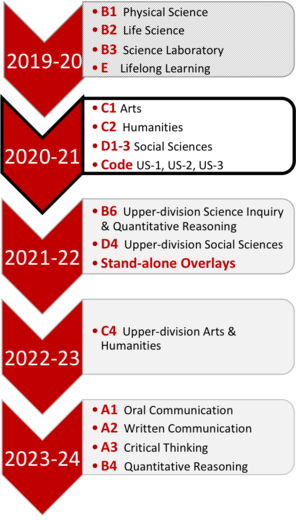 GEOC Course Recertification Schedule
Making A GEOC Course Approval Request
The Curricular Procedures Manual provides step-by-step instructions, timelines, and other necessary information needed for launching new course requests, course revision requests, or other curricular changes to academic programs at Cal State East Bay. These procedures are in compliance with local CSUEB policy, CSU Chancellor's Office guidelines, and WASC accreditation standards. The details most germane to GEOC course requests are explained with step-by-step instructions in the Faculty Guide to GEOC Course Approvals.  
All GEOC course approval requests should be completed, launched, and tracked via Curriculog. The need for a course approval form downloaded from the GE website as a fillable PDF has been eliminated. All GEOC course approval forms are now integrated in the Curriculog forms and completed exclusively online through Curriculog.

Contact Sarah Aubert at sarah.aubert@csueastbay.edu for any Curriculog-related questions or issues.   
GEOC Review Criteria
Carefully follow the instructions detailed in the Curriculog New Proposal form.  The Director of General Education and the GEOC Subcommittee base their evaluations and decisions on the information provided in the proposal form and representative course syllabi, i.e., the evidence used to determine whether the course clearly meets all the stated GEOC learning outcomes and course characteristics (if applicable) in each instructional format proposed.
Make sure to complete all the necessary sections in the Curriculog Course Proposal Form.  In particular, the GEOC Subcommittee will look closely at the following information in its review process:
Course Information (Sections 5-7)
Evidence of Course Alignment to GEOC Learning Outcomes (Section 8A)
Course Characteristics, if applicable (Section 8B)
Course Syllabus (uploaded to Curriculog form; provide representative course syllabus for each instructional mode--fully on-ground, hybrid, and/or fully online)
GEOC Subcommittee Decisions
Below is a summary diagram of what happens to a course proposal once the committee renders a decision to approve, table, or reject.

MONITOR YOUR CURRICULOG COURSE PROPOSAL
Keep track of all comments and alerts posted to your Curriculog proposal once it leaves your step. The proposal may be rejected or delayed due to incorrect or missing information. Prompt response to any proposal delay will ensure the proposal moves through the approval steps as expeditiously as possible and increases the chances of GEOC approval.
The most common problems that delay course proposals at the APS/GE Director's steps (prior to reaching the GEOC Subcommittee) are:
Course syllabi lack the relevant GE (Overlay, Code) learning outcomes.
A representative syllabus for each instructional format is not provided.
Course-specific learning outcomes listed in the proposal form differ from those listed in the course syllabi provided.
Information provided in Section 8 is too vague to ascertain how the course addresses the GEOC learning outcomes and/or course criteria.
In addition, keep track of when your course will be on the GEOC Subcommittee meeting agenda and up for discussion/review. GEOC meetings are open to all faculty guests. You may request a time certain from the GEOC Subcommittee Chair.  The GEOC Subcommittee meets on the 2nd and 4th Wednesdays of each month during the academic year from 2 - 4 PM in SF 328 or by Zoom. 
EXEMPLAR COURSE PROPOSALS
Here's a list of some GEOC-certified courses that have submitted exemplary proposals.
ART 323 Modern Media, Art, and Culture I for Social Justice Overlay
POSC 382 U.S. Immigration Policy and Law for D4 and Diversity Overlay
More to be added soon!
CONTACT INFO
Email the Director of General Education and Chair of the GEOC Subcommittee with any questions or concerns about the GEOC course application or approval process at:  caron.inouye@csueastbay.edu