Get By
Anthony R. Griffith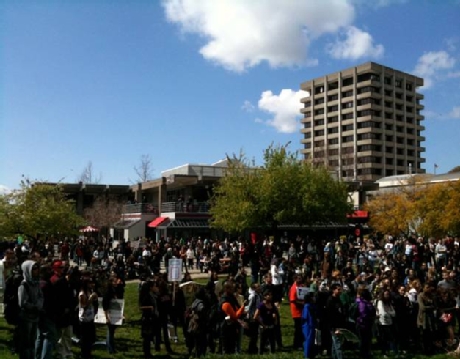 The world has now awakened
Education system shaken
Envisioned raised tuition while its victims grow impatient
Precisions with decisions building anger and frustration
Trust…I'll make sure you hear me complain, administration
What doesn't make sense to me
is tormenting me mentally
30% increase for books a permit and an entrance fee
Knowing I run the risk on waitlist almost instantly
Only to be comforted with all my teachers' sympathy
Now I demand to know I'm not asking what you're doing
Basics we used to have in the past and now you ruined
Graduations for seniors and classes don't have a shoe in
But it's cool as long as we have flat screens in the union
I'm trying improve your vision and hoping you're listening up
Your choice to do something this decision ain't tough
I pray that this will change if I keep wishing enough
But as of right now THE CSU SYSTEM IS FUCKED.
Anthony R. Griffith wrote this poem as a student in the Freshman Cluster "Beats, Physics, and the Mind."  This poem was performed by Anthony at the March 4, 2010 Day of Action on CSUEB's campus.  Photograph (right) taken by Jennifer Eagan on CSUEB's campus, March 4, 2010.