Meet Our Faculty and Staff
Faculty and Staff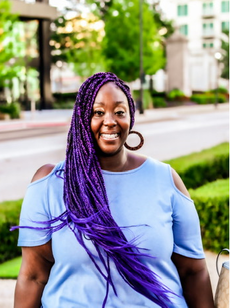 Cookie Garrett
Sankofa Scholars Program Specialist
Cookie Garrett joins the SEAS teams as the Sankofa Scholars Program Specialist. She is a California transplant by way of Atlanta, Ga and looks forward to adding a little southern flavor to the team. Cookie is an Alumna of Valdosta State University where she received a Bachelor's of Science in Psychology and a Master's of Education in School Counseling. One of her greatest passions is to help the development of young people and encourage their pursuit of higher education through the lens of efficacy. Through this passion she has served as a Student Affairs professional for little over 10 years.
 While at Sonoma State Cookie advised the BSU, facilitated the "Black & ..." discussion series, and served on the President's Council for Diversity,Equity, Social Justice, and Inclusion. She was also afforded opportunities to establish the first ever Blak Faculty and Staff Association and to institute a Black womxn mentorship group, "Umoja Queens". Cookie loves being Black! She intentionally celebrates her Blackness and encourages others to learn more about Black culture and celebrate along with her.
Cookie is currently a doctoral student at San Francisco State University in Educational Leadership with an emphasis in equity, inclusion, and social justice. She is a proud member of Zeta Phi Beta Sorority Inc. , Alpha Phi Omega National Service Fraternity,  and the Rotary club of Santa Rosa. When she has down time she enjoys random dance parties, enthralling conversation, and anything that provides laughter from the depths of her soul. Cookie is an advocate for Black language, plus size women, and all around equity. She excels at creating community to facilitate a space of learning and belonging. As the Sankofa Scholars Program Specialist Cookie has an opportunity to combine her passions to create a comprehensive space of community for students to push past boundaries to learn, grow, and excel while centering the African Diaspora and she is excited for the journey ahead.
Intentionality quote: Education is important but it can never accomplish its fullest intention until it's inclusive of all voices and experiences.  -Cookie Garrett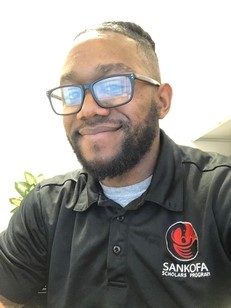 LaRon McCoy
Sankofa Scholars Academic and Enrichment Counselor
LaRon McCoy (he/him/his) is the Sankofa Scholars Academic and Enrichment Counselor in Student Equity and Success. An Oakland native, LaRon is a proud Alumnus of Cal State East Bay with a Bachelors of Science degree in Kinesiology with an emphasis in Teaching. Because of LaRon participation in the Renaissance Scholars and Educational Opportunity Programs (EOP), he has the unique tools to utilize his knowledge of the East Bay campus to assist Transfers and continuing students in their matriculation to the East Bay Community.
Outside of East Bay, LaRon coaches youth track and field in Oakland, Ca. where he helps to not only build strong athletes but create individuals who will go on to be positive contributors to society as well as lifelong learners. LaRon is extremely excited and blessed to be in the position to give back to his community.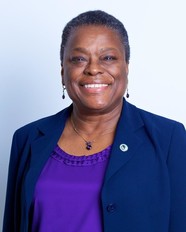 Dr. Rush Woods
Lead Faculty
Dr. Rush Woods has the distinction of being appointed as the first Diversity Officer for California State University, East Bay, as of July 1, 2013.  In her role as Diversity Officer, Dr. Woods coordinates efforts to foster and support diversity, equity and inclusion as core values throughout all aspects of the University community.  Her work emphasizes diversity-oriented programs and initiatives including implementation of the University Diversity Plan to ensure that actions are taken to fulfill its commitments.  She previously served as the Chief of Staff to Dr. Leroy Morishita, President of Cal State East Bay. Joining the faculty initially as a lecturer in the Department of Sociology, Dr. Woods was appointed as a tenure track faculty member in 2001.  A founding member of the Department of Social Work, Dr. Woods served as its chair from 2007-2010.  As a professor and active scholar in Social Work, Dr. Woods is recognized regionally and nationally for her work in the areas of race, gender and equity issues in the academy; photo-voice, community empowerment; and the overlap between domestic violence and animal abuse.  In addition, Dr. Woods has served as the principal or co-principal investigator on a series of Title IV Education Department grants and California Social Work Educational Consortium II Mental Health Department grants.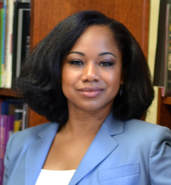 Dr. Anndretta Wilson
Dr. Anndretta Wilson
's 
 current manuscript, "Labor, Pleasure, and Possession through Transnational Black Musical Performance" traces US Black American subterranean performances from community spaces where practitioners embodied African retentions to public commercial spaces where derivative performances have been feminized, racialized, and backgrounded in service to popular music globally. The study considers precarity, authorship, mastery, and mobility for Black performers through spaces within the US and circulating transnationally across technologies and geographies. A primary figure is former domestic worker Marion Williams whose forty-year career began in Pentecostal churches in the 1930s and extended to service as a US State Department musical ambassador across Africa and Europe. The study concludes with ethnography of contemporary francophone African performers in Paris who perform gospel concerts advertised as "Black American" for international tourists in Catholic cathedrals.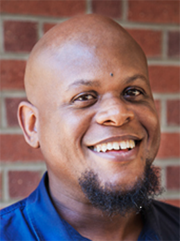 Dr. Dennis Chester
Dr. Dennis Chester has been a faculty member at CSUEB since 1999 where his academic focus has been on African American Literature. He has published articles and presented papers on African American detective fiction, writers of the Harlem Renaissance, and African American cinema. Dr. Chester is currently collaborating with other CSUEB faculty on a digital annotation of James Baldwin's 1961 novel, Another Country.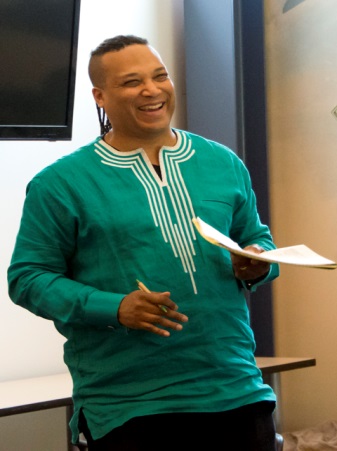 Dr. Nicholas L Baham, III
Dr. Nicholas L. Baham III is a Professor of Ethnic Studies at California State University East Bay and teaches courses in African American Studies and Genders & Sexualities in Communities of Color.  Dr. Baham is a San Francisco native. He attended college at the University of Chicago, earned his Master's degree at Stanford University and received his Ph.D. in Anthropology at Indiana University, Bloomington. His academic research focuses on African American religious experience, sexuality, and artistic expression. His book, The Coltrane Church: Apostles of Sound, Agents of Social Justice will be published in 2015 by McFarland Press. He has a growing body of published journal articles on the Coltrane Church, African American musical and religious expression, and James Baldwin including "I Know You Know: Esperanza Spalding's Hybrid, Intertextual, Multilingual, Relevant Jazz Aesthetic,"  "Radio Free Coltrane: Free Jazz Radio as Revolutionary Practice" in Americana: The Journal of American Popular Culture, and "Rough Sex and Racial Reconciliation in James Baldwin's Another Country" to be published as a chapter in an upcoming edition of new writing on the legacy of James Baldwin. He has presented his work nationally and internationally at the Universite Paul-Valery in Montpellier, France, Stanford University, University of Pennsylvania, Tuskegee, and Suffolk University. Dr. Baham has appeared on BET, local KPOO and KPFA radio, Canada's SexTV and in ColorLines and Esquire magazine. He has initiated a blog of African American politics and culture called The Upper Room at nicholasbaham.blogspot.com. At California State University East Bay, Dr. Baham teaches courses on African American intellectual history, religion, jazz music, hip-hop, sexuality,James Baldwin, Malcolm X, race and masculinity, and a yearlong freshman cluster on the history of European colonialism.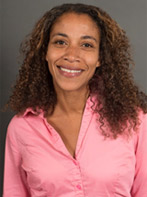 Dr. Sukari Ivester
Dr. Sukari Ivester, PhD is an urban sociologist and social epidemiologist with broad interests in urban development, the social determinants of health, the politics of resistance, and urban history. With a specialization as a Brazilianist, she is currently exploring the social impacts of the World Cup 2014/ Olympics 2016. Her most recent publication explores FIFA and its policies of exclusion through the case of the Baianas do Acarajé at the World Cup 2014 in Salvador.  In addition, Dr. Ivester is working on a US/Brazil comparative social historical project on urban slavery.
Dr. Ivester earned her Ph.D. in Sociology from the University of Chicago and a B.A. in Sociology from the University of California, Berkeley. Following the completion of her PhD, Dr. Ivester was a National Institutes of Health Postdoctoral Fellow at the School of Public Health at the University of California, Berkeley.
Dr. Ivester teaches Medical Sociology, Urban Sociology, Sociology of Travel and Tourism, Olympics and Urban Development, Research Methods, and Social History of Brazil. She is active in the American Sociological Association, Urban Affairs Association, Latin American Studies Association, and American Historical Association.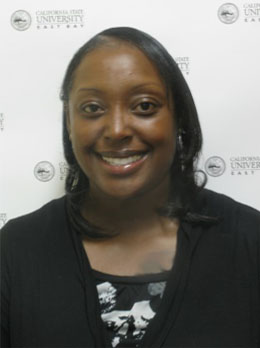 Dr. ZaNean McClain
Dr. ZáNean McClain's research interest focuses on instructional effectiveness, enjoyment in school physical education, adapted physical activity/motor difficulties, evidence-based research and practices, service learning, community engagement and social justice practices, inclusive interdisciplinary curriculum, mentoring and diversity issues and strategies within all levels of education, skateboarding and its culture of youth, parents and stakeholders, and physical activity promotion for all populations. She has continued to work on systematic observational techniques, which helps with awareness and in turn improvement of effective strategies within settings such as sport, exercise and physical activity. She has worked on the Commission on Teachers Credentialing (CTC) approval document in order for the Physical Education Teaching program to be recognized as a program that truly prepares quality and effective teachers to go into any credential program and eventually into the field of teaching.

Dr. McClain's vision is to conduct research while enhancing opportunities to engage students in scholarship and practical experiences through funding for undergraduate students in public and private sectors, coordinate and supervise students within a variety of settings. Furthermore, Dr. McClain wants to secure funding for undergraduate and graduate students during summer programs and/or year-long institutes, and provide students with the opportunity to lead in an academic and physical activity program aimed at servicing underprivileged children and youth in the community, while conducting immediate and longitudinal research on various aspects of the program.
---