A Sabbatical in Iceland
by Sarah Neisen, Professor of English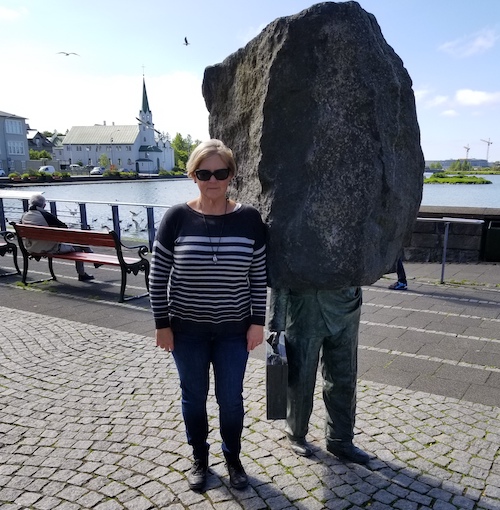 Halló frá Íslandi!
I was privileged to spend five weeks in Iceland in the spring of 2019 as part of a sabbatical project documenting
my own learning of Icelandic in three contexts. Before leaving for Iceland, I completed a free, online Icelandic survival course offered by the University of Iceland. Once in Iceland, I took a one-week intensive class and spent three weeks living with an Icelandic family that I found through Workaway, a website that matches volunteers with hosts around the world. For my final week in Iceland, my spouse joined me for a 828 mile driving trip around the island.
My first stop was Ísafjörður for a one-week crash course in Icelandic. Ísafjörður has been a fishing village for centuries and is still an important part of the fishing industry in Iceland today. The population is about 2,500 now. Most shops and houses are made of corrugated metal on the outside and painted with bright colors. The town is surrounded by steep mountains, dramatic in sunny or cloudy weather. A walk from one end of town to the other takes about 15 minutes. On an early walk one day, I met the town dog, famous for swimming in the frigid ocean waters (2-3C) around town. He was drying himself in the sun on the picnic table on his human's front lawn. I'm not sure what kind of dog he was, but large and light yellow. A happy and majestic fellow.
The crash course was offered by the University Center of the Westfjords. There were just seven of us in the class, all women and all very nice. Three of the women had lived in Iceland for a few years: a Reykjavík University student from the US in her 50s working on a masters in environmental studies; a young biologist from Germany living in a remote area with her family and doing research on plastics in the ecosystem (scary what they are finding!); and a young Italian women who had an Icelandic partner and was employed in an iron works in a small town north of the capital. The other three women were like me: enchanted by Iceland and interested in learning more about the language and culture. One was a 20-something from Germany (super sweet and my neighbor at the guesthouse where I stayed), one a 40-something from Switzerland (glamourous but still down to earth and hysterically funny), and one 60-something retired teacher from Germany (language nut and grammar lover with an Icelandic pen pal). 
Oli, our main teacher, a man in his forties with five kids, was knowledgeable and encouraging. Classes typically went from 9am to 6pm with a two-hour lunch break. I really enjoyed the classroom time and learned a lot, but was pretty exhausted at the end of each day from concentrating so much. Icelandic grammar is complex. Nouns, for example, can have 48 different forms, though thankfully most don't and our teacher gave us lots of strategies so that we wouldn't have to know all the declensions of basic words and could still be understood. The other thing that exhausted me was my poor ear for sound discrimination and my difficulties with sounding out words, even in English. We did a lot of cold reading in class, and there wasn't much time for individual practice outside of class. Thank goodness that Oli, the other teachers, and my classmates were kind and helpful and patient with me.
After the crash course was over, one of my classmates and I rented bikes and rode to Bolungarvík, a small fishing village about 10 miles away from Ísafjörður. Most of the route was along an old highway that is now closed to cars and slowly crumbling into the sea. The sun was shining most of the trip, which made the ocean and sky sparkle blue forever. The sheer cliffs on the other side of the road were full of nesting gulls, water falls, and wildflowers. We also saw some old houses with sod roofs and a bright orange light house on our trip. Lunch was simple: delicious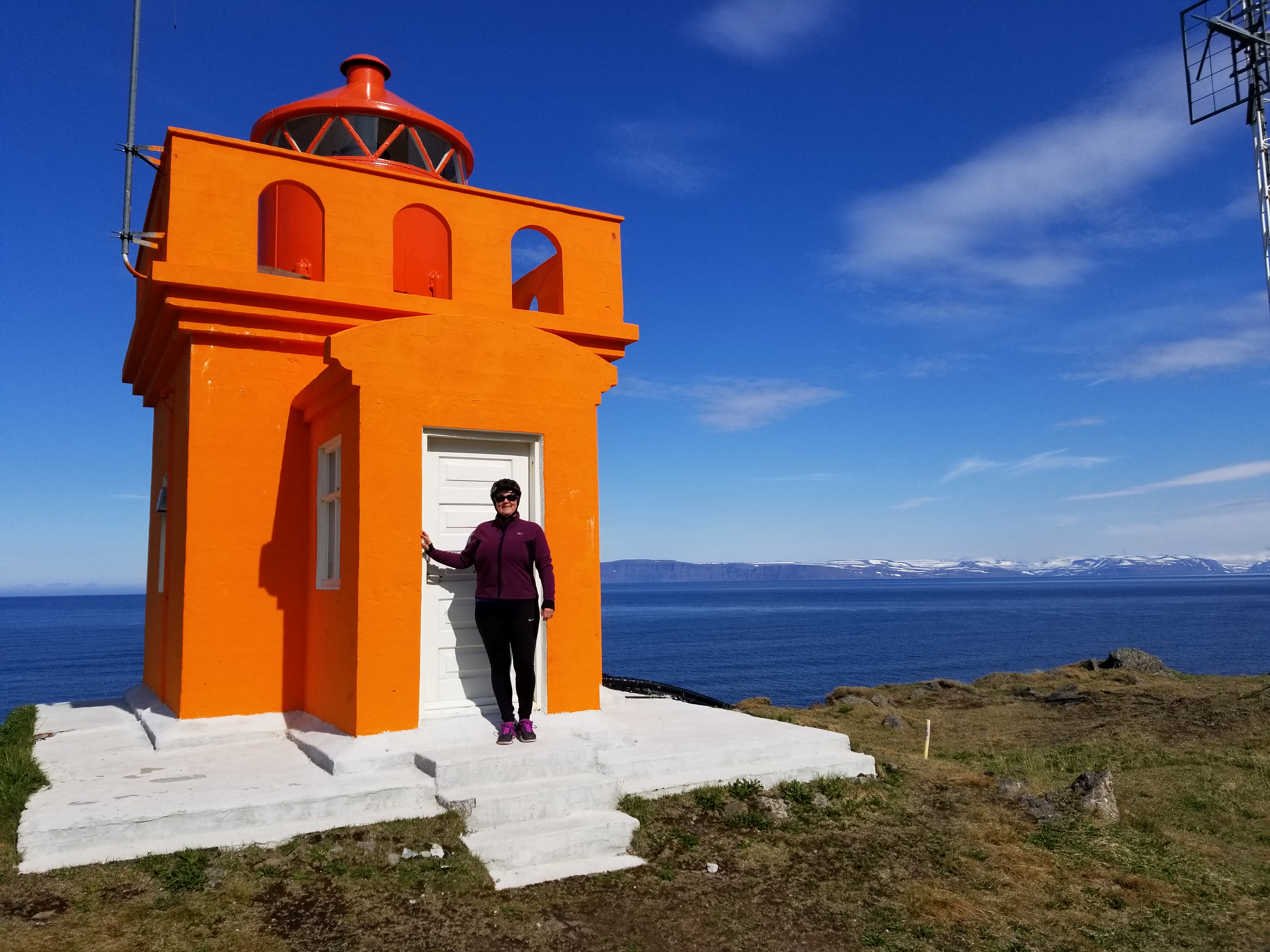 smoothies (strawberry, mango, ginger) at the gas station in Bolungarvíkbecause the only other restaurant in town only opens in the summer. Actually, gas stations in Iceland often have very good restaurants. We could have had a bigger meal at the one in Bolungarvík, but wanted something light and healthy for the trip back. Neither of us had been riding in a long time, so our butts were already very sore early in the trip and we didn't want to make things worse by burping up lamb hot dogs or French fries all the way back to Ísafjörður.
From Ísafjörður, I headed to Akureyri, the largest city in the north of Iceland with a population of about 30,000. It was a bit overcast, but as the prop plane approached the city, I could see a river below dotted with farms and the outdoor thermal pool in the tiny village of Hrafnagil. Kalli, the father of the host family I stayed with, greeted me at the airport. It was a 10-minute ride from the airport to the small farm and inn where Kalli and the rest of his family live. (If you google Lamb Inn Iceland, you can see exactly where I lived for my three-week stay.)
When we arrived at the farm and inn, Kalli gave me a tour of the family's house and showed me to my new digs, a
cute and cozy room on the first floor. From the large window of my room, the views of the Eyjafjörður valley were spectacular. Rolling hills of green hay almost ready for cutting, ewes and lambs grazing in their pasture, the Glerá River and snow-topped mountains in the distance. As I started to unpack for my stay, I was greeted by the endlessly bouncy Ugla, the family's poodle puppy. She kept me company for most of the afternoon while I explored the farm, petted the sheep (yes, they just walk right up to you and wait for a head scratch), and went up to the inn for a quick tour there. Around 4pm, Kalli's wife, Gunni, arrived home from her other job as a fourth grade teacher with Halli, their five year old, in tow.
Over afternoon coffee and sweets, we got to know each other a bit and talked through the work I would be doing while staying with them. Since there are strict labor laws in Iceland, I couldn't work on the farm or in the inn as a volunteer. My main tasks were keeping the house clean for this very busy family and working in their yard and small greenhouse.
Lambing season had just finished when I arrived, which meant 16-hour days for everyone in the family, so the house could have used an intervention from Marie Konde for sure. I'm no Marie, as anyone who has visited my office in MB can attest, but I did my best to make their lives a bit easier in the three weeks I stayed with them. During my second week with the family, I had asked Gunni if she wanted me to clean her two ovens. She looked pleased with the offer and said it would give her an extra day in summer to work on other projects and spend more time with her little one. So, yes, that would be wonderful, she beamed. Although I hadn't cleaned an oven in a long time, I felt up to the task and pleased with myself to be able to do a little something extra for the very generous people who opened up their home to me and made me feel like part of the family. With gloves, baking soda, warm water, and vinegar ready to go, I got to work on the ovens. 
Everything was going well until near the end of the oven cleaning. In one of the ovens, long trickles of baking soda dripped down between the interior and exterior glass panels on the oven door. Oh CRAP! Or as the Icelanders might say, Fokking Fokk! Now the one oven looked terrible. And to make things even worse, Halli, the five year old, had to come home early from school because of a stomach flu, and Gunni had to spend all day outside in near freezing temperatures with her students for an end-of-the-year activity involving building boats from materials they found in the woods near the school. After some initial panic, YouTube to the rescue! It took some doing—including a fight to get the oven door back on, which almost resulted in breaking the interior glass and my thumb— but I managed to get those fokking trickles of baking soda cleaned off and everything put back together. Nervous Nelly breathed a sigh of relief as her heart rate returned to normal and her hot flash subsided. Who knew that oven cleaning could be so stressful? No wonder I avoid it at home!
Kalli and Gunni ask volunteers to cook a meal or two during their stay. For my second meal, I cooked Beef Burgundy. As Julia Child says: "When done well, it is one of the best beef dishes known to man." (I'm sure she meant "known to people," but Mastering the Art of French Cooking still uses that old language.) I had made this dish before, but of course, there were some hiccups along the way. There should be about 2-1/2 cups of sauce after the beef has cooked in the oven. There was NO sauce when I checked close to the end of the cooking time. Oops! Plus, it was VERY salty. Double oops! My first thought was I would be taking the family out for burgers. But then I calmed down, and on to the stove top went the beef, browned onions, and mushrooms. I kept adding water and bits of sugar, boiling the whole mess down, and voilà! The taste was pretty good in the end, the presentation not so much. Definitely not my best batch, but almost everyone at the table had seconds. Grandma Raðney had fourths and kept making little happy grunts as she ate; she'd been working outside in cold rain in the hotel garden all day. Grandpa Johannes said people from Dalvík down the road have a special way of giving compliments on a meal. I've had worse meals, they'd say. Apparently, this is high praise, and I was quite proud to receive it.
Kalli and Gunni generously included me in local events and family outings. One evening, Gunni, Halli, and I went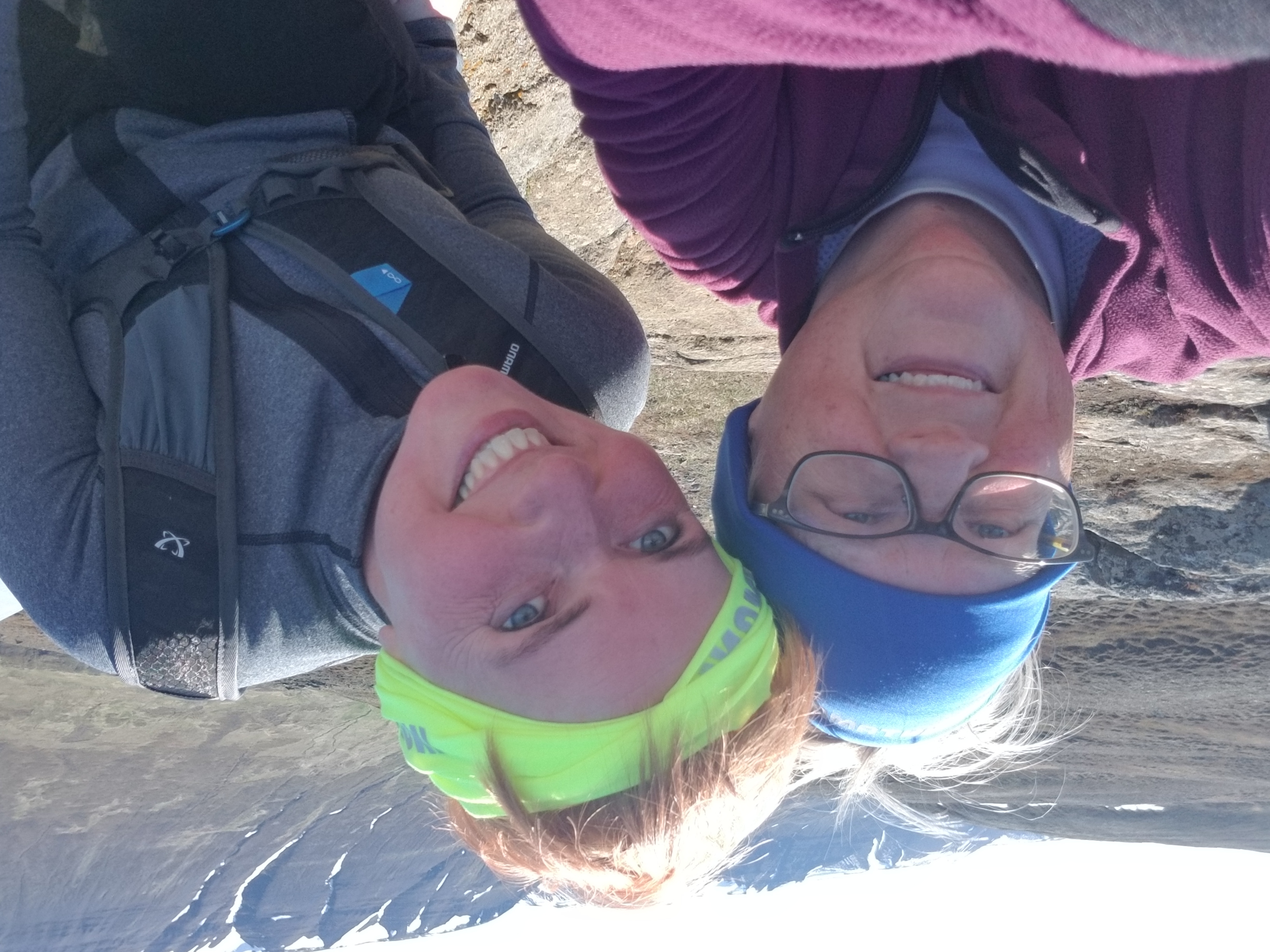 to the village of Hrafnagil for a memorial walk/run for a teen who had died in an accident the year before. There were pictures of him all along the route and a BBQ after. Even as an outsider, it was moving and life affirming to witness the way this small community came together to celebrate the teen's life and support his family. Before the walk/run, Gunni and Halli took me to a place called the Christmas House, home of the world's largest advent calendar. Being there with a five year old was especially fun. On a Saturday afternoon, Gunni taught me to make kleinur, an Icelandic sweet treat. They are a little like donuts, but so much better, probably due to the HUGE amount of butter in the dough. Wednesdays and weekend afternoons, I often accompanied one or more family members to the public pool in Hrafnagil or Akureyri for some easy lap swimming and soaking in the hot tubs. There are naturally heated outdoor pools all over Iceland, and they are an important part of the culture there. 
While living with my host family, I gained more exposure to Icelandic, though not as much as I had hoped. Gunni and Kalli (like most Icelanders) speak English well, so we mostly exchanged greetings and polite phrases in Icelandic and used English the rest of the time. The five year old, Halli, was my best Icelandic teacher and the only person with whom I consistently attempted to speak Icelandic. Using the few phrases and content words I knew, I had some successful, though short and limited, exchanges with him. It was so satisfying, small as they were, to get my messages across in this new language! My ability to understand meaningful chunks of language also saw some improvement in the three weeks with my host family. For example, as I cleaned the kitchen in the mornings, the radio played in the background and I started to understand the weather report, something that I had practiced in the online Icelandic course. 
During the last week of my stay when my spouse joined me, I attempted to use Icelandic in stores, restaurants, and other places we visited. Most of the time, people switched quickly into English because of my halting and poorly pronounced Icelandic. A few times, though, I had short, successful exchanges. For example, when we went for a soak in the Mývatn Nature Baths, the woman at the ticket booth was patient, and we used Icelandic for every part of the transaction until the very end when she had to explain how the dressing rooms worked. I was so excited to understand and respond to her questions about how many tickets we needed and whether we wanted to rent towels or buy something to drink. 
Earlier in my life, I studied and worked in Belgium, France, China and Taiwan for longer periods of time. Each of these experiences, and the shorter one in Iceland, expanded my world view in important ways, from understanding the frustrations (and joys!) of additional language learning as an adult to forming strong connections to people and cultures different from my own. In many ways, Marcel Proust's famous quote captures the nature of this expansion: "The real voyage of discovery consists not in seeking new landscapes, but in having new eyes." I am deeply grateful for the new eyes that living and working abroad have opened for me over and over again.