Pre-Orientation: Advice for New Students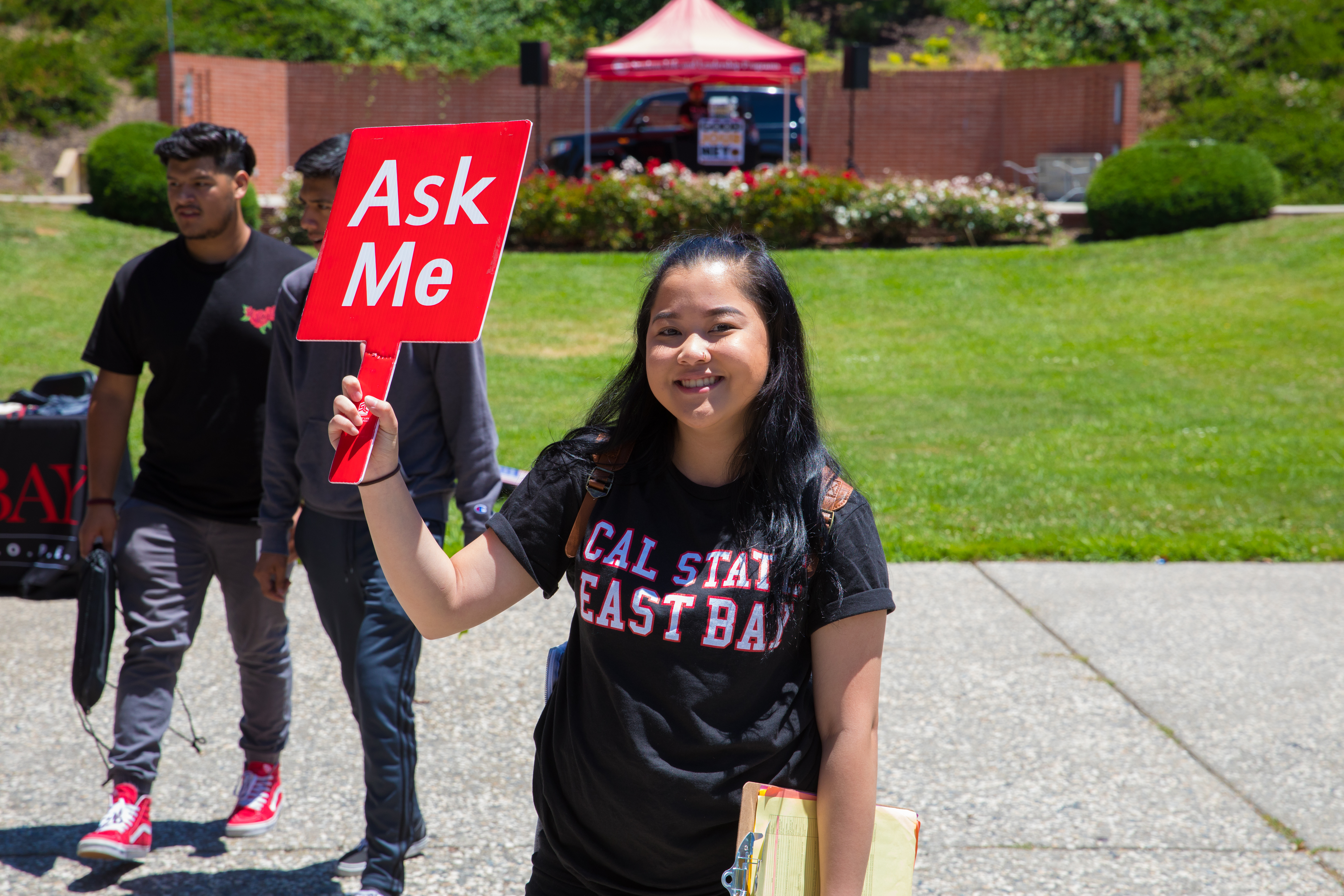 Welcome to Cal State East Bay!
Cal State East Bay requires that all newly admitted Freshman and Transfer students attend a New Student Orientation before starting for their first term at Cal State East Bay
The following information will help you navigate the basics at Cal State East Bay before Orientation. You should review the following videos and web links before attending Orientation, so you are better prepared to understand the essential information provided at the sessions.
MyCSUEB - MyCSUEB is the student's online self-service center for enrollment transactions and personal information about their educational record.
Canvas - Canvas is a software application that provides both a student portal and a course management system at Cal State East Bay. Access Canvas with your NetID.  Canvas Student Guides are available here 
BaySync is our student involvement platform. Log in with your NetID to access and RSVP to attend university events/programs, discover and join student clubs/organizations, explore employment and leadership opportunities, and more!
Questions about Financial Aid? Access the Financial Aid website or contact the Office of Financial Aid. Take a look at the Financial Aid & Billing information that you will need to know to help you prepare and plan your finances and keep up with due dates.
Student Conduct - Student Conduct, Rights & Responsibilities (SCRR) supports the academic mission of Cal State East Bay through administering the student code of conduct with a focus on learning through self-reflection and personal accountability for behavior and decisions. This include the prevention of cyber bullying or any other ways that endangers students. SCRR partners with students, faculty, and staff to be a community of scholars where all strive to become the best version of themselves.
Title IX/DHR - The university's primary concern is the safety of its campus community members. We are committed to ensuring a safe working and learning environment. Title IX protects students, educators and school employees against all forms of sex or gender discrimination, including: sexual harassment, sexual misconduct, sexual exploitation, dating and domestic violence, stalking, and retaliation. Students or staff experiencing discrimination based on sex or gender should contact campus Title IX Administrators.
Students with Dependents - AB 2881 is a new California law aiming to improve support for students who are students and are caring for their children.  We recognize and understand that being a student with dependents has many responsibilities. Please visit the Students with Dependents website to find more information on how our campus supports students with dependents.
Advising for your first term
  
 Advising and course registration can be completed before Orientation.
The following information will help you prepare to select classes for your first term at Cal State East Bay:
For more information about academic advising, please send an email with your name, net ID, and questions to: 
Freshman student email: F23frosh@csueastbay.edu
You can also connect with your  FASST (Freshman and Sophomore Success Team) Advisor here.
TRANSFER STUDENTS
Helpful information from Academic Programs and Services for Transfer Students can be found here
and tips for success as you transfer to Cal State East Bay, can be found here
Visit our degree roadmaps for your major to begin reviewing the courses you should consider enrolling in during your first semester. 
Not sure which College you belong to? You can check to see which college your major falls within here.
To be put in contact with your academic advisor, send an email to whoismyadvisor@csueastbay.edu.
For incoming Associate Degree for Transfer (ADT) students, email  adt_advising@csueastbay.edu to schedule an appointment with ADT Advisor, Wendy Herbert.
Learn more about GE Advising for new transfer students.
Advising for Transfer Students
Should you have any questions, or wish to speak with an academic advisor before registering for classes, please feel free to contact your respective college:
HOW TO REGISTER FOR ORIENTATION
Fall 2023 Orientation registration is currently open. Once you have accepted your offer of Admission, you will be able to register for Orientation through MyCSUEB. If you do not see a specific Orientation session on MyCSUEB although it's listed on our website, this means that the session has reached capacity and we request that you choose an available session.
Step 1: Sign into MyCSUEB and select "classic view"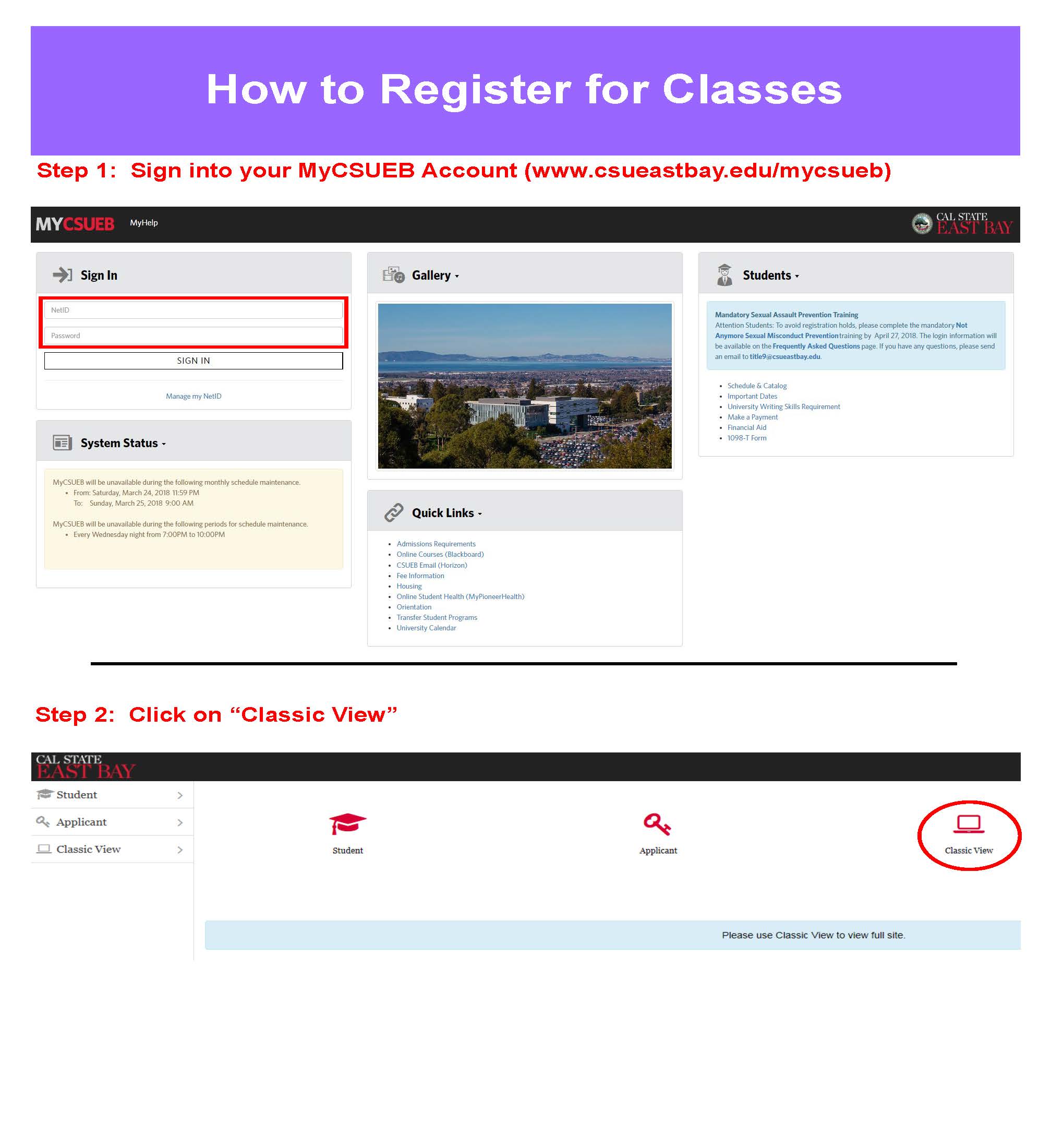 Step 2: Select "applicant" then "student orientation"