Upcoming Events:
CBE Virtual Graduate Business Programs Fair
Learn about Graduate Business Programs at the College of Business & Economics
Tuesday, April 28th | 5PM - 7PM | Online
We are so excited to meet you!

Visit CBE's graduate programs through virtual sessions. This is where you can connect with Associate Dean Joanna Lee, meet faculty from our programs, and learn about the graduate student experience.
Please see this link for more information.
Canceled Events:
Grad Slam 2020 has been canceled due to coronavirus concerns.   Please join us next year for Grad Slam 2021.
Thursday, April 23, 2020
12:30pm-2:00pm
University Union Bayview room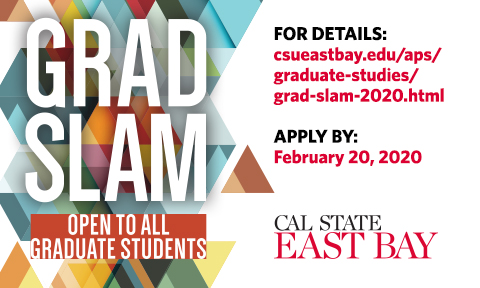 Individuals that require accommodations for this event please contact Accessibility Services by 
April 9, 2020.  
Past Events:
Pathway to Graduate School
Learn about CSUEB Graduate Programs, Graduate School Admissions,
Cost of Attendance and Financial Aid
Get information on Graduate Admissions Tests
Meet with representatives from CSUEB graduate programs
Pathway to Graduate School Agenda
Presentations from the February 2020 Pathway to Graduate School Event
Is Graduate School Right For You? (slides)
Cal State Apply - Graduate Applications (slides)
Presentation from 2019 Pathway Event
Finding and Applying to a Graduate Program (slides) 
For detailed information about applying to one of CSUEB's graduate programs, please visit our Prospective Graduate Students website.
Fall Graduate Fair