Intune
What is the CSUEB Intune Company Portal
https://portal.manage.microsoft.com/
Log in with your @csueastbay.edu email address and password the same you use for your email on campus.
CSUEB will also be installing the Company Portal for CSUEB devices it will be located under applications. This is the application and the web portal is the web based application. The Intune application Company Portal is the perfered tool to use to access applications installs via Intune.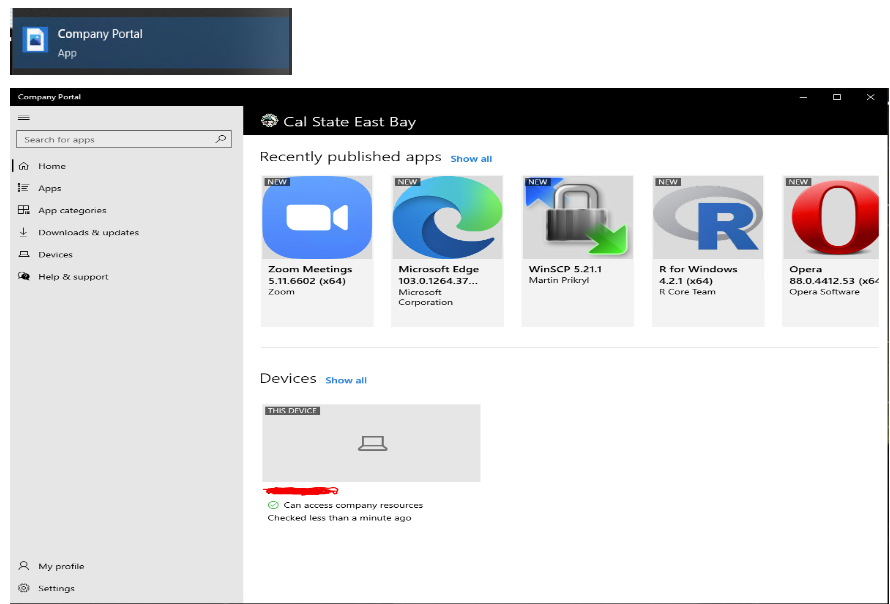 What is Bitlocker
BitLocker is a full volume encryption feature included with Microsoft Windows versions starting with Windows Vista. It is designed to protect data by providing encryption for entire volumes. By default, it uses the AES encryption algorithm in cipher block CSUEB encryption is 256 bit.
The way that BitLocker works is by utilizing a hardware element known as a TPM, that stands for Trusted Platform Module. BitLocker will create a recovery key for your hard drive, so that every time you startup your computer, a specific pin number will be needed in order to gain access. This key is protected by CSUEB and stored in our secure cloud storage. We can unlock or decrypt your information for recovery but it's used incase of any data breach or security of lost data to ensure your files are encrypted and unable to be used.
How do I know if I have it on?
Click on your File Explorer go to This PC under your C:

Do you see a lock Icon that looks like this?
Then your files are already encrypted and being protected. You are protected and no action is needed from you.
How can I check if I have Bitlocker on or off
Go to Control Panel\All Control Panel Items\BitLocker Drive Encryption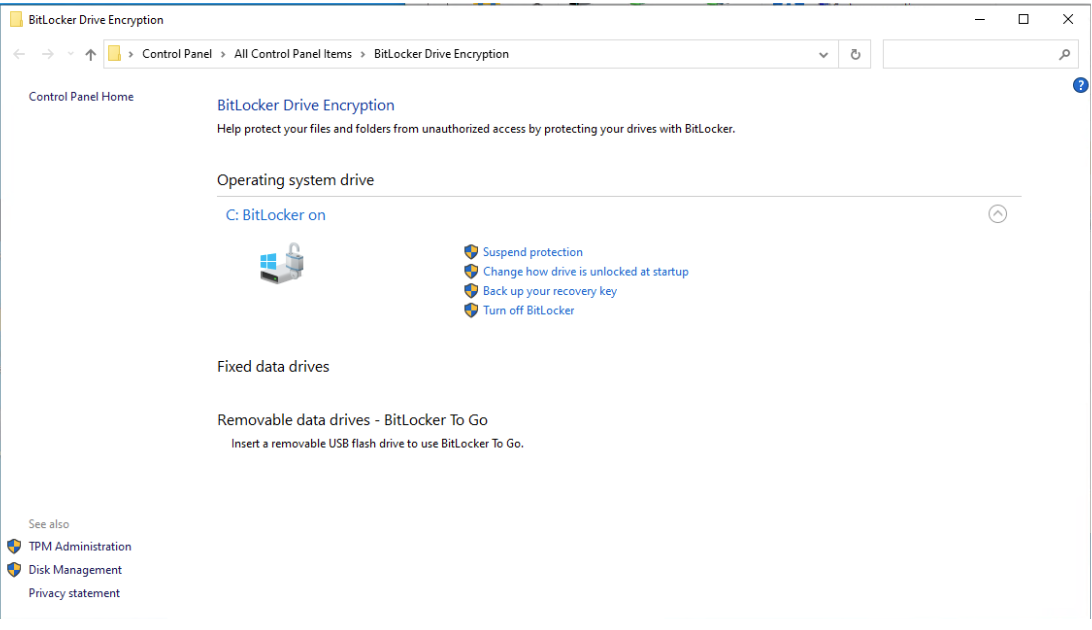 This will show C: Bitlocker on if you see this. You don't need to do anything. You are already protected
-------------------------------------------------------------------------------------------------------------------------------
What is BitLocker?
BitLocker lets you encrypt the hard drive(s) on your Windows Enterprise. BitLocker will not encrypt hard drives for Windows XP, Windows 2000 or Windows 2003. BitLocker drives can be encrypted with 128 bit or 256 bit encryption, this is plenty strong to protect your data in the event the computer is lost or stolen. BitLocker protects your hard drive from offline attack.  This is the type of attack where a malicious user will take the hard drive from your mobile machine and connect it to another machine so they can harvest your data. BitLocker also protects your data if a malicious user boots from an alternate Operating System. With either attack method, BitLocker encrypts the hard drive so that when someone has physical access to the drive, the drive is unreadable.
What does BitLocker do?
BitLocker encrypts the hard drive(s) to protect the Operating System from offline attacks and physical theft.
What does BitLocker not do?
BitLocker does not protect the computer's contents while Windows is running. BitLocker is built for offline attacks.
More detail: https://technet.microsoft.com/en-us/itpro/windows/keep-secure/bitlocker-overview
I want to run Bitlocker manually. What should I do? 
Click on the Encryption Toast Icon.. 
Click on the 1st option Save your Azure AD account. Then click Next
Click Next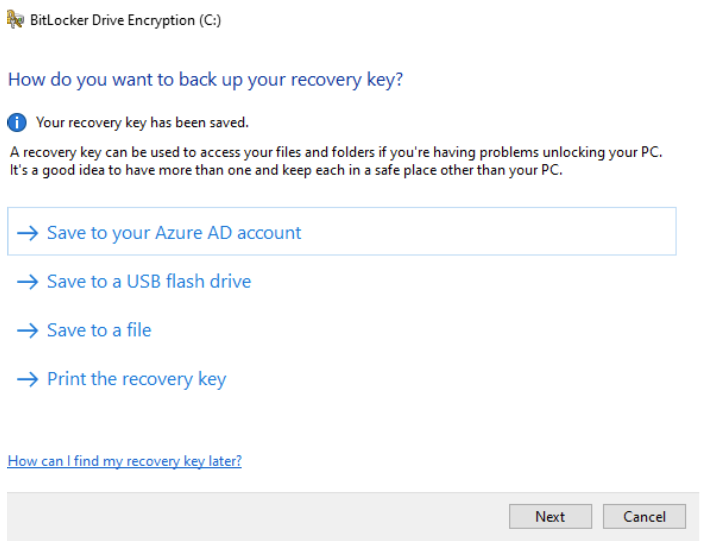 We only want to use the C: Drive the Main OS Drive Ensure C: is selected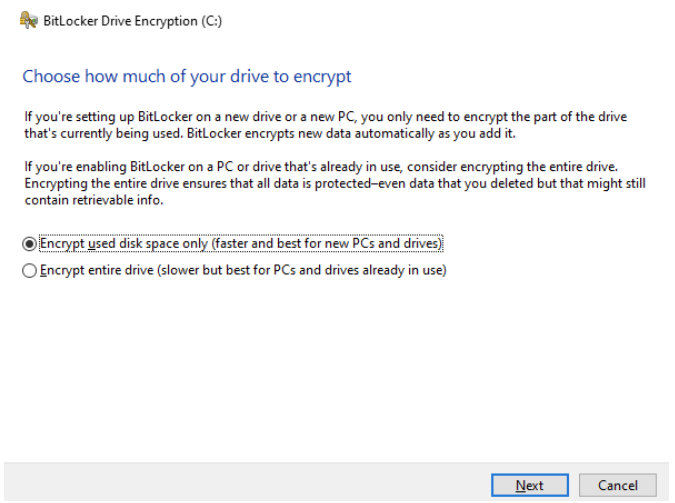 Click Start encrypting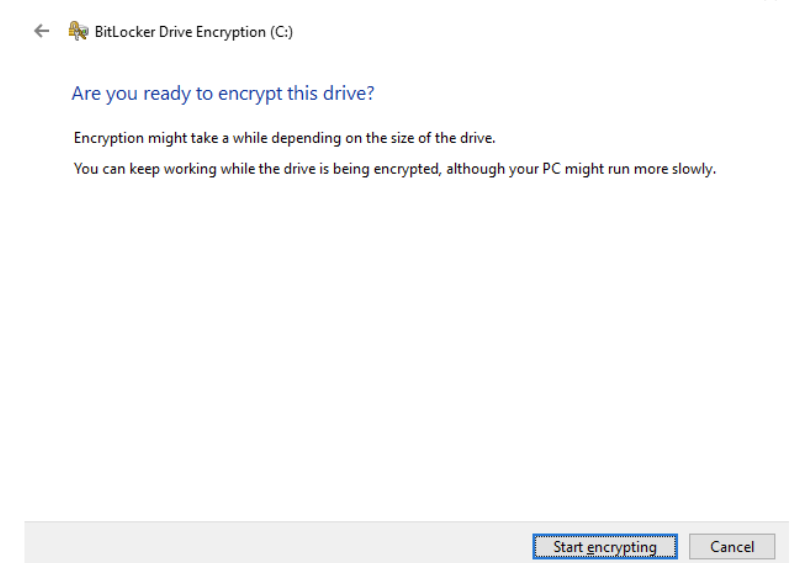 Wait for it to finish

Please wait for it to finish
Examples of what types of computers are encrypted
All state-owned desktops and laptops/tablets.
All new deployments are encrypted during the imaging process and no user interaction is required.
The following FAQ are for older systems not already encrypted
Is there a noticeable performance impact when BitLocker is enabled on a Windows based computer?
Bitlocker uses a negligible amount of processing power that should not be noticed on most systems. If a system is being encrypted in-place and not during the normal imaging process, performance will be degraded while the process is underway. Performance will return when completed. 
Approximately how long will initial encryption take when BitLocker is turned on?
BitLocker encryption occurs in the background while you continue to work, and the system remains usable, but encryption times vary depending on the type of drive that is being encrypted, the size of the drive, and the speed of the drive. If you are encrypting very large drives, you may want to set encryption to occur during times when you will not be using the drive. This can take 30 minutes to a few hours depending on the harddisk size. Bigger disk will take a longer time to complete than a smaller disk.
What happens if the computer is turned off during encryption or decryption?
If the computer is turned off or goes into hibernation, the BitLocker encryption and decryption process will resume where it stopped the next time Windows starts. This is true even if power is suddenly lost.
How can I request that my computer be encrypted?
Please open a Service Desk ticket  https://csueastbay.service-now.com/sp or at 510-885-HELP(4357). Please ensure you give your host name of your device
Once my computer has been fully encrypted, will I notice anything different ?
Your drive icon will change to what is shown below. No other changes should be seen or noticed once the computer is encrypted with Bitlocker.

I turned my computer on this morning, and it is asking for a Recovery Key!
You will need a key to log into your machine if this is the case. Please open a Service Desk ticket https://csueastbay.service-now.com/sp or at 510-885-HELP(4357). Please ensure you give your host name of your device for a Recovery Key to be issued to your campus device.
What Causes Bitlocker Recovery?
An event occurred that caused Bitlocker to engage.
This may be swapping of a hard drive or a hardware change or a change to some internal component of the computer (such as a BIOS upgrade) without properly suspending Bitlocker.
Lots of events can trigger Bitlocker. Some are listed here:
https://technet.microsoft.com/en-us/library/dn383583(v=ws.11).aspx
How can I obtain a new recovery key? 
Contact Service Desk and request ISO for your recovery Bitlocker Key. 
https://csueastbay.service-now.com/sp or at 510-885-HELP(4357).  Leaving voicemail automatically creates a ticket.