PERMISSION CODES
School of Engineering
Updated 6-2-22
In order to best serve our student population, you will need to request permission codes to register for each class that you wish to enroll in.  This process is mandatory each semester so that students are enrolling in the correct courses to graduate on time.  We will need you to take several steps prior to a permission number being issued to you. Please see the following steps:
You  must  upload a fully filled out advising sheet. Fill it out fully with what you are currently taking this semester and what you plan to take next semester. Please fill out both sheets and mark off the classes you have completed. There is a field in the Google Form to attach the advising sheet. Your advisors will review your advising sheet in the google form, and we will contact you as needed. Please do not send them copies of the advising sheet via email unless you are asked to. 

Your permission numbers will be emailed directly to you. (Please allow a 72 hour turn around.)

Please do not come to the Engineering Office asking for permission numbers. Our Enrollment period is hectic. Those who don't follow the process will be asked to follow steps 1-3.

If you have a special registration request for enrollment such as an internship or a unique situation that has arisen, you will need to schedule an appointment with the Engineering Advisor, Lisa Holmstrom.
We kindly ask that you exude patience during our busy enrollment period. The Engineering staff is working to best serve our students.
How To Add a Class with a Permission Code
1. Log into myCSUEB
2. Navigate to your Student Center
3. Find your Academics section and select Enroll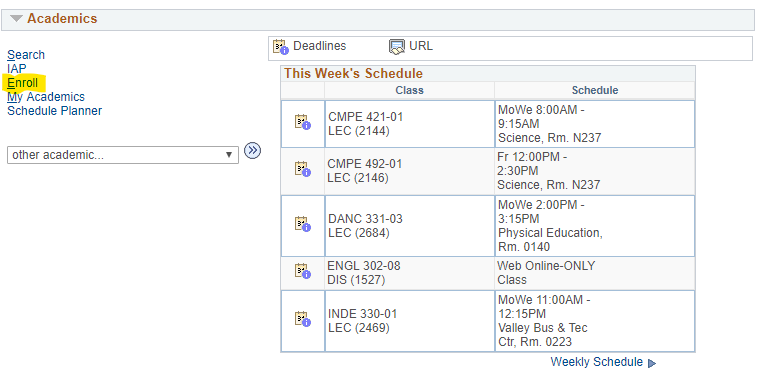 4. Click the Search button to search for a class to enroll in
5. Select the Subject you would like to add. Next select the Search button at the bottom of the page. Note: Not all classes at CSUEB need permission codes, but many classes offered by the school of engineering. For this example we will go with a Computer Engineering course. 

6. Find the class you would like to enroll in and click Select 

7. If you have your permission number enter in your permission number where it says Permission Nbr then click Next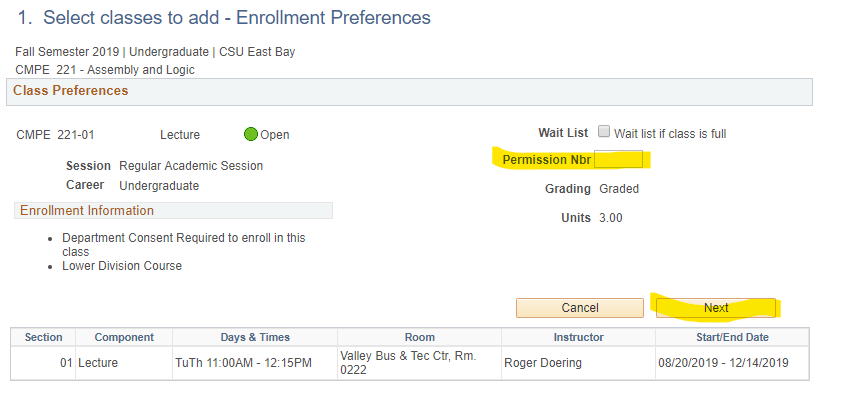 8. You now have you class with the permission code added to your "Fall Semester 2019 Shopping Cart" click Proceed to Step 2 of 3

9. Finish by clicking Finish Enrolling!

10. If you didn't put in a permission number this is the error you will receive. If you are having trouble come to the School of Engineering.