HOST Labs Benefit from Amgen Grant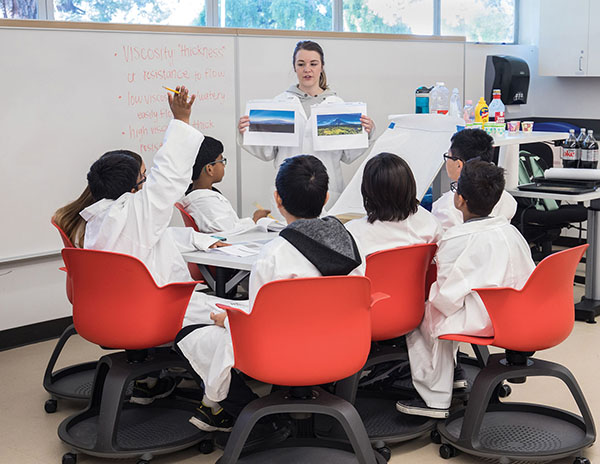 The Hands On Science Teaching (HOST) Labs first opened in 2014, providing pre-service teacher educational opportunities to improve the teaching of Next Generation Science Standards. The effort was led by Associate Dean Danika LeDuc and a team of faculty in the College of Science.
Cal State East Bay students who are on the Liberal Studies Teacher Preparation Pathway take part in the HOST Labs as part of their degree requirement. At the beginning of the course, students are introduced to ideas of pedagogy, Next Generation Science Standards, and inquiry-based, hands-on science teaching. The students then go through either three or four thematic units. In each unit, they learn content and get to choose, with a partner, from a suite of activities.
With scaffolding, Cal State East Bay students progress in the elements of lesson design and teaching, so that they have significant latitude in designing the activity for the final field trip at the end of the semester. This is when the school children visit campus and do the activities over approximately two hours. Each "science guide" and their partner teach the lesson three times, and observe other Cal State East Bay "science guides" and their partners teach a different lesson to the school children.
"Having a meaningful and supported experience with quality, hands-on, engaging science activities with small groups of children is powerful," said LeDuc. "Our students have seen themselves grow in content knowledge, confidence, and reflective practice, and have witnessed their potential impact on young people. Many of the school children have never been to a college campus before, and seeing people that look like them, who aren't that much older, having fun with science, really helps them better understand scientific concepts."
During the pandemic, undergraduates of the HOST Labs switched to recording themselves teaching science lessons to people they lived with, and sending science kits to school children so they could participate in virtual field trips from home via Zoom. Now that COVID-19 restrictions have been somewhat lifted, LeDuc and the College of Science faculty are actively pursuing getting permission to have in-person experiences once again.
"Although we believe the virtual field trips were a positive experience, the program is called Hands On Science Teaching," explained LeDuc. "We are committed to the new administrative work required to return to in-person field trips, because we feel this experience is so much more impactful for Cal State East Bay students and the school children."
The HOST Labs benefit from a grant distributed by Amgen, one of the world's leading biotechnology companies. "HOST Labs directly aligns with Amgen's Science Education funding priority to help promote STEM education in all communities, particularly in underserved communities," said Dr. Saptarsi Haldar, vice president of research & Amgen South San Francisco site head. "By serving school children, in-service teachers, and undergraduates interested in teaching, HOST Labs provide an opportunity for students and teachers alike to get involved and excited about STEM education. It provides equity access to STEM education to those students who might not typically gain quality experiences with STEM education—experiences that are crucial to piquing curiosity to pursue an eventual career in STEM or STEM education.
November 18, 2021