Volunteer Spotlight: Tyehimba Jelani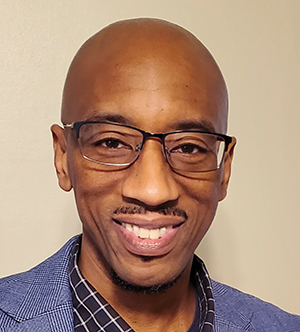 Since his graduation from Cal State East Bay, Tyehimba Jelani (B.S. '94, Business and Economics) has shared his time and talent working as a volunteer for both alumni and students. We recently interviewed Mr. Jelani to find out more about his volunteer roles as a Pioneer, and what motivates him to give back.
How did you become interested in volunteering with Cal State East Bay?
I became interested in volunteering at CSUEB during my freshman year, when I attended my first Black Student Union/African Student Union (BSU) meeting back in the Fall of 1989. Local and national, socio-economic, and political events at that time were motivating factors as well. Campus is where I developed into a "community organizer," if you will. Also, Cal State Hayward, as it was known back then, was and is highly-respected for accounting, which was my major. In addition to the BSU, I served as a volunteer in a leadership capacity with the National Association of Black Accountants (NABA)–Hayward Student Chapter.
What drew you to your involvement with the Alumni Association Board of Directors?
I was inspired by my friends that attended historically black colleges and universities (HBCUs), many of whom remain very involved with their respective alma maters. Their continued investment in the educational institutions that helped shape them as young adults motivated me to reconnect with CSUEB. In 2018, I was also yearning to impact the lives of college students, and what better place to start than at the school that helped prepare me personally and professionally for life's challenges? With those ideas in mind, I applied for the opportunity to serve as board member of the Cal State East Bay Alumni Association, where I had the honor of serving for two years.
How was your experience as a member of the board?
Serving as a board member was a great experience. First and foremost, the board was comprised of a brilliant group of individuals, all committed to increasing alumni engagement. Being on the board gave me visibility into the resources available at the school for students and alumni. Additionally, being a board member was a reminder of what a group of dedicated staff and volunteers can accomplish when working together as a team. Being a board member helped me gain a greater appreciation for Cal State East Bay as an institution, and it increased my Pioneer Pride. I no longer serve on the board, but I am volunteering as a part of Cal State East Bay's Affinity Group network.
What motivated you to volunteer to teach financial literacy to our undergraduate students?
I believe that learning money management concepts will help increase students' academic performances, their university graduation rates, and their long-term financial position. With more than sixty percent of the CSUEB enrollment representing the first generation of college students within their families, I wanted to do my part to help level up young trailblazers by exposing them to the basic principles of financial education. Also, on a personal level, I hope to help students avoid some of the financial missteps I made as a young person.
What is it about volunteering in this capacity that keeps you going, that inspires you?
I love having an opportunity to shape a young person's perception by exposing them to information they don't have. I also want to serve as a relatable example of someone that has gone through similar academic and/or professional challenges. I want the students to learn from my experience, both in terms of what to do and what not to do. With regards to financial education, I want the students to make sound financial decisions around budgets, credit, and investing.
If a Cal State East Bay alumnus or alumna were interested in volunteering, what would you say to them? What would you want them to know?
I would first remind my fellow Pioneer to recall those "strangers" who became "mentors" and positively changed the trajectory of their lives. I would also share one of my favorite quotes, which is, "If everyone does a little, no one has to do a lot." I believe we each have the opportunity to be that someone—a mentor—for a student. The reward gained from a relatively small outlay of energy will change everyone for the better.