From Idea to Innovation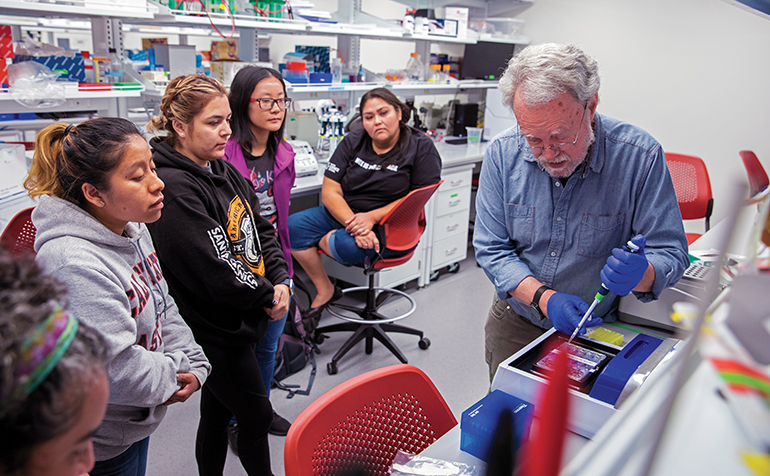 It all began with a conversation in a biology lab at Cal State East Bay between Dr. Chris Baysdorfer and Randy Davis (B.S. '02, Biological Science; M.S. '06, Biological Science). 
"I was telling Randy that molecular analysis of the growing number of rare and endangered California plants was not on anybody's radar," said Baysdorfer. "If we took it on, it would fit with the biology department's expertise and would be a unique scientific effort that our students could be a part of." 
Nearly 1,000 plants have been listed as threatened or endangered by the California Native Plant Society. These plants are in danger of being lost forever, with no understanding of their biology, ecological interactions, and potential human benefits. 
What was Davis's response? 
"I was excited about this project. I thought about how I might support this effort and had some ideas on how we might turn this into a broader, high profile program," Davis said. 
Davis was so enthusiastic about Baysdorfer's novel idea that he and his wife, Patricia Davis, donated $1.8 million to launch the Green Biome Institute (GBI), the first conservation and genomic profiling institute in the California State University system. Davis has also helped the GBI build relations with other like-minded organizations, while he and Patricia also funded the Green Biome Institute lab as one of the core labs in the forthcoming Applied Sciences Center. 
From that first simple exchange, the GBI has grown and attracted more philanthropic interest, which has allowed it to build new research arms and student opportunities. The GBI piqued the interest of one anonymous donor who offered a $75,000 challenge in support of the institute, specifically to create a germplasm library of the frozen embryos of endangered plants and a network of other storage sites. That challenge resulted in many more alumni and friends of Cal State East Bay answering the call to conserve California's plants far into the future. 
Illumina, a biotechnology company with sites in Hayward and Fremont, also joined the effort through an introduction by alumni volunteer Kevin Corcoran (B.S. '86, Computer Science). The company's mission is to make genomics more useful for all, for a better understanding of human health. 
Additionally, Illumina awarded a $50,000 grant to fund the GBIIllumina for Conservation Program this academic year, so graduate and undergraduate students could learn and employ Illumina's MiSeq sequencing equipment in a laboratory setting. 
Not only did Illumina provide a grant to the GBI, their employees have been engaged with the university's students. Last September, four staff members from Illumina offered a career panel for students in the College of Science. In October, alumnus and Illumina senior systems engineer George Sakaldasis (M.S. '09, Biological Sciences) came to campus to speak to biology students. 
"At Illumina, we are committed to sharing our time, talent, and technology to empower our communities, our employees, and the next generation of researchers and clinicians," said Sharon Vidal, head of corporate social responsibility. "The power and potential for sequencing to improve human health and the health of our planet are endless, and we're thrilled to support the efforts of the GBI and Cal State East Bay to advance native plant conservation with genomics." 
The partnership is a win-win for Cal State East Bay and Illumina: undergraduate and graduate students get to develop their technical and scientific skills to increase their competitiveness in the biotech industry, while contributing to the establishment of protocols to support conservation of California's threatened, endangered, and rare flora. 
Now, just a few years after that initial conversation between Baysdorfer and Davis, the GBI is training 300-plus students every fiscal year. This includes the summer high school biotech program, where students are chosen for an intensive eight-week lab course. In 2021, the GBI faculty trained 240 Cal State East Bay undergraduates, eight graduate students, and seven high school students. Thus far, they are in the process of sequencing 52 plant species, with an initial analysis and assembly focused on 25 of those. 
"The GBI is bringing cutting-edge genome sequencing technologies to a diverse STEM community through hands-on student engagement in integrative genomics research," said Baysdorfer. "The GBI's aim is aligned with the university's mission and vision to promote and support a diverse student body with academically rich, culturally relevant learning experiences, which prepare students to apply their education to meaningful lifework, and to be socially responsible contributors to society."